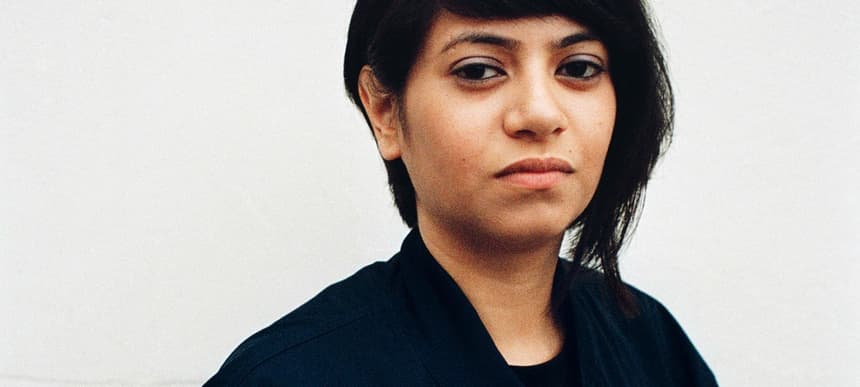 29.07.2013, Words by Aimee Cliff
Ikonika - 'Aerotropolis'
Ikonika's second album has been a long time coming since 2010's 'Contact, Love, Want, Have', and is continents apart from the dubstep, UK funky and those alien chiptune elements that first distinguished Sara Abdel-Hamid among her peers and then made Skrillex famous. No surprises, then, that she's dropped off from that so-called "first wave" of "post-" producers, Darkstar and Joker among them, after the debut, only once emerging on record with last year's 'I Make Lists' EP, on her Hum + Buzz label (co-owned with Optimum). With that, the shift has come in increments but the London-based producer's departure from the heavy-handed kick and sub sounds and the chortling 8-bit melodies of her Fruity Loops days are well behind her, with the more sophisticated polish of 'Aerotropolis' ahead.
Even after a full year of silence, the aforementioned 2012 EP still represented the snares and claps of Ikonika's dubstep roots, but diversified into more complex rhythm structures and some contentious unison synth lines, borrowed from the rave. Now, with 'Aerotropolis', she's broken off completely into the more subtle inconsistencies of what originally made her "wonky" and a streamlined gaming sound that's moved to a more immersive soundtrack for a life lived on planes. Capturing the sanitised weirdness of the itinerant existence of a touring performer, particularly when that performer works in electronics, 'Aerotropolis' is as synthetic a record as they come because there's nothing natural about Abdel-Hamid's sound. So much so that Jessy Lanza's very human voice seems out of place in Beach Mode (Keep It Simple) as it floats outside of a muted and insistent kick drum, drawing from the sashaying dancefloor rhythms of house, as the singer echoes an equally disconnected and aloof sentiment in, "if you really want it, don't make it emotional".
Ikonika – Mr Cake
For a good 50 minutes, over 14 tracks, 'Aerotropolis' rarely loses momentum as an augmented expression of its continuous forward motion. The soaring mood of Mr Cake is too crisp to be healthy as engineered loops and grinning melodies connect and interact to create an unsettling quality, beneath all the phoney positivity. That surfaces again in the clattering sketch of Let A Smile Be (Y) Our Umbrella, its own composition fracturing and fragmenting under the weight of its own vitality, only to finally fade away completely.
You only need to look as far as the track titles to get a sense of the creepy, though still alluring anomaly of modern life, with names like Mega Church, Cryo and Eternal Mode where a cut up, processed vocal sample bounces off a clipped conga rhythm and an unwieldy organ melody. Here, there's no denying the 80s and 90s video game era upbringing that resonates, and has resonated throughout Ikonika's oeuvre, even as it moves closer to emotion simulation, capturing the transitory nature of life and our tenuous grasp on reality in the face of technology. Because, while airplanes, like videogames, might give us the illusion of the freedom we so desire, we're still at the mercy of the machine.
8/10
Hyperdub released 'Aerotropolis' on the 29th July 2013.