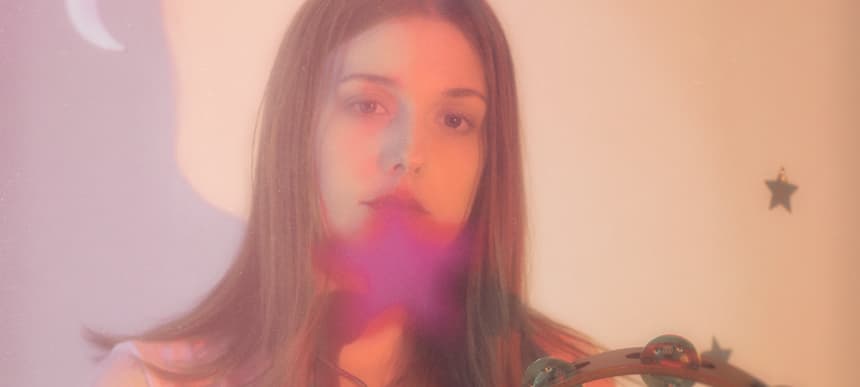 14.02.2019, Words by Felicity Martin
Influences: Merely - 'Hatching The Egg'
How Tangerine Dream, Mike Oldfield and John Maus inspired the YEAR0001 artist's ethereal work...
Here to quench our thirst for Swedish dream-pop inspired by mythology and fairy tales is Merely, aka classically-trained instrumentalist and vocalist Kristina Florell. She's signed to Swedish label YEAR0001, home to Yung Lean and Viagra Boys among others, and today releases her 'Hatching The Egg' album, a moving odyssey of lush instrumentation and delicate songwriting that recalls the likes of Cocteau Twins and early Grimes.
The Scandi artist channeled those aforementioned influences through her fantastical, folklore-inspired 'Crazy Heart' video. Having previously been involved in experimental Swedish trio Team Rockit and trance project Chariot, Merely's solo work is a product of so many different influences that we asked if she could name them directly.
"While making 'Hatching The Egg', so many different things inspired me," Merely says. "I tried working in new ways, incorporating effects and production from progressive rock, analog electronic pioneers in pop and psychedelic music. I wanted my music to sound more organic and textured, less cold and digital. With that in mind, I made a list of the songs that has inspired me."
1. Aphrodite's Child – 'Spring, Summer, Winter and Fall'
"I had not heard Aphrodite's Child before listening to this song for the first time a couple of years ago. I am very familiar with Vangelis and Demis Roussos, but I had never heard them like this before. Something about the organs and harmonies was very inspiring to me. Also, stating the obvious, the vocals are out of this world."
2. John Maus – 'I Don't Eat Human Beings'
"This song, and John, has been with me for years. And while writing new music, my decisions are not dictated by what kind of music and productions I am currently listening to. I believe that artists and songs that you have loved for a long time become a part of you. So in that sense, this song is important for me as a producer as well."
3. Maggie Reilly – 'Follow The Midnight Sun'
"One of my favourite vocalists ever. Her singing brings me somewhere else, I can't explain it. This song is one of the best examples of the magic of Maggie Reilly. The production is great as well. I listened to this song a lot when I tried to decide if I should make my new album or not. It gave me strength. I also feel at home in the general visuals and aesthetics surrounding Maggie at this time."
4. Talk Talk – 'Wealth'
"This song tears me up. Music is not an intellectual thing for me, it's an internal and mysterious experience. Even though I heard this song for the first time around 2017, it feels as if it has always been a part of me. Mark Hollis seems to be an amazing person, every time I read interviews or hear what he has to say, I feel that we are connected."
5. The Chi-Lites – Oh Girl
"When making music in the way that I do, digging through the depths of the heart – listening to something outside of myself is always refreshing. After sessions of making music, I often found my myself listening to this leaving the studio and the sound definitely grew upon me."
6. The Sundays – 'Wild Horses'
"Generally, I listen to a lot of ambient and electronic dance music. While seeing a particularly bad movie one night with Mark Wahlberg, this cover suddenly came on. That moment gave me a sudden burst of inspiration. Sometimes a guitar and a voice is all you need, baby."
7. Tangerine Dream – 'Hyperborea'
"This record is truly amazing. I've listened to a lot of older Swedish acts that were pioneers in electronic music in the same way as Tangerine Dream but I hadn't really listen to them or this record. The textures and layering is stunning."
8. Ragnar Grippe – 'Alla Pengar'
"Ragnar is definitely a role model. The things he produced in the 1970s and '80s was amazing and he is still going strong to this day. This song is from a Swedish crime-comedy called Jönssonligan (The Jönsson Gang) – the whole soundtrack is amazing. I met him at a gala when I was awarded a scholarship and got to say hello to him, it was an honour."
9. Marie Fredriksson – 'Den Sjunde Vågen'
"Remember Roxette? This is Marie's solo music. The production is very classical but unconventional at the same time, that inspires me a lot. I love Marie, her voice is so beautiful. I have been a huge fan since I was little."
10. Mike Oldfield – 'Lament for Atlantis'
"I love Mike! He is a masterful producer and songwriter. In its core, there is some kind of folky pop – but production wise, it's an ethereal experience. I can imagine myself in grand landscapes while listening to his works."
Merely's 'Hatching The Egg' is out now – stream it now: