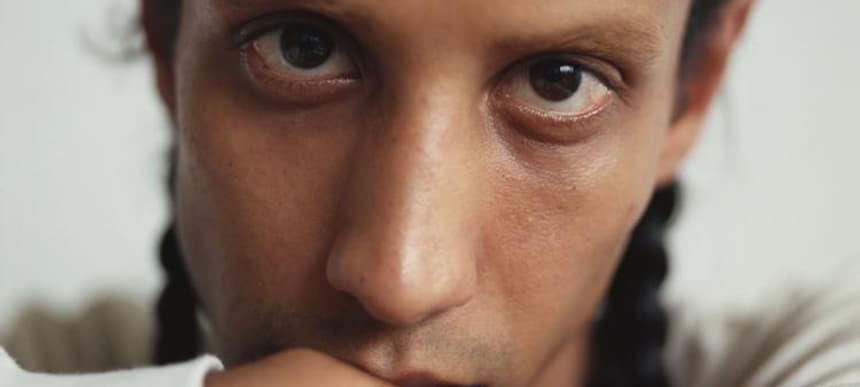 20.11.2018, Words by dummymag
Influences: Miink - 'Small Clan'
The elusive producer talks us through the influences behind his hugely-acclaimed debut mixtape...
West London newcomer Miink, who we interviewed recently, is gearing up to blow in 2019. When he dropped the critically-acclaimed 'Small Clan' mixtape that showcased his falsetto vocal and ethereal pop sound imbued with a deep warmth, it had the whole of the internet nattering.
Now, ahead of him playing Dummy's free London Innovators show this Thursday, Miink has given us an insight into the inspirations he took on board while crafting the mixtape. Each of the selections correspond to a different track on the tape – and you can check it out below.
–
Flying Lotus – 'Sex Slave Ship'
"This period of FlyLo was my favourite for rhythms and drum selection. The atmosphere is always there with him though."
'Making Of Cyborg' from Ghost in the Shell Soundtrack
"The song is great and everything but I picked up more from the pacing of this film than anything, never boring but not action all the time. Even the shootouts are calming."
Björk – 'Immature (Mark Bell's version)'
"Really her whole career is the influence but I guess I had to pick one so I happily did it at random."
Zillakami – 'The Cauldron'
"New York seems a lot like London, too expensive for much creativity to thrive. But if you look hard enough you'll see people making something out of nothing. Zillakami should be as big as his name suggests."
Battle Box 001
"Heard this in the middle of a mix and they didn't say who it was in the track list. Oh the excitement. That must have been what it was like back in the day before Google when kids were made of wood."
UNKLE – 'Be There'
"The video is the reason I carry a knife on the underground."
UGK and OutKast – 'Int'l Players Anthem'
"This along with Lil Wayne taught me how to let the beat build bitch."
Radiohead – 'Weird Fishes'
"From the BEST Radiohead album. Anyone who thinks differently come fight me."
50 Cent – 'Fuck You'
"Mixtape 50 always makes you want to work harder. The hunger in the tracks is tangible. Don't approach me if it looks like I'm listening to mixtape fif, I'm very busy."
Isao Tomita does Gustav Holst's 'The Planets' '(Venus, The Bringer of Peace)'
"Each of these 10 influences can be tied directly to 1 of the 10 tracks of my album Small Clan. Whoever gets them all correct wins a prize."
Miink plays Dummy's free London Innovators show this Thursday – RSVP here.