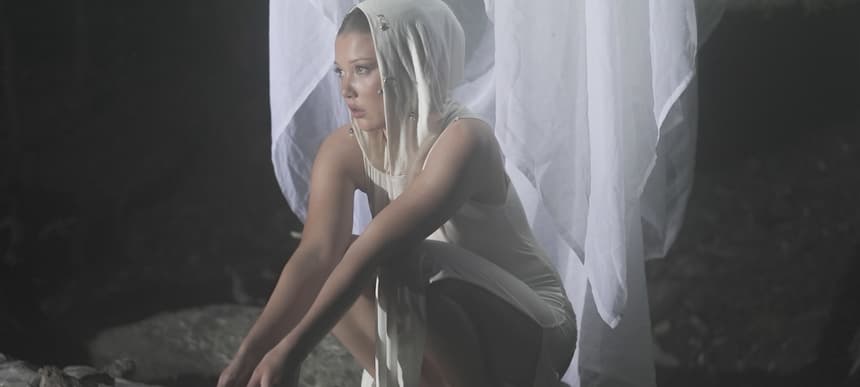 23.10.2023, Words by Billy Ward
Izza Gara unpacks her rebellious new EP 'Young'
"A reflection of my unwillingness to adapt to a made up way of living, dressing and being..."
Swedish/Turkish vocalist, dancer and artist Izza Gara has delivered her anticipated new EP 'Young'. Blending elements of pop, R&B and left-field production to double down on her unique but accessible sound, the rising talent's latest project is a seriously good record that sets Gara apart from the pack. 
With a background as a dancer and painter, the Gothenburg-based multidisciplinary artist began her musical journey in March 2020 with her debut album 'Lonely Too?'. Now more comfortable in her own skin than ever, Izza Gara is quickly carving out one of the most distinctive sounds around right now. Below, we sit down with the songstress to unpack what her latest offering 'Young' is all about. 

What is the 'Young' EP about? 
"As I've gotten older I've understood that I've had a weird image of what being an adult is. As a kid I thought I'd just wake up on my 18th birthday knowing exactly who I am. That I'd just be responsible and feel fully balanced and confident. That didn't happen, and it ruined my whole picture of the perfect adult and adulthood. It made me question what growing old really means, which then led me to an obsession about staying young.
"Young is a reflection of my unwillingness to adapt to a made up way of living, dressing and being and a rebellion against society's expectation of how we're supposed to live our lives."

Why do you think it's important to keep a young mindset?
"I believe keeping a young mindset is crucial. To me, keeping a young mindset is to have an open mindset and to be able to listen and be influenced by others. It effects how things are changing and evolving. It's not news that young people are the ones making major changes in society. We dare to set requirements and we dare to break stereotypes and old patterns."

How do you make sure you do this?
"I try to surround myself with open minded people and I try to learn and be open to new experiences even if it can be draining sometimes. I'm curious and I always try to find new ways of creating and exploring when it comes to my music and my creative expression."

Who did you work with on the new EP?
"I'm so thankful that I have the opportunity to work with such smart, fun and kind people. I've worked closely with Tor Wilén who is also a good friend of mine. We met two years ago at a music school in the north of Sweden and have been working a lot since. We wrote 'Water' and 'Came to Dance' there. Tor has been a part of all of the songs on the EP in some way, some on everything and on some, some mix fixes.
'Came To Dance' was a funny song to write and I wrote it with my friends Tor Wilén, Adam Westrin, who is an amazing songwriter and singer, and Venus Anon who's also an amazing artist, producer and songwriter.
'Ten Feet Apart' I made together with Megra, he's a great producer and artist who makes sick stuff. We got put together by an A&R and didn't know each other before the session but got so comfortable and happened to write two amazing songs that day.

On 'Neighborhood Knows' I worked with Tor and my friend Aarron Watson (Flotheproducer) in London. Me and Tor were on a music trip in London and I wrote to Aarron and told him we were in town and we were able to book a session the last day and got the idea out for 'Neighborhood Knows'.
On 'Young' and 'Mama Wise Words' I worked alone and got help with the mix of the songs from Tor Wilén. Peo Hedin mastered every song except 'Came To Dance' who Anton Fagerberg mastered. They did it to perfection. Also, an amazing photographer called Nemo shot my art cover that I'm really happy about."

Could you tell us a bit about the creative process behind the project?
"My creative process is very dynamic. There's no typical way for me to create. Sometimes I get inspired by a sound I hear in the room. Some nights I've been sitting alone in total darkness with my computer. Some days I come to the studio with an idea.

"With 'Mama Wise Words', it was a voice memo I listened to from where my mom is explaining how I best handle a hard situation that got me to get my computer. With 'Came To Dance' we just started jamming in the room because we had too much energy and needed to get it out."
What are the musical inspirations for the project? 
"When I was thirteen I found my love for hip hop and RnB and I constantly sat on hotnewhiphop.com on the school computers to see the new releases. I also started dancing Popping by the time and I had a friend who's big brother had a Missy Elliott CD, specifically 'Respect M.E.' that we used to dance to. I think my love for a great drum beat and rhythm is something that really gets me excited. Timbaland and Missy Elliott are definitely big inspirations for me."

What are you favourite tracks on the project and why? 
"This one shifts. I think the previous releases are always horrible because I've listened to them so much and I only focus on small details and on the things that annoys me. So my favourite at the moment has to be 'Mama Wise Words'. I've gotten distance from it now and can finally listen to it and actually be proud and laugh. I also love my mom's motivational speeches so it makes me happy to hear her in the intro/outro."
What have you got planned for the rest of the year and going into 2024? 
"I am already making new music and I have a project that I'm very excited about that I'm working on a lot at the moment. It's in a very early stage and I can't tell you anything else about it but that it's going to be so lit. Also, I'm looking forward to working with some great artists as well. I'm very excited to start collaborating more and producing/writing with and for others."

Stream 'Young' below or listen with your preferred player here.