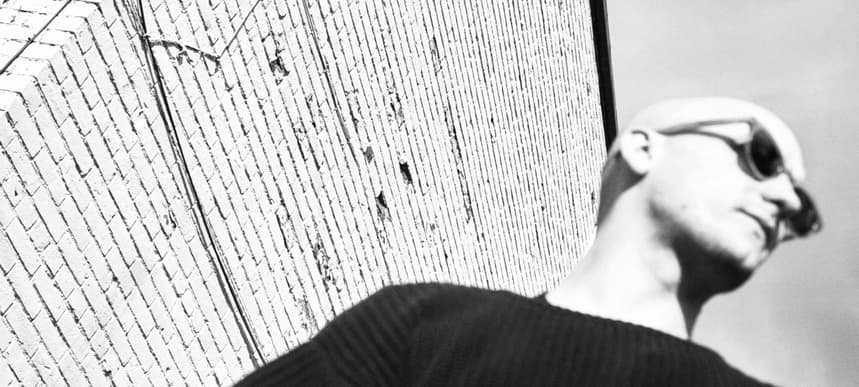 22.10.2019, Words by Felicity Martin
Electro-magnetic phenomena and Japanese ambient: the inspirations behind Jacques Greene's 'Dawn Chorus'
"I simply love when music feels like it's almost too much, like the sounds themselves are about to implode somehow..."
Where Jacques Greene's debut album, 'Feel Infinite' was a precursor to the club, an LP to warm up with, follow-up 'Dawn Chorus' occupies the post-rave space: that moment when you exit the club and the birds are chirping.
The album – released via LuckyMe – is Philippe Aubin-Dionne's most collaborative work to date. The Canadian producer approached the album as though he were a band, approaching film composer Brian Reitzell (Lost In Translation) as well as cellist Oliver Coates, Clams Casino, plus vocal assistance from Julianna Barwick, Cadence Weapon, Ebhoni and Rochelle Jordan. The result is something that brims with his R&B influence while mining more woozy, ambient soundscapes, a step away from the dancefloor. Below, Aubin-Dionne guides us through some of the influences behind his masterwork, from garage breakdowns to shoegaze.
Dawn Chorus VLF [Very low frequency]
"The source of the name and loose theme of the album. You've been out all night, the afterparty was incredible but now the sun's coming up, you can't find a taxi and you walk home. The dawn chorus is the soundtrack to the end of the night that turns into being trapped in the start of the next day. Usually referring to the morning bird song that happens at dawn, when I was googling it last year and settling on the name of the record, I found out there is also an electro-magnetic phenomenon that shares its name that occurs at the same time."
The opening scene to Millennium Mambo
"Mike Silver/CFCF recommended this movie to me. I've watched it twice and got entranced with its ambient looniness. It captures the aimless cyclical nature of your early adulthood quite well. The headspace and world of this movie connects with this idea of the things that happen around club culture."
The video for Happy Mondays – 'Wrote For Luck'
"Happy Mondays had a knack for using sounds and feelings of the rave scene happening around them at the time and making work that was incredibly intertwined with the rave scene but somehow felt like a journalist on the frontlines as opposed to a soldier. This video perfectly captures that with Shaun Ryder just standing there at once submerged in the dance and somehow completely disconnected and separate. Perfect video."
The Streets – 'Blinded By The Lights'
"One of the most important songs about going out ever made. The attention to detail and storytelling just feels so authentic. I'm always obsessed with this idea of some music being connected to the club but more as being about the club rather than for the dancefloor itself. The oscillation of how good he feels with the underlying melancholy of the song is something that I try to get at."
Yutaka Hirose – 'Epilogue'
"There's a certain pocket of Japanese ambient music that has been a huge influence on my instrumentation over the last couple years, Yutaka Hirose and Hiroshi Yoshimura being obvious examples. I still get too caught up in layering and drama but in an ideal world I'd get at something like this with a simple drum beat underneath. The elements of it that feel like pure ASMR and slightly cinematic and floaty are something I aim for constantly."
Answer Code Request – 'Breathe'
"Overwhelming dancefloor perfection. I simply love when music feels like it's almost too much, like the sounds themselves are about to implode somehow. I can never get enough of this one."
Todd Edwards' breakdowns
"Todd the God. Someone I look up to more than anyone when it comes to using fragments of the human voice in electronic music to ground it in something more simple and emotional. These compilations of just his breakdowns are some of my favourite videos on the Internet."
Slowdive – 'When the Sun Hits'
"Shoegaze as a whole was a big influence on this new record, both compositionally and when it came to the actual production. From turning to more guitar pedals and rack gear to accomplish layered moments of delays and reverse reverbs to compositions that rely more on clouds of harmonics as opposed to really cutting lead lines. Slowdive is somehow never boring but always halfway between something that's emotionally driven and completely weightless."
DJ Metatron – 'State of Me'
"No matter the moniker, Traumprinz/Prince of Denmark/DJ Healer/whatever name they choose next, simply the best of the best. Massively influential for me, and I know I'm not the only one. Thank you for your service, whoever you are."
Beau Travail (1999) – 'Ending'
"A scene so good I had to name a series of parties after it. I could watch Denis Lavant watch paint dry. There are two club scenes in this movie, one halfway through that feels dense and difficult to navigate, and the other that acts as metaphor for absolute freedom and escape. Spoiler warning as this is the end of the movie, but know you'll never hear 'Rhythm of the Night' the same again."
Jacques Greene's 'Dawn Chorus' is out now on LuckyMe.