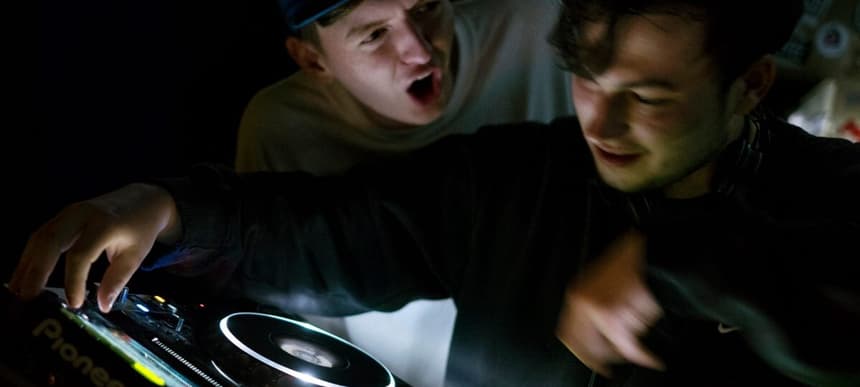 28.06.2017, Words by dummymag
Jesus Loves The Acid (Fantasy)
The club scene – for want of a better word – seems in strong spirits currently, immersed in one of those periods of flux and reinvention. For every old head decrying the lack of a strong, unifying UK music – where is the next funky, the next dubstep, the next grime going to come from? – there's a young DJ discovering worldwide movements and niche genres nestled in far-flung corners of the internet. Writers talk of fusions and hybrids, labels take on increasingly diverse rosters, and some of the most interesting music being made right now is that which floats between the lines. For all the importance of online and digital platforms though, physical spaces remain vital crucibles for underground dance music, for fans and musicians to come together in. To that end, four of the most exciting artists of the past few years have joined forces as Acid Fantasy, a London party which seeks to inject some fun back into clubbing, playing a wide span of music that combines the capital's rich rave heritage with drum-heavy dance scenes from around the globe. Let's introduce you to the key players.
The "sweet-boy romantic" of Acid Fantasy, Ipswich-born Daniel Timms, aka Loom, has put out music on labels such as Sound Pellegrino, Boxed, Astral Black and Blacklink Sound. In particular, his two EPs for Mr. Mitch's Gobstopper imprint – Grade and European Heartache – have showcased his sweet/sour "cold war grime" hybrids, with an outsider's take that comes from having first experienced the music from a distance, tuning into pirate aged 13, outside the ring of the M25. Loom draws the pieces he needs from that genre, and then combines them with space-age sound design and thrilling club dynamics, always thinking about both headphone space and the dancefloor. Now holding the reins of a monthly show on both Rinse and Radar, we're eagerly anticipating his next movements.
For all the importance of online and digital platforms though, physical spaces remain vital crucibles for underground dance music.
House of Trax mainstay Akito has released on labels including Trax Couture, Sub Skank and Tight Knit Records. He also runs his own stellar imprint Sans Absence – recently nominated for Best Breakthrough Label at the DJ Mag awards – which has put out music from the likes of Sylvere, Luke West and former Blunted Robots man Martin Kemp. A resident of North West London all his life, Akito is a (very talented) designer, and is responsible for all Acid Fantasy artwork and flyers – a wonderful hybrid between old school rave flyers and post-internet overload. His fortnightly NTS show might be the best place to get an idea of what he's about right now – everything from funky and drum tracks to rough grime instrumentals – but he's also in the early stages of working on an album for Tight Knit, which promises to be the fullest realisation of his sound so far.
As well as being one half of Acid Fantasy, Italy via East London duo Wallwork and TSVI also head up Nervous Horizon, a label that's made a striking impact in a short space of time with music from Lokane, Lloyd SB and Second Storey. Drawing from techno and '80s synth as well as more bass-heavy strains, TSVI is an accomplished producer whose thunderous Sacred Drums EP is his best work to date. Wallwork is a master of collaboration, pushing his sound in all sorts of different directions with producers such as RZR and Nan Kolè, as well as working with MCs like Flohio and Nico Lindsay. Nervous Horizon have recently announced their second various artists compilation – dropping 21st July, it features plenty of the usual suspects alongside Ikonika, Tarquin and Jammz.
Together, in the basement of Dalston's Alibi club, these four artists have provided a setting for vital, thrilling new dance music to be heard and, most crucially, to evolve. Loom stresses how useful it is being able to study people's reactions and to use this space as a testing ground for new material, both their own tracks and those of the loose group of producers associated with the night. Ever since the first one in April 2016, it's never been dead at an Acid Fantasy party. They've set the bar high for themselves. Surprisingly, of the four, only Akito had much previous experience in putting on nights like this.
"We never really wanted to do nights [as Nervous Horizon]", Wallwork explains, "in general they're a pain to organise and we just wanted to concentrate on making music. But then the four of us really get along and trust each other – it's very respectful, there's no big egos – so it just came together so effortlessly. We invite our DJ friends on rotation, it's free entry, there's loads of booze – what's the worst that can happen?"
"We invite our DJ friends on rotation, it's free entry, there's loads of booze – what's the worst that can happen?"
It's precisely that unpretentious, modest approach that fosters such a good vibe. Back when Acid Fantasy first started a year ago, Loom set out what the group wanted to achieve: "We want to bring a club night to London that's just a vibe really – no set times and no bullshit – just proper dance music in a dark room, but with a fun side and not a load of stoned nerd head nodding. It's a very simple idea really. We're not stressing it or taking it well serious. It'll just grow naturally."
One year on, their approach remains consistent. If anything it seems to have become less solidified, more open-ended. No real rules, other than make people dance. "There's quite a few big club nights", Loom explains, "but a few of them were getting boring and some of them were boring to begin with. [Acid Fantasy] is something that anyone can go to and enjoy. There's lots of nights that cater to specific genres, but there's no real 'London club music' night."
"There's quite a few big club nights, but a few of them were getting boring and some of them were boring to begin with."
Well, if that gap was empty before, then Acid Fantasy have certainly filled it. Loom seems quite keen on the idea that "there's no real Acid Fantasy sound" as such, but despite the wide range of genres the group pull from, both in their productions and their DJ sets, there's definitely a thick web of connecting lines. Expect to hear UK sounds like grime, hardcore, funky and garage alongside Stateside fare such as footwork, ballroom, Jersey and Baltimore Club, and excursions further afield into gqom and kuduro. Nervous Horizon recently released an EP from Dj Missdevana that draws heavily on the Dutch style 'Bubbling', a drum-heavy, polyrhythmic club strain. So yeah, a pretty wide span. Really, it's just the sound of keeping up with London's fast-flowing underground.
"It comes from this post-Night Slugs environment", Wallwork says, "they set a particular tone, along with Hyperdub, and we're reinterpreting that in a new way just like how they reinterpreted what came before them. Whatever's current in London, that's what we are. That's why it's hard to describe, because it's ever-changing. Right now we're in the infancy of this scene. In ten years time we'll be able to see it more clearly, to join the dots between all this music, see how the sound evolved."
While Acid Fantasy has largely been a family and friends affair so far, that's partly down to the budget. Now the guys are tentatively looking to move the night to a level where, alongside the usual crew, they can invite bigger DJs that they don't personally know. "Everything takes time I think", Wallwork suggests, "so we need to let it grow naturally rather than push it. But obviously a night should always become bigger and bigger… If the punters like it then it will keep on growing. The venue for the next series of Acid Fantasy needs to be full on bass – somewhere that, when you come in, it's mega loud, huge subs, everybody squashed in together, and then Killa P can jump on mic!" The group laughs and get carried away, variously proclaiming the likes of Kode9, Goldie and Brazil's MC Bin Laden of 'Bololo Haha' fame as their dream Acid Fantasy guests.
But we're getting ahead of ourselves. Up next is the matter of Acid Fantasy's first birthday, taking place this weekend. While the group have been keen not to do repeat bookings so far, that's all out the window this time. Finn, Tarquin, Lokane and Impey are all on the lineup, alongside an as yet unannounced special guest. If you're still one of the uninitiated, well, this might be one of the last times you get to experience Acid Fantasy in the Alibi's pressure cooker basement. See you down the front.
Acid Fantasy's 1st Birthday is at The Alibi, Dalston, London this Friday June 30th.
https://www.facebook.com/AcidFantasy/
Dummy is live streaming the night. Like Dummy's Facebook Page and keep an eye out for more details:
https://www.facebook.com/DummyMag/
Dummy and Acid Fantasy have collaborated on a limited run t-shirt to celebrate the club's first birthday. Buy one here:
http://shop.dummymag.com/product/acid-fantasy-t-shirt