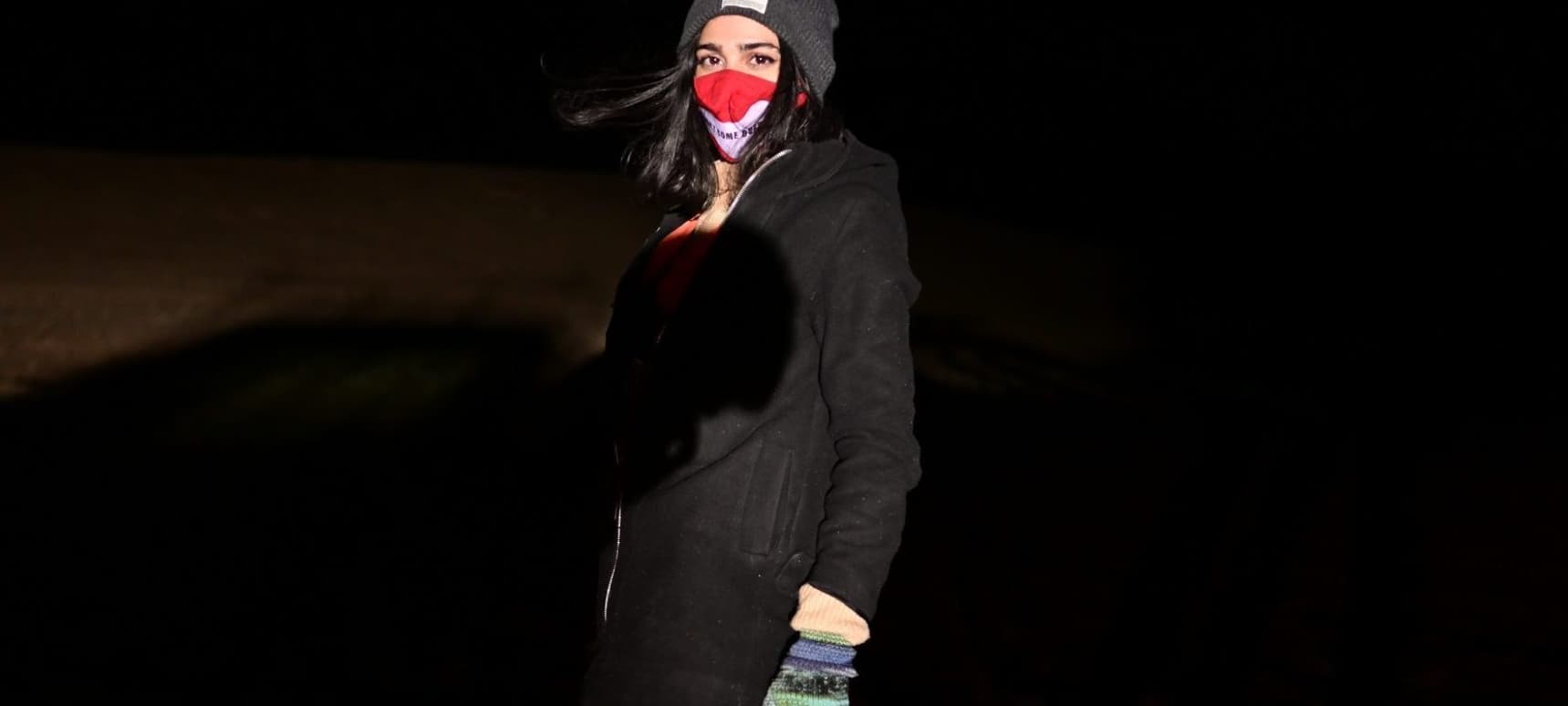 05.10.2020, Words by dummymag
New Delhi artist KAVYA talks creativity, pandemic sanity and India's independent music scene
"I think I'm on a "self-love" journey, and I'm enjoying the fuck out of it!"
Often, what marks a great artist out is their ability to work across different media. Kavya Trehan is one of these artists: as well as being a singer and songwriter, she's a producer, visual artist, actor and more. A recent addition to our DMY Artists roster, KAVYA is a soloist as well as member of a band, MOSKO, and you only need to watch one of her live jam sessions to get a sense of her all-encompassing creativity. We threw a few questions her way to find out more about her process, as well as the live grassroots music scene in India.
Cliché of a question, but what's lockdown been like for you? Have you managed to stay creative during this time? What's kept you sane?
Lockdown has been like going back to school and having to sit there without a supervisor telling you what to do and what not to do. It's been the highest lesson in self motivation so far. I've been creative in ways that I would have not been, if it wasn't for the pandemic. My sanity has been courtesy painting, listening to new music and allowing myself to have one or two 'switch off' days – where time is of no value and I can ruthlessly be a bum the entire time and feel no guilt.
Talk us through how you first got into making music. Do you have a first memory of music that really connected to you?
I come from a small family of three women. One, my mother: She's born with a sweet voice, and has been singing to us since we were little peas. Two, My older sister: She's born with perfect pitch and is an endless well of melodies. Three: I've always loved entertaining people. One of my first memories of music would be us three girls (me at age eight) harmonising to 'Que Sera Sera' by the Lennon Sisters, soon followed by my mother's crush, 'Careless Whisper' by George Michael and to date we sing these classics together when we're under the same roof.
You're in a band. How is making music as a solo artist different to collaborating with others and which do you prefer?
MOSKO is a sacred and special project for band members to ideate while we jam, share our skills and create music that's all about turning angst into grime tunes. It's easily my first experience of learning from others and I would credit the band for my current obsession when it comes to collaborating with other artists. The beauty lies in seeing things from different perspectives. And now, my solo project gives me space to find my own perspective a little better. I think I'm on a "self-love" journey, and I'm enjoying the fuck out of it!
You're also involved in the film world and visual art – what made you want to pursue these as well as music?
My entertainer bone is something that pushes me to pursue different mediums and I genuinely think that all contribute to each other in their own unique ways. I would definitely give credit to my multi-disciplinary upbringing where my school, Mirambika, insisted equal focus on education as it did on extra-curricular activities. This has influenced the way I think, and mostly importantly, the way I want to explore my own creativity. Acting is a great way of physically bringing one's own experiences to new characters played on screen. That's the exact same 'sensory-cerebral' strategy I use for songwriting and performing on stage.
Can you explain to us a bit about the music scene in New Delhi? Are there any other artists that you're really excited about?
The scene in Delhi exists in little genre-led pockets. While we already know that there is this overpowering influence of the Bollywood industry on the majority of listeners in the capital, there are also some really unique properties that hold the "independent" scene up. From community radios, events companies and curated festivals, there's a growing presence of the other side of the coin as well. Don't be surprised if you find yourself in a mill with projectors and some amazing artists playing, such as, Tarun Balani, Sublime Sounds, Prabh Deep, Blot, Curtain Blue and so many more!
Your latest single, 'Quin', is out now. Talk us through your creative process for its creation.
'Quin' is a very personal project because I was going through a great deal of self realisation and transformation when I was writing the lyrics. The entire track was recorded in one go and I decided to not do any retakes because I wanted to capture my emotions as it is, in the very first recording session. Hence I am always going to live with the memory of how I felt each time I listen to it. This track wouldn't have been possible with two amazingly talented gents, Rohan Ramanna and Rohan Rajadhyaksha. Both the Rohans together have been responsible for the production, mixing and additional arrangements of the track. The slow, repetitive nature of the vocals helped build this vast expanse of negative space that they could slowly fill, to help tell the story.
Can you tell us about a few artists from India that we should watch out for?
Tarun Balani: Tarun is a music composer, drummer and producer also from New Delhi and runs two music outfits, a jazz ensemble called Dharma and a solo improvised electronic music project called Seasonal Affected Beats. In fact I have collaborated with him on his debut EP '2°' on a track titled 'Let The Light In.' The story of this song is about a person who is suffering and not in a state of good mental health, together with their partner experiencing the process of healing, self care and recovery.
Sublime Sound: Sublime Sound is the electronic project of a dear friend and producer Anhad Khanna where he delves into the world of leftfield, breakbeat, forward thinking electronic music. He is also a part of a duo called Anhad + Tanner where they produce Indian Electronica, so this is definitely a different side to his musical taste and palette that he wishes to share with the world. In fact, we also work together as Anhad is on production duties for my upcoming EP, 'Know Me Better' and we are also releasing a single together mostly in December.
Prabh Deep: Over the years, Prabh Deep has made his way to become one of the finest underground MCs and hip-hop producers in India. The lyrics to his productions involve him sharing his life story of growing up in a locality that is suffering from high unemployment rates and influx of drugs in the community. I think that's what I admire about him, it definitely takes courage to share your life story through music to so many listeners who don't know you on a personal level. And that is where I see the synergy because my music is often about conversations I wish to have with people or what's going on in my head and to be able to do that with grace and no fear of being judged is no mean feat. I have much respect for such artists.
Blot: Blot is definitely one of the pioneers in the electronic music scene in India and has been around for a long long time. If melodic techno is something that you appreciate then Blot is definitely your man. I have also had the opportunity to share a stage with him for NH7 Weekender, a music festival that takes place in India and it is an absolute pleasure each time because I always get to learn so much from him.
Curtain Blue: I am a sucker for male vocalists and I feel Abhishek aka Curtain Blue is one of the finest voices in the country. I really enjoy the way he incorporates vocals in his live sets that are textural and take very unexpected turns sonically. He fuses haunting vocal melodies with downtempo and bass sensibilities making the entire soundscape quite melancholic and off late I have been really digging this vibe and style of music.
Kohra: I would definitely place Blot and Kohra in the same category when it comes to artists who started out early and are way ahead of us in the game. All the artists I have mentioned except for Prabh are from New Delhi and apart from being a music producer and DJ he also runs a label called Qilla Records and I must mention that the visual identity of that label is on point. His set at Magnetic Fields Festival was one one of my favourites to date and he has also released his debut album.