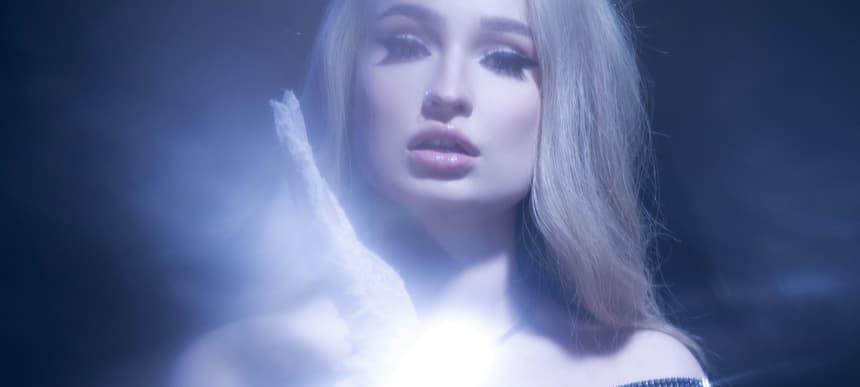 04.09.2019, Words by Felicity Martin
"That's what I'm proudest of, that I have a diehard fanbase": The cult of Kim Petras
The German singer-songwriter is currently leading the new pop charge...
You could say that 'Clarity', the opener to Kim Petras's debut album of the same name, is the perfect pop song. Packed with all the building blocks of a hit, it's front-loaded with a hook: Petras follows a waterfall of synths with, "Clarity, I got clarity, I'm the bitch with the sauce, apparently."
The German singer-songwriter is the bitch with the sauce. People come to her shows with bottles of condiments for her. "I always go home with a bunch of sauces," she nods, "hot sauces, spicy sauces, erm, curry sauce, any kind of sauce… [My fans] do all kinds of cute things – a lot of them wear buns because I had the side-bun thing on my first single. Then I get a lot of Jiggly Puff fluffs," alluding to what has become a meme of her, where fans photoshop Petras's hairstyle onto the pink Pokémon. "That's what I'm proudest of, that I have a diehard fanbase," she says. "I don't have a Number One record but I have a fanbase that's there for me, and I can sell out my shows, you know?"
At her sold-out show at Heaven last week, one fan in the front row gives Petras a hand-drawn picture of herself and starts crying. It's one of the hottest days of the summer, and the world-famous gay club's brick arches are dripping onto a crowd glistening with both perspiration and glitter. Petras doesn't miss a beat or a slickly choreographed arm move. During album cut 'Icy', she looks frozen in time, a wind machine whipping her platinum blonde hair as she ad-libs in faux-distraught, pop megastar fashion.
I meet Petras a few days before the show at the glossy London offices of AWAL, a distribution company for independent artists. Business-like in a lime green suit, the 27-year-old waves a group of people she's just been playing new music to out of the room before giving me a warm hug. AWAL's alternative model to the traditional record label has allowed Petras to establish her own BunHead Records, through which she releases her music independently. "I've witnessed a lot of my friends' records getting postponed by months and months because, like, Taylor Swift's new album's coming out, or this big person's new album is coming out," she explains. "As a new artist, you're just not a priority and I think now you can really use streaming and social media as your platform and build your own career," she says.
Now based in LA, Petras lands in London the day before we meet, tweeting "sclub7 on the radio I am ALIVE". Though I think of the seven-piece as a quintessentially British phenomenon, she tells me that as a kid growing up in Cologne suburb Uckerath, the S Club 7 Show was on TV all the time, dubbed in German: "Yeah, I stanned!"
Petras's own interest in pop began as an escape from reality. She'd known she was really a girl since the age of two, and was bullied at school as a result of her gender dysphoria. Spending her school days getting thrown lunch at, her refuge was in Gwen Stefani music videos ('Love Angel Music Baby' era), Katy Perry and '80s pop icons. She learned English by transcribing Britney and Spice Girls interviews and, inspired by a documentary she saw about Carole King, began writing her own songs aged thirteen.
Though her first publishing deal saw her penning a laundry detergent jingle, Petras would enter into the music industry as a songwriter, after a YouTube upload got her noticed by a Los Angeles producer. She flew to the states, couch surfing and writing as many songs as she could, before being introduced to the production team behind Bruno Mars's 'That's What I Like' and, in turn, Dr Luke (whose abuse allegations have been something of an unfortunate stain on Petras's come-up).
Being a hitmaker was one thing, but Petras craved stardom herself. "I've spent my whole life leading up to this," she says. "Because I was a songwriter first. It's been a lot of performing – at every gay club in the US, basically, over the last three years. I mean, two years ago, my first single came out, but even before that I was performing everywhere and singing my songs to rooms of people who didn't know any of my songs. Now people sing along, which is nice."
Few popstars could boast a Paris Hilton cameo in the video for their very first single. 'I Don't Want It At All,' a display of designer handbag-craving brattiness, from the perspective of a sugar baby, starred the hotel heiress as herself. It was a bold first step.
Quickly gaining a hold within pop's inner circle, the alt-pop cognoscenti embraced Petras on the drop of Charli XCX's now-cult 'Pop 2' mixtape, where she laced 'Unlock It' with a dreamy verse. Despite collaborating with Charli and SOPHIE (on '1,2,3 dayz up'), Petras's own sound is less angular PC Music-inspired weirdness and instead eyes the genre from a more traditional, unapologetic angle, the work of a serious pop scholar. Much of 'Clarity' feels like it's built on the foundations of popular music from the early to mid '00s: 'Personal Hell' lurches along like a sugar-injected version of Marilyn Manson's cover of 'Personal Jesus', while 'Sweet Spot' embraces a retro groove not unlike Modjo's 'Lady (Hear Me Tonight)'.
Other tracks exude the playfulness of pop, but in a different way. On 'Got My Number' she leaked the number of her friend Jesse Saint John: 949-331-0609, urging people to call him up. "Oh yeah, he had to change his number," she laughs. "It went really crazy." They used the number to FaceTime Petras's fans. "And now I'm paying his phone bill," she says, "I mean I better, come on!"
Being independent means Petras can sign off creative decisions like this, but she avoided the traditional record company trajectory for another good reason. "When I was taking meetings with major labels, it was all about being transgender," she says. "Everybody was talking about it, like, this is how we'll do this, or we'll not mention it. Everybody was only talking about me being transgender and not about my music. I didn't like that at all." When she then decided to drop her music independently, it shot to number one on Spotify's chart.
"I didn't write hundreds and hundreds of songs to only speak about [being transgender]"
In 2009, aged 16, Petras became the world's youngest person to undergo gender confirmation surgery. It's something she's spoken extensively about, including chatting candidly to Philip Schofield and Fern Britton on the sofa of This Morning, but at the same time as being a vocal spokesperson and role model for young trans people, equally she wants the focus to be on her music.
It's a balancing act she admits finding "difficult, especially in the beginning. I've had to turn down a lot of things that were only about being transgender," she nods. "I got really sick of it, because, you know, I didn't write hundreds and hundreds of songs to only speak about [being transgender]. I've worked a lot on my talent that sometimes it does get really annoying.
"But at the same time," she continues, "I want to be a spokesperson so bad, and an activist for transgender kids out there that are just like me that that struggle and have a hard time in school. I want to be a role model for them. But when I don't talk about it, the transgender community is like, 'Oh, you don't want to be like a role model for us', and when I do talk about it people are like, 'Oh, that's your main focus or whatever.' I just couldn't get it right." At the start of her career, Petras avoided doing press altogether, even putting out her music without her face on it. "Now that I've proven that my music's good and there's an audience for me, I'm down to talk about being transgender much more," she says. "I've always been open about it, I'm really proud about it, but now I'm more open to be as transgender as I want."
At the Heaven show – coincidentally also her birthday – Petras speaks directly to her fanbase multiple times. "The reason I write pop songs is because I used to hate school and that shit made me feel like I had a friend," she says, still out of breath from the tight choreography. "I hope I can make you guys forget about your problems."
Stream/download Kim Petras's 'Clarity' here and find tickets for her upcoming US tour here.