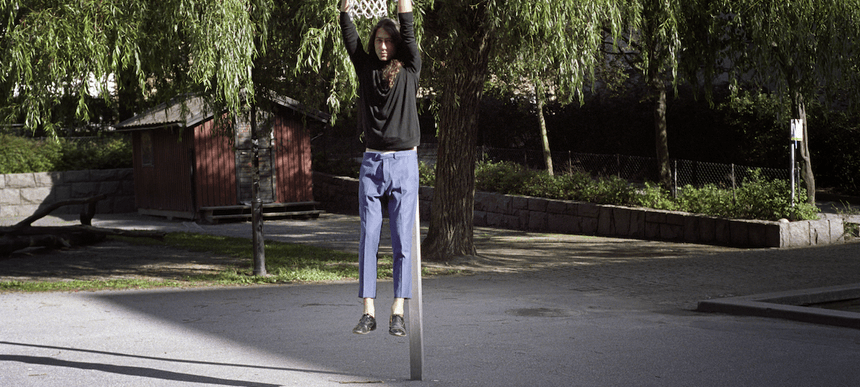 15.10.2014, Words by dummymag
Kindness interview: "Keep finding that energy that makes you excited."
Although Adam Bainbridge now spends most of his time living in Geneva with his girlfriend, he's back in London for a few days to do press for his new album, 'Otherness'. We're meeting at a café down the road from XXVII, the studio where much of the album was recorded, for lunch. "The eating interview," Bainbridge says, "The least dignified interview there is."
It's been two years since the release of 'World, You Need A Change Of Mind', Bainbridge's debut album as Kindness, which saw him reconfigure funk, soul, R&B, and post-disco for a modern pop listener. On 'Otherness', Bainbridge opens his world up to a huge range of collaborators, including fellow pop musicians like Kelela, Dev Hynes, and Robyn, producers and engineers like the esteemed Jimmy Douglass, and an array of extraordinarily talented session players.
'Otherness' is an album made by a fan of music, with fans of music, for fans of music. The tempo is slower than on 'World…', giving way to a richer style of pop songwriting and production that rewards the attentive listener with its numerous intricacies. Even the moments that don't seem to add up at first end up making sense, eventually. "I was crazy about Intimate Friends, a song by Eddie Kendricks," Bainbridge says, "There are these bridge sections that don't really do anything for me, melodically – I'm almost against them – but the contrast into the chorus has me rolling on the floor in ecstasy. And I may have left moments in the record that are a little unsettling, or melodically unstable, because I was hoping that when it settles, it will pay off."
What do you have in common with all of your collaborators?
Kindness: "It's just a shared sense of passion about music. They care about music often as fans, as opposed to ambitious musicians. That's the most constructive musical environment to be in: to be surrounded by people, regardless of genre, who really love what they do. I can't stand it when I meet a musician who doesn't listen to other people's music; it feels like something's gone wrong."
Do you need to have a network of musicians around you going in a similar direction with their tastes?
Kindness: "Often other people's focused, burning enthusiasm for something can open it up to you. Alex [Sushon, aka Bok Bok] and the Night Slugs guys going in deep on American genres and sounds has opened those up to me – I wouldn't know Baltimore club and Jersey house and ballroom and things, but seeing their deep commitment to getting to know the genre, and getting to know the producers, was the only way to do that.
"Having a superficial relationship to anything is pointless. It's not even that hard to make the final connection between yourself and the individuals – I remember DJing at the Jam City 'Classical Curves' launch and being introduced to DJ Rashad and DJ Spinn. I just remember thinking, 'This is amazing! My friend's label is putting out this crazy record, Jack [Latham, aka Jam City] has a room full of people listening to the playback of this crazy record, and these Year Dot creators of footwork are here just to support this sound!' That's an amazing convergence to be a part of.
"I see myself as a student. I can learn from other people, and learn in a way that doesn't destroy my voice or what I want my music to sound like – so why wouldn't I reach out to other producers, or learn the way that other craft their sounds? That's fascinating to me."
Yeah, even removed from the technical aspect I always like to hear about people's creative processes.
Kindness: "But there's a convergence between the two, especially if you work in production. When I worked on the mixes for this album, some of them were with Jimmy Douglass, who was Timbaland's engineer. I'd always be pumping him as subtly as possible for information. I didn't think that I was asking him that illuminating a question, but I noticed how we were having to work on different sounds on these mixes for the record, and I asked, 'How was it working with Tim? Did you ever have to spend a lot of time EQing things and perfecting them to have this 3D sound?' And Jimmy says, 'No, never.'
"The thing about Timbaland is that that he doesn't put a sound in the song unless it's ready the second that he plays it. So every single sound that he's searching for has to instantly fit and immediately sound perfect in the mix. If it didn't, he'd have to keep going. You'd never know how many thousands of sounds that he'd try for each element. And that makes music sound effortless, because everything just has this perfect coherence and energy. I thought that was pretty amazing – I'm gonna steal it for the next one, but it was a bit too late for this album."
"I see myself as a student. I can learn from other people, and learn in a way that doesn't destroy my voice or what I want my music to sound like – so why wouldn't I reach out to other producers, or learn the way that other craft their sounds? That's fascinating to me." – Kindness
A while ago you said that going into the studio was a luxury…
Kindness: "It is a luxury!"
Well, yeah – but you said that you might not even feasibly be able to do it for this album.
Kindness: "To an extent it's true – I self-financed the recording, and at one point we had to say, 'No more studio days.' At least, no more studio days with an engineer and a mixing board and hired equipment – it's a microphone in a bedroom or nothing. But it's still a good place to be, and obviously limitations can spark a certain kind of creativity. But the studio is a luxury now."
Well, one of the things that I noticed was how, even on Soundcloud, you're presenting your music as studio sessions. You have all the liner notes, saying: here's where it was recorded, here's who play what on it, here's who engineered it, who mixed it, who publishes it…
Kindness: "That [the studio] is the dream. I got to live that dream, making that first record. That's got to be one of the best, most well-maintained spec studios in Europe. And he [Philippe Zdar, producer of 'World…']'s a fucking nutcase! He's constantly buying 10, 20 thousand dollar outboard effects, trying them for three days, and then sending them back and buying something else. It's a continual process of reinvestment, where he took everything that he ever earned from Cassius and from his DJ career to get to what is probably an impossible place, which is the perfect studio. But holy fuck! That is the dream, as an aspiring, somewhat technical and nerdy musician – to make a record that way.
"But once you've made a record that way, you don't have to do it again. And I will never have the budget to do it that way again, and in some ways I wanted to acquire something more chaotic than the 'right' way. Now, it's done in a pretty gnarly and messy fashion."
How were the sessions done? Were they quite hodge-podge, or did you get a set period to record for?
Kindness: "There were a few two-week runs, but otherwise it was definitely these disparate tracking and recording sessions, working on things in my kitchen at home and taking them to the studio the next day, and playing things to Kelela having not seen her for three or four months. Because everything we recorded, we recorded together."
Yeah, I was gonna ask about that at some point.
Kindness: "I didn't want do file swapping."
This is the route I wanted to lead my questioning, eventually – was any of the album not done face-to-face?
Kindness: "There's one harp recording that Brandee [Younger] did at hers, mainly because she can't move her harp and I needed it really fast. Had I been in New York, I'd have sat down and recorded it with her. That, and M.anifest did his verse in Ghana, because I couldn't be there. Everything else – face-to-face."
Collaboration and working with other musicians in the studio is a very important part of this record. The first album was very much billed as 'your' record, but with this one you're bringing a lot more people in.
Kindness: "I was just trying to follow the Rick Rubin thing, about having 25 songs and picking the 10 best ones. That's a good way to work."
So it would've gone different ways if you'd picked different songs?
Kindness: "Definitely. I think that, with more time, there might've been more unexpected guest collaborations. But I know that I can keep moving forward and keep recording for the next record – with this project I'm not really constrained by genre limitations, or even a moment in time."
I wanted to talk about what 'Otherness' means to you. I think a lot of people consider your music as Kindness as a kind of study on pop music, rather than something that actually has a personal relationship to your life.
Kindness: "If it comes across as studied or bookish, it's just because I find it easier to talk about those aspects than the heavily personal ones. It's easy for me to be passionate about my music and talk about it in relation to other music, but it's terrifying to look into the void and talk about the personal aspects of it."
Well, the album is a lot slower than the out-and-out disco leanings of your first. Why did it end up going in that direction?
Kindness: "There's a number of reasons. Making the first record, and it sounding that way, was certainly inspired by the things that I was listening to the most at that time. I was looking for a kind of sonic environment and songwriting that wasn't being overused somewhere else. And having made that record, I'm not really gonna make it again.
"But what I've been listening to for the past two years has moved into this experimental place within pop and R&B, and the sort of heritage of the club that Night Slugs explores. I was talking to someone earlier and saying that 'Classical Curves' was an enormous influence on this record; even if you can't hear it, it's there. So I suppose that pulled me closer to modernity.
"And maybe the predominance of really facile, superficial chart house made me stubborn enough to banish 4×4 kickdrums from the record – with one exception. And even then, it has no '90s piano stabs and no obvious synths. The 4×4 track on this record is a piano, a tiny bit of background synths, and voice.
"I like subversion, I suppose. I just didn't want to do what everyone else was doing."
"If [my music] comes across as studied or bookish, it's just because I find it easier to talk about those aspects than the heavily personal ones. It's easy for me to be passionate about my music and talk about it in relation to other music, but it's terrifying to look into the void and talk about the personal aspects of it." – Kindness
Where did your interest in that style of experimental R&B songwriting come from? Talking about 'Classical Curves', I'd think of a song like [Jam City-produced] Cherry Coffee by Kelela and its relationship to this album.
Kindness: "Yeah, and I mean I've listened to that song so many times – talk about two of my favourite artists working on a record together!
"DJing a lot of disco and early house was a big influence on the first record. And now I'm getting booked in modern house and techno clubs, which has meant that I can play a lot more contemporary club music and learn from it and enjoy it in the environment that it's meant to be enjoyed in.
"And, amazingly for me, I'm getting to play party hip hop and R&B, and seeing the sheer energy and enthusiasm for that rivals or even surpasses what happens in the club. I played at the Saint Heron SXSW party this year, and I've never felt better as a DJ. That was an amazing experience. To get to play immediately after Tweet and on the same night as Kelela and Moses [Sumney] and all of these great artists just had that energy from the crowd. And it keeps happening – I played at a FADER party in New York, and afterwards someone came up to me and said, 'That was like being at a barbecue, but in the best possible way. It was like a family playing records to you.' That inspires me. So I suppose I'm trying to take the feeling from those parties. And that tempo, because there's something about 90bpm R&B records that makes them so good to dance to."
They have such a good groove.
Kindness: "World Restart is that tempo. There's maybe two or three other things that don't sound like they're that tempo, but they are. Toni Braxton, Mary J. Blige… It's just that perfect hybrid. Some of what Bad Boy Records were doing with disco samples is obvious, but there's a reason why it works. It's in this amazing pocket, with the modernity of the drum production on top, and then you take something like I'm Coming Out or Chic Cheer…
"There's a reason why Faith Evans' Love Like This kills the club, anywhere. You could play it in Berghain and it'd work. There's something just incredible about it. I love Chic, but Chic Cheer doesn't have the same energy. It's just adding that extra sauce."
When the tempo is slower, you have to focus on the songwriting and arrangement and musicality, whereas with faster tempo stuff you can maybe cover up and get away with hiding those things a bit. Would you agree with that?
Kindness: "I don't think these things are intentional. There were no deliberate restrictions. I tried a number of times to do something influenced by 160bpm juke music, but it just wasn't working."
Has anyone successfully turned juke into a 'commercially viable' pop formula, with vocals and things?
Kindness: "Chance The Rapper did a song that was juke-based – obviously he worked with Rashad as well. But no one does it better than the OG creators. There are two Rashad songs, both Stevie Wonder flips, that just kill me. I can't get over the amount of power and melancholy in Last Winter and From The Start. The tempo is up there, it's really fast, the bass is pummelling you, but there's a kind of airiness and weightlessness to it that sounds effortless. I don't know how people make music that's so complex but so effortless.
"With Rashad's music you just understood immediately that he's a fan of music. He also had no genre limitations. I love the fact that he'd flip Steppin' Out by Joe Jackson at the same time as Stevie. I think the first thing I heard of his was that Bobby Caldwell What You Won't Do For Love flip. It's so alien-sounding; it just didn't seem instinctive at all to use the sample in that way. That's what made it so next level. You could see that somebody had the musical intelligence to go beyond anything that had been tried before. That's pretty rare now."
I wanted to talk a bit about your own approach to sampling, actually. I know that's something you've never been shy about doing – whereas a lot of other people would never dream of it.
Kindness: "People know that there's power in it. Sometimes it's a financial thing – people are so into making money off of their records that they wouldn't dream of giving away a healthy chunk of it to the original writer. I'm not here to make money. If I was, I'd be doing Top 10 chart house."
I also think a lot of people are still sceptical of it – there are still those ideas about sampling and authenticity.
Kindness: "But there's so much joy in it! The creative use of another person's song should be, at its base, respectful enough to do no harm, but exciting enough for you to want to do it in the first place. And the people that do that well have changed the landscape of music. Joe Sample passed away recently, but looking at all the music he's contributed to that's gone on to be sampled – holy fuck! That's just this landscape of creation that came from a love of other people's songs. My favourite hip hop producers – Just Blaze, J Dilla, even Kanye West to a certain extent – started off loving songs and knowing how to fuck them up in a good way. When A Tribe Called Quest reworked that Minnie Ripperton song – that, to me, is the epitome of what sampling can be: finding this microsecond of a song that might have been overlooked and turning it into something new.
"But yeah – booooring. I'm talking like a nerd. Luckily, most of your readers are nerds."
I got onto this topic of sampling because Moments In Love [by The Art of Noise] turns up on With You. That seems like such an important record to so many people – I'm thinking of Nguzunguzu, for example…
Kindness: "Well, that was a big inspiration, knowing that they'd done those two mixes. I thought that it'd be interesting to join that cast of characters. It is just such a touch point for experimental pop music, that that can even be a charting song."
So you wanted to add your name to the list of people who'd sampled the song?
Kindness: "That sounds terrible – my sole motivation. [laughs] No, I just thought it was a texture that worked and would be what I was looking for. You do something because it feels right, not because it's going to be a pain in the arse to clear the sample. Of course, it was a pain the arse to clear the sample, but here we are."
This is gonna sound like a cheesy observation, but there's a lot of saxophone on the album.
Kindness: "The little phrase of saxophone on 8th Wonder is by a guy called Jason Arce from New York, who did all the horn stuff on the Blood Orange record. I think we were in the same session doing Chosen from 'Cupid Deluxe'. I'd written the arrangement and said to him, 'Do you mind if we quickly throw this phrase in one of my songs?' I sang it to him, played it back, sang the harmony, played it back – done! Super fast, effortless – incredible musician. There was just a vibe.
"Here in London, one of the guys I'd worked with previously was unavailable, so they said, 'There's this other London sax player – a pretty special individual, quite an eccentric, loves music to death, probably gonna be bonkers in the studio, but you should try him.' And it was Finn Peters. He does a lot of very esoteric gig work. He plays live as much as he can, and he'd come off the back of a two-night sit-in with Hermeto Pascoal, the Brazilian experimental jazz player. And that was the first time that I'd met Finn, and he was just crazy! He had this manic, intense, slightly unhinged energy from coming off the ultimate gig of his life. He was sitting in on the thing that he'd always aspired to, and now he could die happy. And I guess he brought some of that to the playing that he did for us.
"When someone is in that zone, you just want them to go forever. We just let him go and let him go and let him go, and it was actually hard to edit stuff out because there was so much playing from the heart. Kelela needed persuading that there should be so many horns on With You, because they're in the same register as the vocal. But I like the lyricism of the sax – it is the same register as the human voice, so it can be expressive without lyrics, and that's what makes it something that I want to work with."
There's a big step up from being somebody who works by themselves to working with musicians who are just hilariously good at what they do.
Kindness: "I gave a talk at an electronic music festival to a room full of young producers – feeling massively under-qualified, I should put in brackets – but I think I hit on one thing that I try to apply to my own recording process, which is that producers, and producers that have an awareness of what other people are doing in the studio and how they make their tracks, can often get suckered into buying a plugin for £200 that apparently will change your mix forever, or is the new compression that kills everything.
"And I said, 'Fuck it! Next time you have £200 burning a hole in your pocket and you're tempted to throw it down on a Universal Audio plugin, get on the phone and hire the best keyboard player that you can find and get them to just solo over the end of your track, and it'll be the best £200 you've spent in your life.
"It's the same for me. Every time I think a track is finished, if you find the right person in the rolodex that has the subtlety to lace it with another layer of something fine and spectral and in the mood, then it's gonna change everything. You can't always get that, but when it works, it's the best session fee you've spent in your life.
"The thing with Finn was that even when we weren't recording, we were running back and forth to the computer in the lounge in the studio, playing each other songs off Youtube. He just put me onto so much good stuff. He's just a fan! I love that generosity from collaborators, where it extends beyond the performance or the song that you're working on and branches out into everything.
"Bam [Kenneth 'Bam' Alexander] plays the drums on World Restart. That track started on this programmed drumbeat, and I wanted to hear a live energy in it. I came across this video of the drum sessions for Show Me What You Got, the Jay-Z song. It's something that me and my drummer used to listen to really loud – crazy drum chops, some insane, over-the-top gospel playing, but it blows you away on a musical level. I found the video of Bam playing the original sessions and thought, 'What have I got to lose? I'll contact the guy and see if he'll do the drum recording for this record.' And he said yes, and I ended up going to his house in the middle of nowhere in California, and we recorded his drum parts in the living room."
"Next time you have £200 burning a hole in your pocket and you're tempted to throw it down on a Universal Audio plugin, get on the phone and hire the best keyboard player that you can find and get them to just solo over the end of your track, and it'll be the best £200 you've spent in your life." – Kindness
There's a bit in World Restart that I love where the drums really unexpectedly go quiet for a split second.
Kindness: "The mix was one of the most fun to do. I would just do what they used to do in '70s and '80s edits and just hit the solo button to take the whole mix to just one voice or one sound. Or hit the groove mix and drop out all of the drums. These things would be live, with a really arbitrary chance of whether it would sound good or not – but it all sounded good. We'd just be laughing in the control room, that something so dumb and risky could bring another section to life. It's part of the song – keep resetting, keep starting from scratch, keep finding that energy that makes you excited."
Female Energy released 'Otherness' on October 13th 2014 (buy).