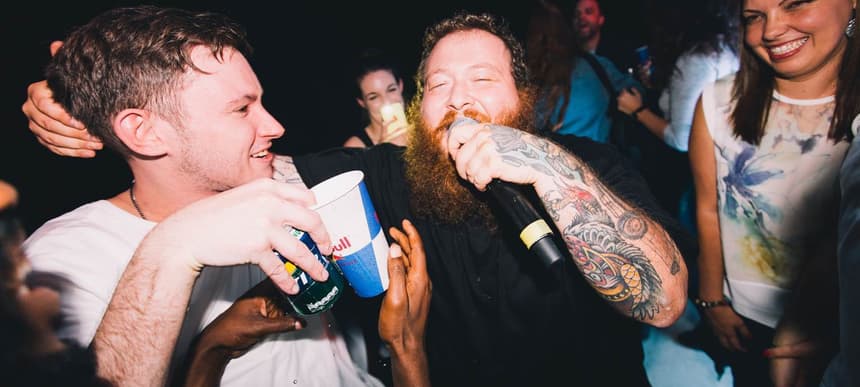 10.09.2015, Words by Natalie /
Live report: Hudson Mohawke at Red Bull Future Underground
Hudson Mohawke blasted the foundations of shrouded Islington venue Collins Music Hall for the debut night of Red Bull's Future Underground series; with supprort from the London Sinfonietta, LuckyMe's Eclair Fifi and a surprise appearance from 'Mr. Wonderful' aka rapper Action Bronson.
Three storeys deep beneath Islington Green, Hud Mo played a live set with his full live band, euphorically blasting out Ryderz and Chimes alongside TNGHT banger Goooo, as well as debuting brand new track Chocolate Keytar. Following HudMo's performance, the crowd were hyped up to see gourmet rapper Action Bronson take to the stage unannounced. Flown over from Queens and chuggin' on a G Pen, Mr. Wonderful embraced his eager and slightly suprised fans by spending more time in the crowd than he did on stage and posing for so many selfies we nicknamed him the 'Selfie Stallion'.
Action Bronson closed his set back on stage with his mood-enhancing classic Baby Blue, rounding off a breathtaking evening of music set in equally phenomenal surroundings. Check out some of our favourite moments below.
One down, two to go….Charlie XCX plays Future Underground tonight with Frriday's heavyweight guest set to be announced a little later today. Check the Dummy Twitter for a chance to attend.
Red Bull's Future Underground Series runs September 9th-11th.