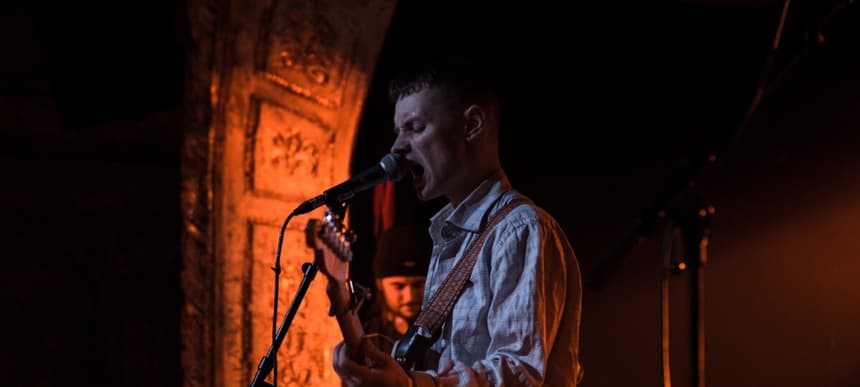 26.02.2018, Words by dummymag
Live report: Puma Blue, Omeara, London, 21/02/2018
If Puma Blue isn't on your radar yet, he should be. South London's Jacob Allen – one of our artists to watch in 2018 – makes punk infused jazz which sways from sexy and deeply intense to emotive and all the way round again in every song and makes him a key contender to be one of London's finest young artists.
It cannot be argued that he is something special, and his sold out headline show at London's Omeara was proof of that. It's hard to find artists that are better live but Allen was just that, which is saying something as his recorded tracks are close to perfect, but Allen's ability to commandeer the stage and captivate the audience into silence is a rarity (especially when the crowd was incredibly chatty through out) but he had Omeara in a trance.
Playing around 12 songs with highlights including cult track '(She's) Just A Phase', 'Soft Porn' and 'Want Me', Allen's control of the crowd is something he's learned early on and, as I looked around to see the reactions of other people there, it was no surprise there were tears, beaming smiles and looks of admiration towards the stage.
Allen's persona is endearing; singing songs that will tug on your heartstrings with a voice that gives you goosebumps, he's different when he speaks to the crowd. There's something shy and coy about him which makes you want to understand him more.
I left Omeara feeling different; Allen's ability to emotionally reach out and grab you in his live show is something that everyone needs to experience, even if it has you in your feels for a few days.
Listen to Dummy's curated playlists on Spotify.