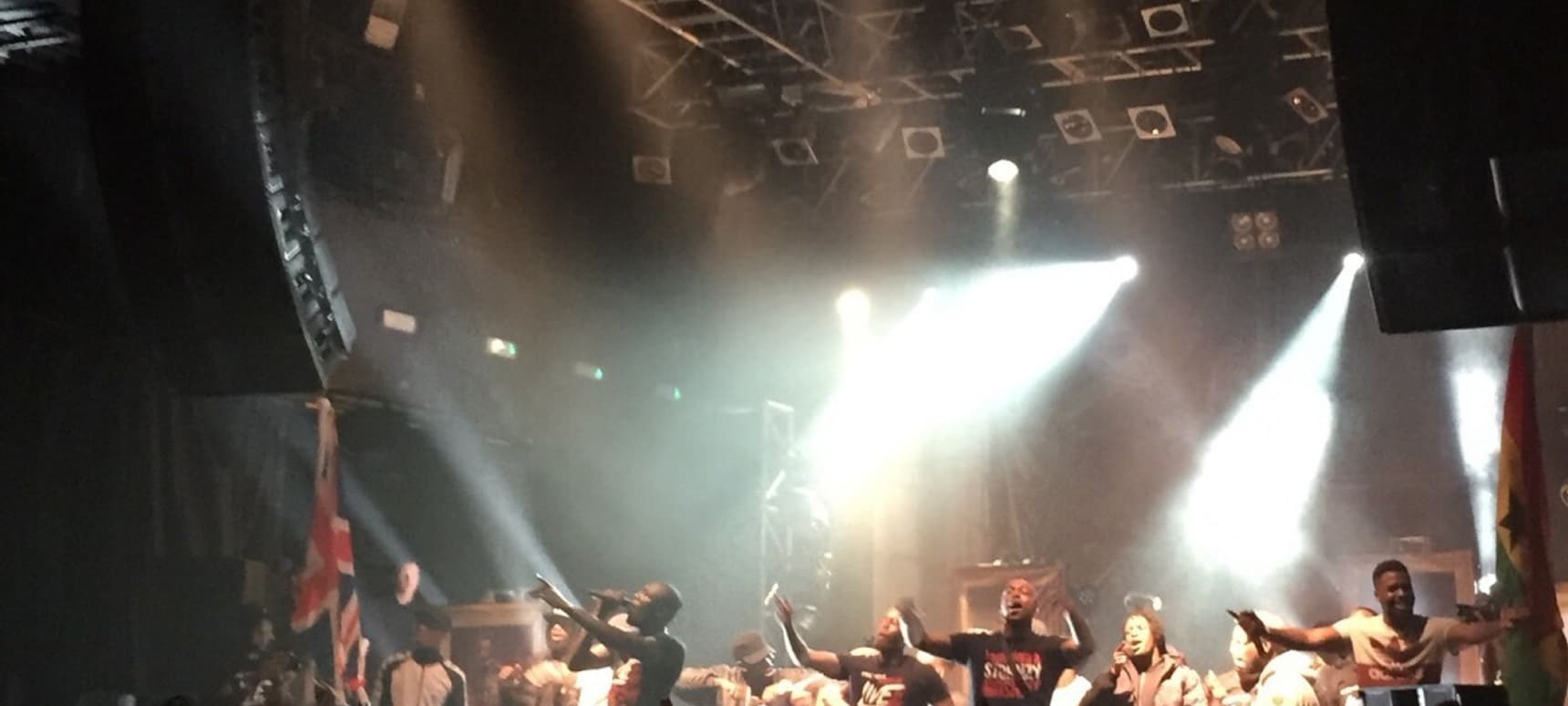 02.11.2015, Words by Natalie /
Live report: Stormzy at KOKO
I've never seen so many phones held aloft in my life. Stormzy has just stepped out onto the stage to play his headline show at Koko in Camden and the crowd are illuminated by the glow of camera lights. The energy in the room is electric, the noise deafening.
Fresh from charting with the fourth in his 'WickedSkengMan' freestyle series – a track that references 'peng tings', porn and muffled laughter after admitting that he'd just farted – Stormzy is clearly his own brand of superstar. On stage, he's humble, grateful. "Oi London, this means so much to me you know," he says to the crowd after performing his first few tracks. That's not to say he's overawed by sentiment either – far from it.
After rattling through his come-up material, the crowd reciting every word like their lives depended on it, it becomes clear that he's warming slowly – there's an art to this. By now, the energy was beginning to amp up, kids already coated in sweat and looking worse for wear, beat up almost. The moments that have prompted fans to start wearing t-shirts emblazoned with the words 'I survived a Stormzy mosh pit' were still yet to come.
A series of special guests then started to join him on-stage. From Nottingham's Mez – a hyper, quick-witted 18 year-old MC with who's recently spent time on tour with Kano – to Chipmunk, Krept & Konan, Lethal Bizzle, Section Boyz, JME and Giggs, the extended scene were here together. This was unity.
Lethal Bizzle's new single Dude (that also features Stormzy) was particularly riotous, but it was JME and then Giggs' verses on JME's Man Don't Care that really lit the touch paper for Stormzy's crowning moments. First, Shut Up, then WickedSkengMan4 and then Know Me From – all performed after he implored the crowd to widen out and create a huge, all-encompassing mosh pit that stretched right back to the very edges of the venue floor. His DJ, Tiiny, also added to the carnage, switching up classic instrumentals every 16 bars – Youngstar's Pulse X and Treble Clef's Ghetto Kyote felt euphoric. Even I was jumping, shouting and swearing.
As Stormzy finally made his way off stage after an hour and a half, it felt like there were mixed feelings – nobody wanted it to end, but nobody could go on any longer. Trundling towards the exit, my energy zapped and my coat lined with other people's drinks, I don't think I could say I've had a better Thursday night.