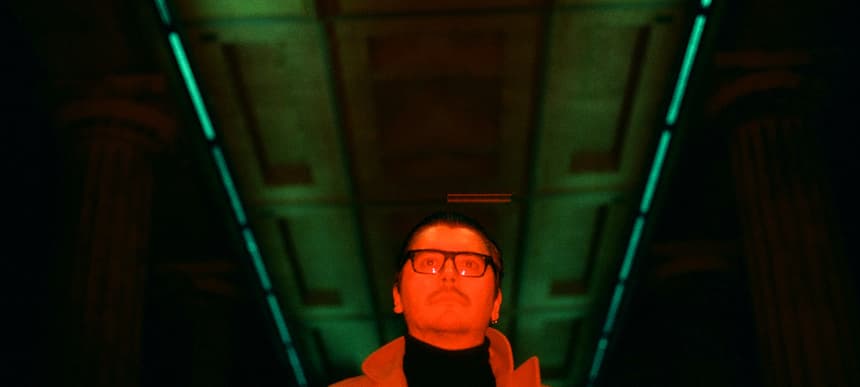 12.03.2019, Words by Felicity Martin
Orbital, trance and Aldous Huxley: the inspirations behind Locked Groove's 'Sunset Service'
How the Belgian football team and a dog called Pudding inspired the producer's debut album on Hotflush...
Since making a splash on Scuba's DJ-Kicks in 2011, debuting on Hotflush Recordings in 2012 and then heading onto Tiga's Turbo Recordings, Locked Groove has been in the business of crafting high class 4×4 dancefloor fodder. The Belgian producer, real name Tim Van de Meutter, recently returned to Hotflush for his debut album – 'Sunset Service'.
Packed with Berghain-primed techno cuts, as well as more uplifting works of trance and house, it mines that sweet spot between dark, heads-down business and peak-time euphoria. With so many styles and sounds colliding on the record, we invited Locked Groove to expand on the inspiration behind each track.
'Pudding ft. Nate Brown'
"Even though this is the first track on the album, it was the last one I finished. The vocal is by my friend Nate Brown. He's a creative director from New York, who also starred in Gaspar Noë's mind-bending Enter The Void. I knew what I wanted from the vocal, so I asked him to send them over via a Whatsapp audio clip and that was that. The title has a nothing to do with a dessert, by the way. It's named after my girlfriend's dog who passed away on the ripe old age of 13 while I was in the process of finishing this track."
'Do Not Freak'
"Stylistically this one is quite different from the rest of the album. It has more of a summery, housey feel to it. I wanted the album to have a bit of everything. Because it was made over the course of the year, the seasons changed and so did my mood and what I wanted to produce. At the time I didn't notice, but listening back to all the tracks I made over that year, there's definitely a difference."
'From Beyond'
"The tranciest cut of the pack. Growing up with trance was a big part of my childhood. Simply because it was everywhere in Belgium: TV, radio, stores etc. I tried to pour all that childhood sentiment into a track. I was in doubt for a long time if I should release it, but decided to do it and I couldn't be happier with it now that it's out."
'Out of Orbit'
"One of of my biggest influences is Orbital. So this track is kind of a homage to them. If you play this at a club, they better have lasers and a smoke machine. Because that's what I envisioned when I was in the studio making it."
'Zillion'
"Zillion used to be a club in Belgium and it was also one of mainland Europe's first super clubs. I was way too young to go there when it was there, but we used to drive past there when going to my grandparents on Sunday. I remember being absolutely fascinated every morning seeing all those ravers exiting the club. The building was also iconic – google it. The club sadly closed before I was old enough and now there's nothing of it left. Except a lot of YouTube videos which you should also look up ;)"
'Soma'
"For those that have read [Aldous Huxley's] Brave New World, the name 'Soma' should sound familiar. In the book, people take the drug Soma to get rid of their "bad" feelings. It's probably also the most mellow track on the album so that's why it's in the middle of the album. I intended for it to be a bit of a breather. For those that haven't read Brave New World, I highly recommend it."
'Oscillate'
"After the breather 'Soma' I wanted to pick up the pace again, but not full on. A track you could play when you're opening a night or a peak time set. It's for you to decide. That was the whole idea behind the album as well. I want it to be varied and flexible."
'Swimming Upstream'
"Because where's the fun in going through the motions and following everyone else? It's a battle between two elements that always fight for attention: the breaks & pads vs the bass line and kick. In my opinion people should swim more upstream, instead of doing what everyone else is doing, or what's popular at the time."
'Round and Round'
"Does exactly what it says on the tin. It goes round and round with nowhere to go. I don't think every track should be a "journey" or should be super intricate. Sometimes it's perfectly fine to have something that's simple and intended for the floor and a good time."
'Sunset Over Coku Tau 4'
"Sunset or sunrise – I like both equally. 'Coku Tau 4' is a pre main sequence binary T tauri star system in the constellation Taurus (I totally copied that off Wikipedia…) This track could definitely work during a sunset party. As you might have figured out by now, I love working with a lot of melodies. I usually start off with a chord progression on the piano at home and which I then take to the studio and continue working on it."
'Whistle'
"A simple ravey one. It's always a challenge to work with sound that have been used in so many legendary tracks and use them in an interesting way. The rave stab being one of them. I like them as a starting point because it forces me to think out of the box and push it to something that's not too cheesy or done before."
'Eden ft. Stella'
"The closing track. Made during the football world championship last summer. One of my friend's daughters decided to show her support for the Belgian team and decided to send me a Whatsapp clip saying, "I'm for Belgium". When I received it, I knew I had to make a track with this. And who else than the captain of the Belgian team Eden Hazard to lend his name to the track title?"
Stream 'Sunset Service' in full:
'Sunset Service' is out now on Hotflush.