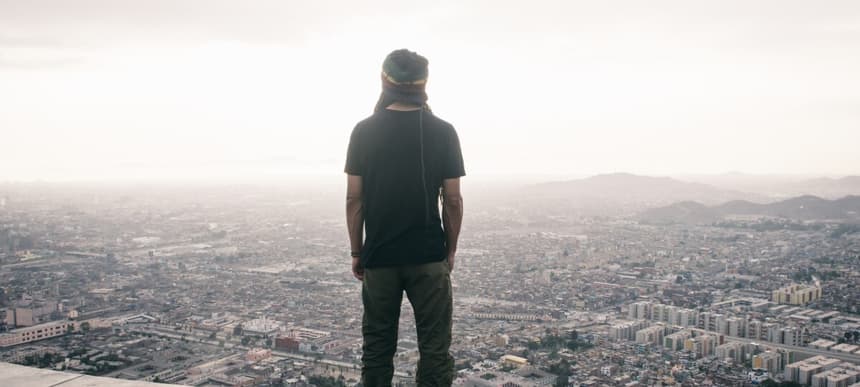 30.06.2016, Words by dummymag
Mala: "I didn't want to call it 'Mala In Peru'...because it wasn't that for me."
Take a glance over the UK Top 40 from the past year or so and there's a common rhythmic theme among the records that have dominated it – Adele aside, perhaps.
Soca, dancehall, calypso and – if you'll excuse the use of a catch-all – afrobeats rhythms, have been at the root of some of the biggest hits of the last 12 plus months. Be it on Justin Bieber's Sorry, Rihanna's Work, or the countless others that have made solid dents in the UK charts (see the likes of Alicia Keys' In Common, Jamie xx's Good Times and AlunaGeorge's I'm In Control) – the casual, two-stepping shuffle and winding, earworm melodies that typify these loosely cobbled genres have been largely inescapable.
This of course is nothing new, nor is it necessarily a bad thing in principle: we have multiculturalism and musical mutations to thank for many of the world's most essential movements and recordings. The Internet – in making the world a smaller place – has accelerated this process, and made discovery of far-flung sounds easier than ever.
Indeed the value of the way in which the Internet has provided the likes of Awesome Tapes From Africa with a platform on which to not only collect and collate "music you won't easily find anywhere else" but also to educate, should not be understated.
This element of education isn't always, however, upheld to quite the same extent. Drake in particular has come under fire from dancehall and afrobeats fans and artists alike for not properly crediting the artists influencing or even featuring on his records.
It's an issue that played out at the London leg of this year's Red Bull Culture Clash.
Popcaan, one of Jamaica's most celebrated current dancehall artists, was representing the Brooklyn-based Mixpak crew on the night, and was repeatedly mocked by the opposition for having his parts cut from the 'Views' version of Drake's Controlla. His response was a dubplate version of Drake's obscenely popular One Dance. The dubplate featured the Torontonian giving props directly to Popcaan himself, and appeared to settle all debates as Mixpak – despite being relative unknowns to many of the audience that night – were to take home the Culture Clash crown.
That this should all take place at an event that successfully consumerises a staple of dancehall culture – attended by a crowd who are more than likely largely unaware of the fact – is either incredibly fitting, or painfully ironic, depending on your viewpoint.
It's this view that we find ourselves discussing with Mala – a producer whose music has long proven a vessel of influences, and whose DMZ crew competed to great approval at one of the first Culture Clash events – as he prepares to deliver his second LP for Gilles Peterson's Brownswood Recordings. The first, 'Mala In Cuba', was, as its title suggests, the result of time spent exploring the Caribbean country's music and culture.
Critically acclaimed, the record saw Mala expand his already passionately dedicated fan base and reach a whole new audience. More so, it introduced a swathe of people to new rhythms, melodic tics, and vocal artists that they otherwise – particularly given Cuba's historically insular existence, both literally, politically and figuratively – might not have come across. This time, he's taken the blueprint to Peru.
"I think it's great that people are drawing from different influences from all over the world," he says, "but I think at the same time it's important to let your audience know where you're inspired from, and what inspires you, and to give them an education."
"It's important to let your audience know where you're inspired from, and what inspires you, and to give them an education." – Mala
It's a matter that's clearly close to his heart, and he's more than happy to evangelise on behalf of musicians like Augustus Pablo and the foundational producers and engineers whose work has contributed to his own artistic development. He agrees though that lack of recognition for the wider influence of music originating from Jamaica and elsewhere is not just a post-Internet problem.
"Roots, reggae, dub music has inspired electronic music as a whole," he says. "The very way that people use mixing desks and effects in contemporary music, from pop to dubstep to techno: who were the first people to do that? Lee Perry, King Tubby…y'know what I'm saying? But they don't get the credit from people," and, he continues with a slight deflatedness, "unfortunately, this is often the case, isn't it?"
"I feel like it's also part of my responsibility as an artist to try and educate the audience that listen to my music," he goes on, "hoping that as a result of the collaboration they might go and listen to roots music from Peru."
Long-standing fans will no doubt be reminded at this point of a number of the records that Mala has put out over the years on his own DMZ imprint that tilt around the topic of education – Learn, with its iconic, pre-drop "Why haven't you learned anything?" sample, being the most obvious example.
Despite the storied pains that he went to in producing the Cuba record, work began on album number two almost immediately after promoting the first ended. Touring with a live band, he tells us, had given the record new life, as well as "a little bit of insight into how to prepare another one" – in particular, how to write a record with a live show in mind.
That's not to say that he expected the process to be any easier. "I didn't know anything about Peru," he says, "so many different things were uncovered as a result of going there." It's this aspect of actually going there that Mala places most emphasis on, aware of the wider musical context into which he is writing – one in which samples and sounds and entire musical movements can be accessed, in some form at least, with the click of a mouse.
Music, as far as Mala is concerned, is to be experienced rather than simply heard. Anyone who has seen him DJ will understand this in terms of the way his sub-heavy productions move more than just ear drums – with big speaker cones shifting the guts in your stomach and the hairs on your head. With albums like …'In Cuba' and 'Mirrors', Mala takes this belief from the stage and speakerbox to the studio.
"There's lifting something from a record, or going to XYZ website and buying a sample pack, and [then there's] going to the actual place and speaking with the people and meeting the people and sharing food with them," he explains. Indeed, hearing the lengthy tale of intense, language-barriered negotiations with the band of zampoña players who would ultimately grace album opener Kotos is enough to indicate how far removed the process is from a simple 'add to cart' and download or even crate digging experience. Though there's a pleasantly gentle dichotomy in the fact that Mala first encountered the band, Sikuris AJP Cusco, via a YouTube link emailed to him after he'd returned home to Brussels – and then came across them by complete chance when he travelled back out to Peru to seek out a group who could play him something similar.
"When you approach something with that mindset, and have to go through that experience," he goes on, "when you take those recordings back to your studio you bring all that history, that energy, and that experience with you."
"When you take those recordings back to your studio you bring all that history, that energy, and that experience with you." – Mala
The sense of lived and, occasionally, suffered experience is at the very core of Mala's methodology – ultimately bound up as it is in the roots of the music he makes: it's difficult not to stray into discussion of the sufferahs tradition when talking with him about the rhythmic and even melodic arrangements on the record. "[Cuban and Peruvian] rhythm and percussion are pretty much African in root," he says, "so I think that's something that's natural in all of us: those ancient drums."
He refers too to feeling completely overwhelmed by recording sessions with the aforementioned zampoña players – eventually breaking into tears in the corner of the room as the sixteen Peruvians circled around a single omni-directional mic and laid down their track. Not simply because of the sense of relief to have finally got them into the studio but rather, "because [the zampoña are] wind instruments and they're blowing into them," he says, reflecting on the experience, "you really hear the life in it – I don't know what it is about the sound, it's such a deep, ancient frequency that I feel when I hear this music."
This meditational quality and approach to sound will be familiar to followers of Mala's Deep Medi Musik label, and was taken to new levels in the naming of this Peruvian record, with the title, 'Mirrors', being inspired in part by an experience with a shaman and an enthiogenic ayahuasca brew. "I didn't want to call it 'Mala In Peru' […] because it wasn't that for me," he says, alluding to the greater depth of experience and the influence that his family travelling with him this time around had on the record.
On listening, there is the sense that on this album – particularly in comparison with the Cuba LP – Mala's presence is less obviously felt. That's not to say that he isn't very much a part of it, but rather that he takes the role of a refraction plate through which to pass his experiences. The recording process was, he says, an opportunity for "educating and challenging [himself] with a whole new palette of sound," and in this way became a practice of self-reflection. Hence, 'Mirrors' and the ayahuasca – "I guess I had the title before I really knew it," says Mala.
And with this self-reflection has come a new maturity. "A big part of my mindset is soundsystem driven, but I feel like as a producer I'm at a different stage," he says, "it's great to make something for dubplate and play it out in that way, but I think I've been doing this for quite some time now and I feel like I'm at a different point where I do want to experiment with these [new] things."
The material collected on Mirrors isn't, Mala says, necessarily something he'd like to play in his DJ sets. That the listening party for the album was held at Sonos Studios – is perhaps indicative of this shift. He's got grand hopes for another live show, but is adamant that it be truly representative of the album as an immersive cultural experience.
"A big part of my mindset is soundsystem driven, but I feel like as a producer I'm at a different stage. It's great to make something for dubplate and play it out in that way, but I think I've been doing this for quite some time now and I feel like I'm at a different point where I do want to experiment." – Mala
It wouldn't feel right, he says, to tour the album without having the zampoña players, zapateo dancers and guitarists that have contributed not only to the sounds of the record but also to his personal developmental experience of making it all happen.
A production on this scale is, of course, a commitment that will come with its own host of financial and visa issues. For now, there are delicate touches like including pouches of palo santo in the limited edition vinyl box set.
In terms of what comes next, an itch is growing in the camp: it's been more than a year since the album was completed and there's excitement at both the prospect of touring and another exploratory adventure.
Just where the next destination is likely to be, Mala is staying tight-lipped about – but it'll have to be somewhere just as foreign to him as to his ever-expanding fanbase. After all, he says, "it's all out there to be explored."
'Mirrors' was released June 24th on Brownswood Recordings (buy). Follow Will on Twitter.