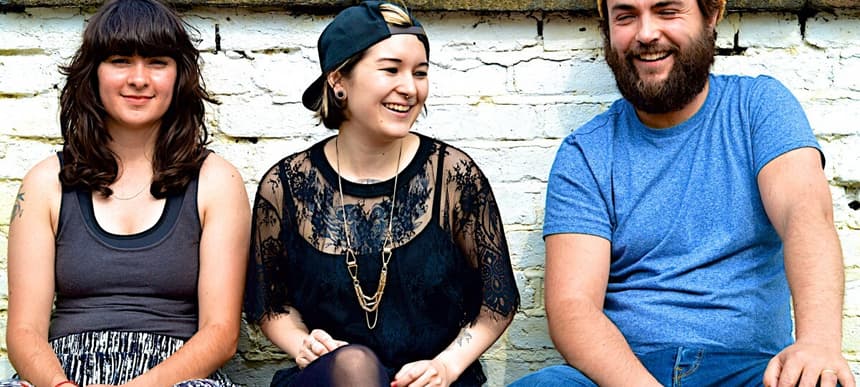 11.12.2015, Words by dummymag
Maya Jane Coles & GAPS: "It has been a series of happy accidents."
Brighton folk inspired duo GAPS released their debut album 'In, Around The Moments' on Maya Jane Coles' label I/AM/ME in May. A well-rounded, relaxing release that's ripe for evenings spent contemplating life, the album was successfully received and followed up at the tail-end of summer with a remix EP, 'All Me, All You'. Featuring 'In, Around The Moments' album track tracks All Me, All You and What Makes You with reworks coming from Alex Arnout and label boss Maya. Alex Arnout's efforts creeps up the speed, taking the light and fluffy All Me, All You on a late-night cruise down the M25 whilst Maya takes the sobering slowness of What Makes You deeper underground, re-envisioning the with a picked up pace, helped along with the addition of a soothing and rolling percussion. It's like Dead Can Dance, Enigma and The Orb all hanging out and jamming in 2015. It's all good vibes here.
With GAPS being the first artist released beyond Maya's own material on I/AM/ME, we wanted to find out more about their working relationships. Across two separate conversations we asked the acts why they were compelled to work together, how they flew the nest of genre pigeon holing and preconception, and how their two unique tastes and sounds made such a solid bridge.
Listen to 'All Me, All You, below and read the interviews after the jump.
Maya Jane Coles interview
What made you want to start releasing other people's material on I/AM/ME?
Maya Jane Coles: "Rather than me suddenly deciding that I wanted to release other people's material and trying to seek out demos, it was more the case that I heard GAPS' music and thought it was something really special and wanted to work with them in some way. We collaborated on a few tracks and released an EP together and Rachel Butt is also featuring on my second MJC album which I've been working on for a while, so when they finished their album it just seemed to make sense. I actually met Rachel years ago at a house party so we had that connection, and I always prefer to work with friends."
I'm sure people constantly pin you to 'house and techno' and wouldn't necessarily expect you to venture beyond that with the label, so are you happy to represent something a little different?
Maya Jane Coles: "Yes it's definitely nice to represent something that some people might not have necessarily been expecting. Since what I play as a DJ can sometimes be quite different to what I do as a composer/producer, people often get it really wrong. And sometimes people also seem to be so narrow minded that they can't get their head around one artist working within lots of different genres. So hopefully as time passes and I get to release more of the stuff that I really want to and support more of the music outside of my comfort zone, people will see that I am not just trying to make a mark within one genre of music."
Are there any other genres out side of house and techno that you're really into and would maybe consider releasing? GAPS are definitely quite folk-rooted, was that an appeal?
Maya Jane Coles: "Yes I'm producing some stuff for folk based singer/songwriter Chelou at the moment which is exciting stuff. I'm also working on some hip hop stuff again. When growing up my main love was hip hop, so when I first started producing music, my dream was actually to be a hip hop producer… I wanted to be the female Timbaland! [Laughs] But then I sort of put that aside when I started DJing and started writing much more electronic based stuff, so I'm excited to have a bit of time to go back to my roots. Alongside that I will always be working on my Nocturnal Sunshine stuff."
Was remixing the track a 'good union'? What did you hone in on – or try to change and develop?
Maya Jane Coles: "With my remix of What Makes You I really wanted to keep the essence of the original which is why I kept pretty much all of Rachel's vocals in, plus the kept the tempo the same etc. It would have been a shame to lose the darkness of such a beautiful haunting track. As we'd already worked on around five tracks together previously, it kind of came naturally and is actually one of my favourite remixes that I've done!"
If you could sign anybody to the label for a one-off project who would you choose?
Maya Jane Coles: "It would be tough choice between Missy Elliott and Kelis… and I would want to produce the album! That would be a dream come true!"
GAPS interview
How did this project get started and how did you feel about working with Maya Jane Coles?
GAPS: "It has been a series of happy accidents. Ed and I have known each other since school but GAPS came about many years later after playing him some ideas on my computer after a bottle of wine. We feel privileged to work with Maya. She is a cool cat and we really respect her autonomy in the business."
How would you generally describe the sound of GAPS? Do you make music for particular moods, feelings, people or times?
GAPS: "GAPS is a true collaboration and I think our sound is made up of these two worlds. The initial ideas start with me and come out of a feeling or response to something going in my life so my parts are very emotional and sometimes chaotic.
Ed's production builds on the mood of the track and but he instils a bit of order and keeps me on my toes with his rhythms. He records found sounds so we've built up a palate of organic 'GAPS' sounds. We love bass frequencies keep the arrangements spacious. That's a big part of our sound I think."
Tell us more about the 'minimal darkness' of Maya's sound you mentioned in the press notes – how do you feel this works with or compliments the sound GAPS and these two tracks in particular?
GAPS: "I think Maya's music occupies a similar space to ours in its darkness and unease. We are also both a big fan of BASS and appreciate minimalism in music so I think we compliment each other very well and it's ace to get her take on some of our tracks. She's taken What Makes You to a new low – in a good way! I remember the first time I heard the bass line. It is dutty and I was beaming from ear to ear."
Keep You definitely has a deeper feeling of night and the dark, an edge to it. Is this something you're looking to explore more?
GAPS: "Yes, it does. It came from the depths so Ed kept it there with the production. It would be fun to explore it more, particularly as it has a great energy live but it just depends what I am writing about. If something really awful happens to me or someone I love, then it will come out in the music so watch this space! Every cloud and all that."
How was it working with Maya on In Dark, In Day and Never Walk Away? Was it good to cement and carry on this relationship by being the first release on her label?
GAPS: "It was ace working on the EP and those tracks in particular. It was just really natural. Maya left me to write the initial ideas as I do with Ed and record them in my own time and then I sent them off for her to work on. It's always really exciting because you don't know what you're going to get back but we'd talked about the sounds we both like and I knew it would be bagging!
Maya has been a great supporter of the project from day one and we've always felt she really gets what we do. It is rare to meet someone so genuine and passionate about music, at the top of their game. When she showed an interest in releasing the album we jumped at the chance of working with her. We knew we could trust her to put it out exactly how we wanted it."
Away from the music you make, do you like house, techno and clubs yourselves?
GAPS: "Well. I'm not an expert in the genres but you know what you like when you hear it! I recently did a sweep of YouTube and found the track Rooted Resentment by Drumcell that I've been listening to on repeat ever since. My techno head friends from Coventry would be proud…The last set that blew me away was Ben UFO at Beacons festival. I love his eclectic style and all those dudes over at Hessle Audio. I've been meaning to go to one of their nights but they always seem to be before one of our gigs…not ideal preparation for singing the high notes!"
'All Me, All You' is available now on I/AM/ME (buy / stream).