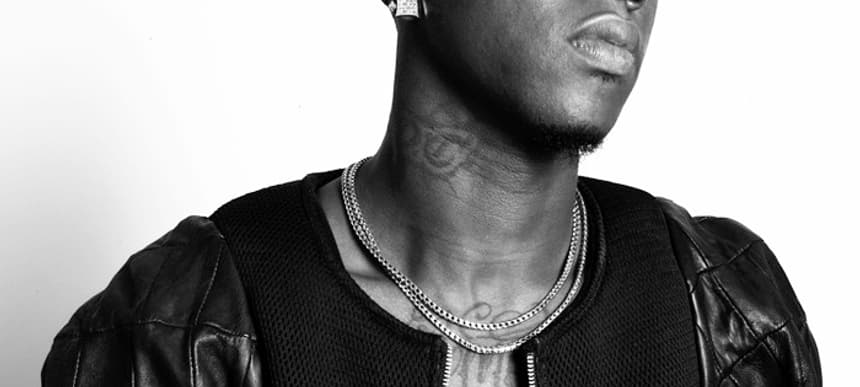 15.09.2016, Words by dummymag
MikeQ: "Ballroom culture needs to be protected and managed in the right way."
As I prepared myself to call MikeQ, I quickly reflected on the last few years and how the sounds of ballroom have evolved to influence a new wave of club music producers including myself, as well as how its culture has flourished to create localised scenes both here in London and across other key European cities.
I wanted to know the early beginnings of Mike's relationship with a culture that he has helped to develop, so when I asked at what point Michael Cox first collided with ballroom and voguing culture. "There was a gay club in New Jersey that I attended around October 2003, which mostly played hip hop and Jersey club, then at the end, they would play just three tracks of this weird music where I saw people voguing. It was music by Vjuan Allure, tracks like Din Da Da and Satisfaction," Mike recalls. "With AOL dial-up internet popping at the time and wanting to know more, a week later, I quickly found out about another spot in Harlem mainly playing hip hop and reggae, but they had a mini ball at the end. I tried to buy CDs from the DJ but he didn't have any, so I got the contact information for him and we connected at a later date."
An instant passion for voguing drew Mike to start producing music in the following year, and spurred along by the movement's online community, his ascension of the ballroom ranks simply went from there. "There was this online chat room called 'Walk For Me Wednesdays' where people would post beats and throw shade at each other."
It was then – as chat rooms began to mutate and take shape as early forms of social media such as MySpace – that the genre's popularity began to spread rapidly within the US, and beyond. "Travelling was pretty unexpected for me but in 2011 I had been talking with Kingdom about an official Fade To Mind release along with Koppi, which consisted of us travelling to the US from Tokyo to come and take part in the culture," Mike explains. "That gave me my first international gig in Tokyo, then my first trip to Europe in 2012."
"There was this online chat room called 'Walk For Me Wednesdays' where people would post beats and throw shade at each other." – MikeQ
This was my first meeting with Mike when we booked him for the first House Of Trax party in January 2012. He played for us at House of Trax and then a Night Slugs party in London, which sparked the beginnings of Europe's renewed interest in the culture. I wanted to know what he thought about these developments.
"I think it's cool for the culture to have this exposure, but I don't think everyone knows what to do with it or how to treat it. That can go in one of two ways, sometimes resulting in some misuse. It's great to see it expand, as many people are real about the culture and they know what they are doing to try and respect, learn, and grow vogue and ballroom in their own countries. However, it can go wrong when people go off and do their own thing, without involving or asking someone from the culture in the US to come and judge a ball, or offer advice if they need it. Sometimes they may only know about one element of the culture – such as the music – and not the dance side of it."
The hot topic around ballroom this week regarding appropriation comes in light of it's most high-profile case to date, with Apple using a track by Surkin in their latest advert campaign. When I first pressed play on that video I actually thought it was a fan piece, where somebody had dubbed the video with one of Mike's productions. "So many people sent me a link and brought it to my attention, some saying congratulations," explained MikeQ. "I read an interview with Surkin for Thump in 2013 and gathered that he may have a messed up approach towards the culture and how to deal with it. He was saying that he had never been to a ball and that there wasn't any of that going on in Paris at that time when there was."
"Ballroom culture needs to be protected and managed in the right way." – MikeQ
The appropriation of vogue and ballroom by a mega-brand such as Apple seemed like a classic case of misuse, so I asked Mike to reiterate what he sees as the best way to approach the culture if you are inspired by it.
"Be respectful on your approach, be informed, and try attending a ball to experience the true culture. Don't just make it because it's a hot sound or you want plays. If you don't hear about it, or if it 's not hot anymore, then the ballroom culture will still be there. It needs to be protected and managed in the right way."
On a lighter note, MikeQ has used the year effectively to progress in personal music projects such as the 10-year strong Qween Beat label and collective, which he is pushing in new directions with the release of the 'Qweendom' compilation. Featuring tracks from the likes of Byrell The Great, LSDXOXO, and Leggoh – it's an 11-track treat for the heads, or a springboard into the genre's key players for the new and unsuspecting vogue and ballroom fan. "'Qweendom' has been well received and we're now working on music videos for some of the tracks, to try and expand and push the compilation into different directions." As for Qween Beat in general, Mike continues. "There might be some full EPs to come from Divoli and Byrell. My aim with the label is to make a space where true ballroom music can be found, whether it is successful or not."
"If anyone wants to go hiking and take some photos, I'm down." – MikeQ
Mike has also taken some time to focus on the different notes of his talent outside of music production and label management, namely photography. With life goals of shooting for National Geographic and Rick Owens' campaigns, or maybe just shooting some landmarks, it was a habit that formed quite naturally. "Photography, like the music, kind of came from nowhere. I was travelling through DJing and taking photos on my phone not knowing If I was going to return, so I bought a proper camera to take better photos and it's developed from there. Taking pictures of landmarks is my thing, especially with no people in them. If anyone wants to go hiking and take some photos, I'm down."
MikeQ and Rushmore play alongside Teki Latex and L-Vis 1990 at Camden Assembly on September 17th (tickets).