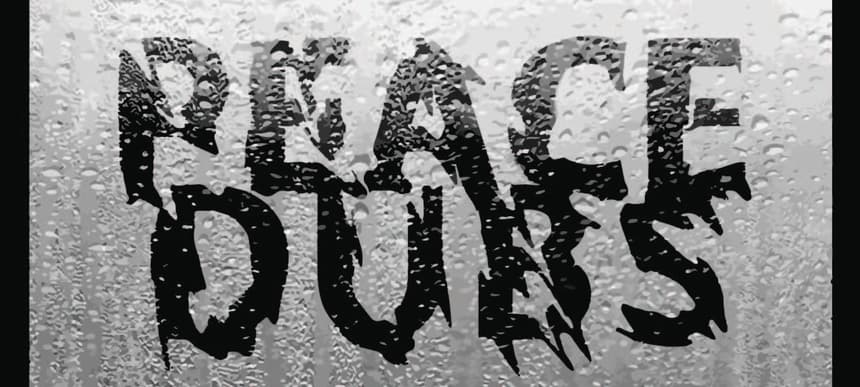 02.03.2015, Words by dummymag
Peace Edits are the delicate flipside to grime's war dubs
If we travelled back in time to a SoundCloud flooded with war dubs and suggested to Bless Beats, JME, Footsie and the like that their instrumentals would result in Loom's melodramatic flip of Kate Bush's Running Up That Hill – well, I'm not sure we'd believe ourselves. Yet, 15 months later, here we are: 'PEACE001' sees artists like Loom, Strict Face, and Silk Road Assassins take on the 'peace dub', Mr. Mitch's framework for emotional electronic music with a grimy twist.
It was in the midst of that war dubs crossfire that Miles Mitchell reacted with his first peace dub, putting together a Faze Miyake reconstruction on the train during his daily commute – 'Peace Dubs Vol. 1' soon followed. Fittingly, the artwork for 'PEACE001' is the Banner of Peace, the symbol for a treaty that placed the protection of cultural work ahead of military defence, hinting to Mitchell's artistic refocus at the time. Memories of the war dubs are hazy at best with few stand-outs, resigned to anecdotal storytelling for the most part. Conversely, it feels like the Peace Edits have only just began to take their first steps.
Peace Edits have come in the form of remixes of tracks, directing grime's synth-heavy sonic palette down a more delicate route. Discordance and juvenility dissipates with slower build-ups and a more tempered pace, kicks and chord progressions seem softer and the mood wanders between melancholia, wistfulness, and tranquility. Throughout the past year, Mitchell has continued to develop this idea of taking the aggression out of grime, steadily winning people from all over with the sound. "Well, the fact that Strict Face, a producer from Australia, has made one says something," he notes. "I think it all depends on the reference points. When I made Peace Edits of grime songs, it mostly resonated with UK people, but my Peace Edits of Pharrell and The Beach Boys seemed to get a lot of love from the US."
"I wanted to hear other peoples interpretations of a Peace Edit, it wasn't a concept that I wanted to keep completely to myself," Mitchell says of the new record, "I think it's an interesting process, breaking down a song to its core elements and reinventing them." Arriving on his own Gobstopper Records label, the title 'PEACE001' feels like a door held open for other producers. Until now, Mitchell has almost solely ventured in this direction, though part of that might be down to his work ethic: "I find the process quite a personal one. I have always been pretty much of a solitary guy when it comes to production, probably because on the most part I know exactly where I want things to go in a song. I'm definitely open to hearing more producers interpretations of it though."
All the tracks on 'PEACE001' are titled after their sample's artists, and in the cases of the first three tracks, this emphasises their focus on vocalists. Between Mitchell's austere looping of Dru Hill, or the way that Silk Road Assassins overcharge T-Pain's auto-tuned croons through oceans of synth, there's something stark and spine-tingling about their singing. Though grime often features MCs on the mics, it's occasionally found itself mixing with R&B. Interest in R&G has been revitalised with swathes of producers such as DJ Milktray and Gundam blending, chopping, and mixing the styles together, and it's worth speculating whether Mitchell is tempted to add his touch. "I am definitely open to working with vocalists, and it is something I am working towards this year," he says, "I love to work with vocals and it will be nice to get something original down to play with."
The sparser side of grime is being experimented with, too. Artists such as DYNOOO have garnered plenty of online interest for their intrepid reinventions of grime hallmarks, whereas Mumdance and Logos are looking to flip the club experience: their forays into the world of 'Weightless', stemming from Wiley's Devil Mix cuts, which pulled the beats out from underneath tunes, are essentially atmosphere-driven compositions. Speaking to RBMA in Leeds recently, Mumdance explained that he sees Weightless as a DJ tool to counterbalance relentless club music with ambient breakdowns – something relatively new to grime applications. Strict Face's Alice, the morose closer to 'PEACE001', even makes an appearance in Logos' latest RA mix.
"I don't really feel that they are grime DJ-friendly," Mitchell muses, having worked to incorporate them into his sets over the past year, "The BPM of a Peace Edit can be whatever, and mine rarely sit within 130-140. That being said, I do play some of them out as my approach to DJing has changed quite a lot. My sets share more of an affinity with my productions, but I also try to show a full representation of who I am and the genres/styles that influence me." Though many of these new strains of grime parallel each other and occasionally overlap, different ideologies hold them apart towards disparate destinations. With regards to the new record, Mitchell suggests, "['PEACE001'] has little to do with grime, but it is the slight sonic references that people associate with the genre."
Mitchell isn't ready to shoehorn Peace Edits into any particular function. His album 'Parallel Memories' featured an array of styles, and he says we shouldn't expect a Peace Edit full-length any time soon: "Peace Edits are kind of like an experiment. A way of expressing yourself through inspiration, not something that I would like to translate to album form." With a year ahead that will hopefully see his work with vocalists surface along with a follow-up to the all-round excellent 'PEACE001', Mitchell is optimistic about the future: "I am inspired by a lot of the artists around me and as long as we keep challenging ourselves with our productions, things will stay healthy."
Gobstopper Records release 'PEACE001' on 12" in March 2015 (buy).