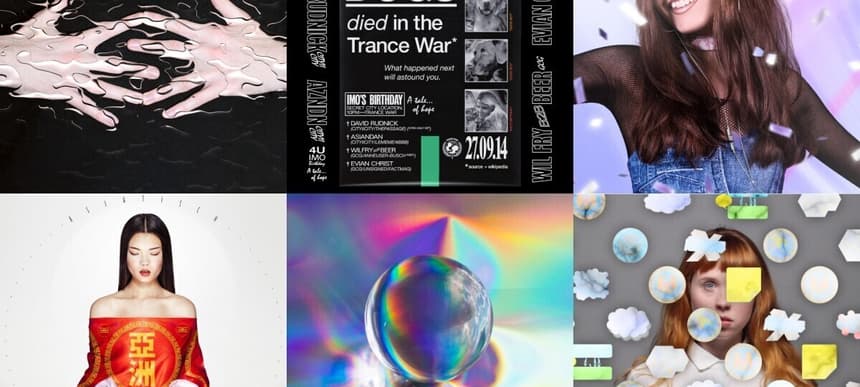 19.12.2014, Words by Steph Kretowicz
Visualising 2014
Click on any of the images above to launch the gallery.
A thing easily missed in music is just how central its visual artists are. They're at the core of a project's aestheticisation of sound and ideas, giving another language, beyond words, that's easily translate-able to its audience. These days that audio-visual link feels stronger than ever, with interdisciplinarity across all art forms becoming almost standard, as software becomes more accessible and the idea of an 'imaged-web' overtakes an earlier text-based internet. Basically, these days, pictures are everything.
That's why we decided to look at the art and music collaborations that defined 2014, from Daniel Swan and Diamond Wright's HD work with PC Music, SOPHIE, and Felicita, to Just Jam VJ Rachel Noble's visualisation of Throwing Shade and Yamaneko. David Rudnick contributed "Trance War" typography and graphic design for Evian Christ, while the Sinophile exchanges between Fatima Al Qadiri and Shanzhai Biennial surfaced across Sinead O'Connor/Prince video covers and billionaire real estate exhibitions, as well as Al Qadiri's album 'Asiatisch'.
But most pertinently perhaps, is Holly Herndon and Metahaven's imaging of an era of surveillance and paranoia in Home. The San Francisco-based electronic musician and the Netherlands graphic design agency to Wikileaks merchandise made a break up video to end all break ups in press, announcing, "Dear NSA: it's over."
Daniel Swan
Daniel Swan: "Alex [A. G. Cook] approached me to work on something together in 2012. I've done a video for Dux Content, a 'cover' image for Thy Slaughter and some looping things for the PC Music Youtube. There's also Felicita, Jam City, Django Django, Sunless '97, Rustie, M.I.A… Each project is wildly different – sometimes it's nice to have a totally fixed job, sometimes its fun to be in full experimentation mode.
"I see similarities in some of the ways we all work and hear processes happening that sound similar to the way a visual technique feels. I might try and emphasise that element of it, but most creative decisions aren't fully conscious in that way. For the Dux Content Lifestyle video, the track is so over-the-top that for a long time the only thing that I thought could really work with it would be a huge ultra-violent multi-million pound VFX-laden Lord of the Rings-style battle filled with lots of famous fictional fantasy characters slaughtering each other. The end result wasn't that at all though, more of a zoomed in microscopic look at a day's flow of data or something. I want to have another go at that video in 30 years time.
"I think there's a kind of cultural shift in London's 'underground' music scenes away from a messy DIY approach and towards a much more 'professional' DIY ethic. Caring and working really hard on things is happening again and I'm definitely into that. I make pretty much everything I do in video software now and I think forcing yourself to use tools in a way that doesn't necessarily suit the format you're working in is a kind of useful cheat-card for coming up with something that looks slightly different. Next I want to get to grips with surround sound and try and make something really immersive and horrific."
Diamond Wright
Diamond Wright: "We have been collaborating with A. G. Cook for a few (pre-PC Music) years now, most legibly logo.ec, which we started in 2012. Although the site in its original .ec form is long since deceased, you can still find scraps of work together from that period online. Notable examples would be the LOGO X Illasmasqua project, and the LOGO/PC Music release Less Love More Sex by Princess Bambi, the imagery of which derives from an early Diamond Wright shoot called Fragrances by Bambi – our first to marry personality and product.
"It was a shared taste for High Definition, commercial imagery that drew us to create logo.ec in the first place, but after a year it was decided the best way to optimise our skillsets was to forge our own respective music/image paths. With QT, the connection was a lot more recent but runs just as deep, and from the moment we tasted our first drop of QT Energy Elixir we knew it was a project we simply had to be involved in.
"In terms of selecting collaborators, it's a necessity that the people we work with share our taste across as many mediums as possible. People and personalities are at the forefront of our practice, which can essentially be boiled down to portraiture informed by fashion and campaign imagery. So, it's natural for us to gravitate towards projects where the personality at the heart of a project can inspire the creative direction. Whether it's been working with QT, Hannah [Diamond]'s own stuff, or one of our other collaborators, our goal is always the same: to create the definitive, avi-ready image of whomever we are shooting; a modern take on Warhol's Marilyn Monroe portraits optimised for Retina Displays."
Rachel Noble
Rachel Noble: "I like music, I'm an artist, I put myself out there and ended up helping out at Just Jam and NTS and met producers through these platforms who liked my work and wanted me to do some artwork for them. I'm sure the fact that I take an interest in their music makes the collaboration feel more natural and just makes more sense.
"I was super excited to see Visionist play at Just Jam a couple of years back as I had been listening to one of his mixes on repeat prior to that. It's crazy to think he has become one of my favourite producers and I've been able to work with him and Lit City Trax, which is also one of my favourite labels. With Throwing Shade, I was assisting in the studio on her NTS show so that's how we met there – it was a case of sharing what we did with each other and we really loved each other's work.
"I think Yamaneko's release was the most detailed in terms of what influenced his music and what he wanted to be included in the artwork. It's incredible the amount of things he thought about while making the tracks – and they translated really well into visual motifs. He was talking about putting all these influences into a small world, a bit like a video game world like you would find in Sonic. The things we spoke about was how to include all these different elements visually in the artwork. It's great because working with producers will always push me to try new things, be a bit more ruthless or bring my work up to a higher standard."
David Rudnick
David Rudnick: "This year I've been doing the art direction, typography and design for Evian Christ, Gener8ion, RL Grime, Boothroyd, and Clouds, individual music work with U (Phantasy), Turbo Recordings, and Zone, as continuing the art direction for George FitzGerald's label ManMakeMusic.
"Josh [Leary, Evian Christ] and I will talk almost every day, but 90 per cent of the time it's as a sounding board as part of the other's creative process. I think we both have a tendency to spend a lot of time with material whose only familiar content is in the manner of its banality, and our conversations are usually trying to make sense of hundreds of bad eurocafe dance videos, or long discussions praising Pusheen. I think we both aspire in some ways to capture that combination of total certainty and a total lack of clear meaning that comes out of these bizarre yet totally predictable materials in the things we make ourselves; there is a pathos and a power to them that seems completely lacking in 'cool, meaningful' culture. The products of a Cool Meaningful World are very predictable and stable and disappointing, and something nonsensical like the idea of '30,000 Dogs dying in a Trance War' takes on a quality of vital evidence of a reality that ought to exist, and that's where sometimes Josh will manifest something in terms of sound, or make music, or I will make a graphic, almost to shape reality to the argument. So much of our work together comes out of these discussions, so its very fluid and it's also total; it's an ongoing thing.
"It's not always like that with clients, of course. I care very deeply about fact that what I make has a footprint outward through time, and forms as elements of voice or language that might not exist elsewhere, and that others may build or take things from this. I want a generous practice, where I melt away, and the focus is not on me, or my presence. As obviously my role as a source in the work is self evident by its existence, and that's enough for me. Honestly, for me the process starts far away from the program or trying to picture the end result. Often it just begins with a feeling of shape of something that's not currently there in the world."
Metahaven
Metahaven: "Holly wrote us an email in 2013 thinking about working together, which was part of a larger effort to develop her practice as partially autonomous and partially driven by collaborations. We were aware of each other's work but acquainting her music in a much closer manner was a revelation. We did not really speak about the specifics of the first single, "Home," until we received the track, and we felt positively shocked by it, especially with how she builds her tracks out of elaborate layers of aural accidents. The most important tool in our collaboration is understanding through face to face contact, closely followed by email and Skype.
"The working process is on both sides influenced by building meaning and reference through details; a lot of our discussion, also with Mat Dryhurst, is concentrated on what exactly the connotation of a detail is, and how to get it right. That's true for both the visual and the music, in a joint search for new fantasies."
Shanzhai Biennial
Shanzhai Biennial: "I've known Fatima [Al Qadiri] since before she was an international superstar, maybe 2007. We did several stories for Bidoun, including a collaboration with what would become GCC in creating the first Gulfi photonovella. She's worn Shanzhai clothing prototypes in a number of press photos and she did the music to Telfar's SS14 runway show.
"It's funny because we (Shanzhai Biennial) had commissioned Fatima to make the backing track for Shanzhai Biennial N°2: a music video for a mandarin version of Sinead O'Connor's version of Prince's NOTHING COMPARES 2 U. The Chinese vocals were by Helen Feng, and Fatima was to compose the music for it… What she made was amazing — but totally wrong for our project! Luckily, it ended up forming the sonic and conceptual seed for her album 'Asiatisch', where it appears as SHANZHAI (For Shanzhai Biennial) (feat. Helen Feng). For the art I had to make a commercial and classic album cover. It's really tritely formulaic – I think something unambitious becomes really uncanny when it's done for all the wrong reasons and produced impeccably.
"I think 'Asiatisch' and Shanzhai Biennial are very different — but they do both happen to leverage ignorance about China as a space for creative speculation. 'Asiatisch' is almost a meditation on this ignorance — a critique, but also a pointed nostalgia for something that never existed. Shanzhai does not assume a western perspective even as a form of critique. It's much more like Judo: we allow people's ignorance to work in our favour, but it's not the subject of our work."