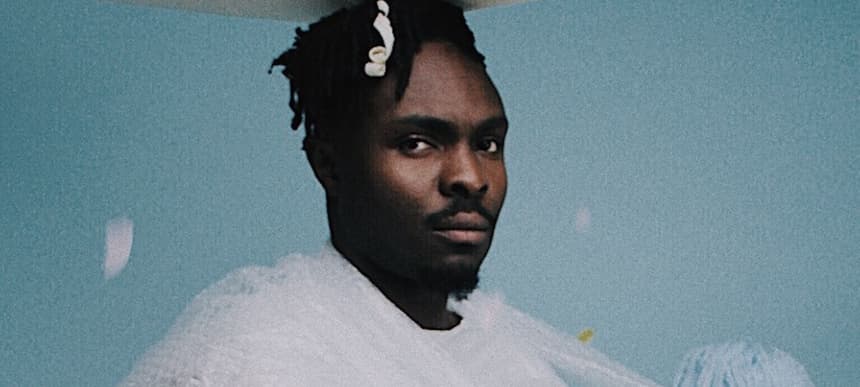 26.03.2018, Words by dummymag
Next: Azekel
East London's Azekel has been steadily making a name for himself since his first release Circa in 2013. From a Prince co-sign back in 2014, to collaborating with Massive Attack and Gorillaz, his name has been uttered alongside the best of UK R&B. The Nigeria-born, London-based artist is the full package; a multi-instrumentalist, songwriter and producer, and he releases his debut album, Our Father, in May.
Azekel's music centres around the black male experience; tackling subjects from fatherhood to mental health, his lyrical content is deep, poetic and thought-provoking. His wisdom is far beyond his years and he uses his form of R&B differently to his peers, focusing on real-life issues that move beyond love and romantic situations, and telling his real-life experience of fatherhood and the different challenges that accompany it.
Our Father was written therapeutically, channelling the new issues he has been faced with as a parent, a creative trying to gain success, and a young person whose responsibilities have pushed him into a different headspace. Taking time to write an album that explored these feelings and this situation, he found inspiration whilst on tour with both Gorillaz and Massive Attack, with whom he has collaborated in the past, and started building towards his debut album and sharing his story.
You released your first EP Circa back in 2013 when you were 19 and now you're finally gearing up to release your debut album, why was the album such a long process?
Azekel: I was trying to find my sound, find what I wanted to talk about. Life happens! I'm a father as well. I was working with Massive Attack and Gorillaz and helping them out on their albums and going on tour with them as well made the process longer.
I guess now you feel like all of that has settled, you can now focus on your own body of work and it has an interesting release process. Sharing the 'Family Chapter' first and then next the 'Mental Health' chapter with the artwork really reminding me of Frantz Fanon's Black Skin White Masks – did that piece of literature influence the artwork?
I'm actually surprised you mentioned that because the creative director for that shoot, Nicole Osula, drew inspiration from that. We wanted to depict the black experience in the best way possible for me.
I think with your visuals you spend a lot of time and put a lot of thought into it, which is rare nowadays. Is it something that's important to you?
For telling my story on this album, I guess I wanted people to have a clearer understanding of what I was talking about. Music can have so many different interpretations and if I give a visual stimulus, their initial interpretation aligns more with what I'm trying to talk about and there's no confusion. I guess it makes the music more real.
Did you produce the album yourself?
The majority of it, yes. I made the first chapter when I was on tour with Massive Attack almost two years ago when I was in Europe over the summer. My daughter had just been born and I was in a headspace of family and then later on, I was definitely in a darker space, almost struggling a bit with fatherhood and identity and that bled through my music. That responsibility can make you feel older and it can link with your sense of identity. You're like 'act your age, don't act your age', you know. I'm still 25 but you're watching your friends doing stuff that you do in your 20s but you're at home with your kid. It's a great thing but it's trying to find a balance. As a creative as well, it's finding that balance and that's why there are chapters on the album, they reflect the different headspaces while making the album.
Do you feel like covering mental health as a chapter was important for you as a black man?
That's where the idea of identity and masculinity in the black identity came from. It's difficult for us to talk about mental health but I tried not to be too politically inclined when making music, I just wanted to tell my story. Making music for me is cathartic but it's a great time to talk about it. If I was thinking politically, I wanted to talk about black fatherhood and mental health from the perspective of fatherhood. It was all about balancing these parts of my life and the challenges with that and how that can affect you mentally as well.
When creating it, did you think that you were giving young people something to relate to that wasn't there when you were growing up?
Oh my god, definitely. When I started making music, my 17-year-old self didn't have a black artist who was trying to make visual representations of a different black experience and trying to be more artistic and more daring. I think that there are definitely different experiences, like the urban experience of GRM Daily and Link Up TV (even though I hate that word!) that are needed but I wanted to show a different kind of experience and depicting something that didn't have a council house backdrop to it. After making the album I realised how many young, black, creative fathers there were that you don't really get told about. There's a perception in the media of fathers who aren't there and not of fathers who are actually there raising their children.
Do you feel like that's a responsibility for you now?
I don't think so, I'm not the poster boy for young black fathers now but for my debut album, I just wanted to tell my story. I wasn't trying to follow fashion, I just wanted to share my experience without doubt or fear.
Do you feel like, with the resurgence of R&B, it's harder to find your place?
Some of my peers and friends like Kelela and Sampha, are dabbling into more of the renaissance of R&B in electronic music and that's played into my music a bit with tracks like 'New Romance'. But I wanted to do what I was inspired to, so maybe being a father and taking the time to make this album, as well as listening to music that inspires me, made me make an album that was sonically brighter.
Listen to Dummy's curated playlists on Spotify.