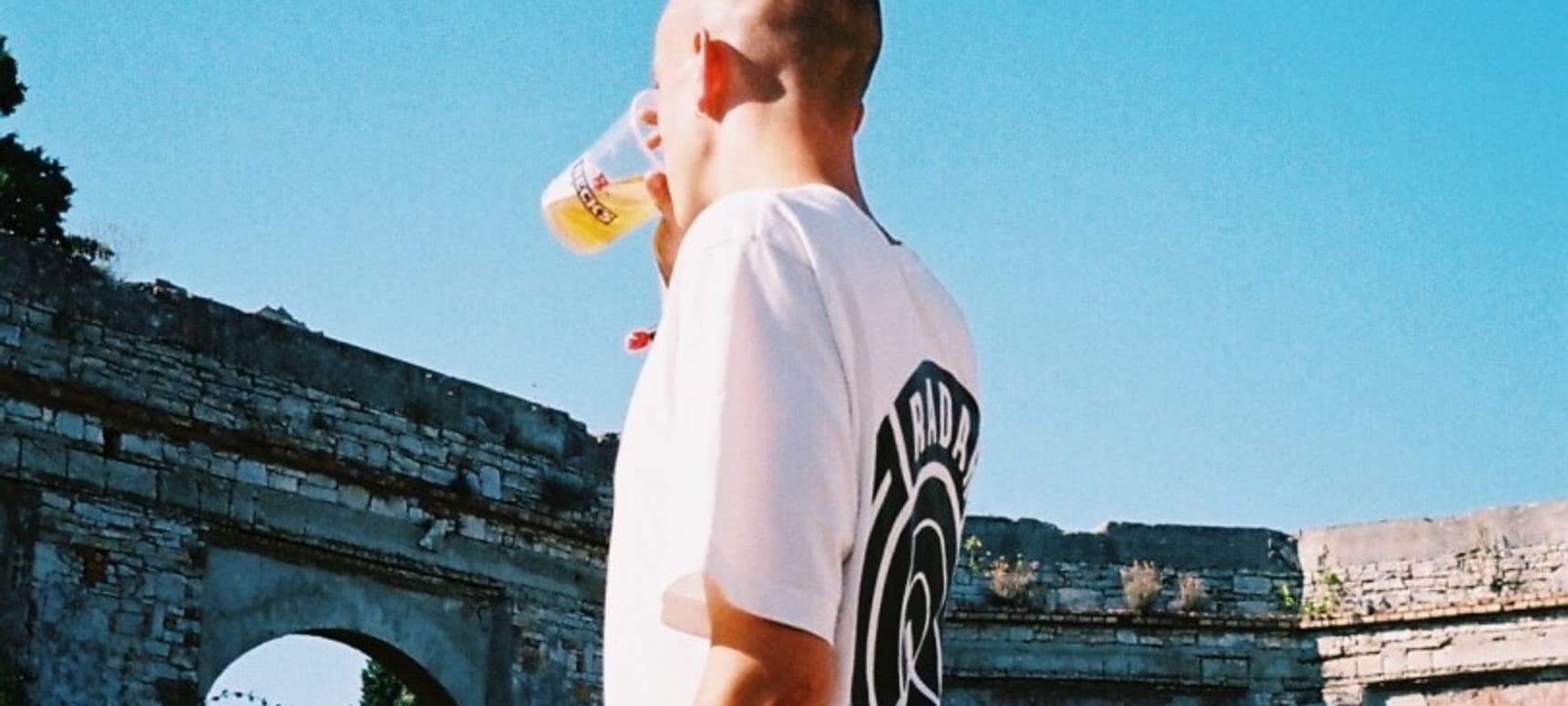 31.05.2017, Words by dummymag
Next: Forever
Leicester's Grade 10 collective believe in doing things organically. Nothing is rushed, nothing is forced – everything unspools just the way it's meant to. The unsaid message: let the music do the talking.
Mostly based in Leicester, the eight members who make up Grade 10 have largely been friends since their teenage years. At 23, Joe Cooper (aka Forever) is the youngest of the group. Fellow members Danny and Coops are his two older brothers. He's already released the Coarse 12" on Grade 10 (with a remix from house don Mr. G) and put out a split 12" with fellow Grade 10 member Prayer on Zomby's Cult Music label.
Since debuting in May 2015, Grade 10 have put out eight releases covering everything from house and footwork to ambient and modern classical. They've also had a regular show on Radar for much of that time, with plenty of the gang making the trip down from Leicester every second Wednesday of the month. What's even more striking than the breadth of the music is the way the group manage to pull it all together in one coherent vision under the Grade 10 umbrella. This unity – aided greatly by their in-house designer Greg – speaks to their unique collaborative work ethic. It's clear they've caught onto something pretty special, but the way Cooper describes their dynamic during our phone call I'm left wondering why on earth there aren't more collectives like this in the UK. He just makes everything sound so natural – though he's keen to stress that a lot of hard work goes on behind the scenes.
Last month, Forever released his debut EP on Coyote Records, home to the likes of Letta, Last Japan and Silk Road Assassins. Hymn is a wonderful piece of work, featuring four tracks and a remix from Chemist of Silk Road Assassins. The title track dates back five years to Cooper's college days, while 'Swamped' was written after the rest of the EP came together. Touching on grime, trap and rave euphoria, his music balances beauty and darkness expertly while retaining the rawness that's so key to the collective's aesthetic. Hymn is yet another important milestone in the Grade 10 journey, and we spoke about how it came together, early days ripping off Digital Mystikz, and how it's unhealthy to run a label on ego.
…on starting out
Forever: "I started DJing first. Then when I was 15 I got my own computer and started making these shit house tunes on Garageband and showing them to my older brothers, who then got me onto Logic Pro. I'd spend my school time making tunes when I should have been doing work – I remember moments when I'd pretend to be working on my laptop and then get caught by the teacher tweaking the reverb on a dubstep snare [laughs]. At the time I was making shit rip-offs of Digital Mystikz. Watching my older brothers DJ when I started going out – much to their dismay, nobody wants their 15 year old brother hanging out by the booth! They were playing mental bassline and garage but also stuff like Jersey club and kuduro that wasn't usually played further north than London. I looked up to them and thought, "I wanna do that!" So I was just gathering all these pieces together. I had no idea about producing – I was just banging samples and sounds into a cracked copy of Logic Pro, hanging out at my mates' houses with headphones on and ignoring everyone while they all played FIFA."
…on Leicester's music scene
"London is always looking outwards in terms of what's going on, whereas Leicester has always been about 'This is what's going on here.' It feels quite closed off and insular, but then you've got Formation Records which is a massively renowned label. I mean, this is going back to before I was even born, but people like DJ SS and Tango & Ratty were making banging hardcore and jungle tunes and pushing them out of some little spot on Leicester High Street, while these same tunes were being played alongside Moving Shadow and things all around the country. Then right now there's a lot of good little local labels who don't necessarily get a look in, like City Fly."
…on Leicester's nightlife
Leicester is pretty small as cities go – you can walk across the centre in half an hour. There's not a lot of clubs and most of them don't cater for actual dance music, but there's one where we've started putting a night on. Hopefully it's gonna become a monthly thing. It's just what you want from a club – a gross, dark basement with a half-banging soundsystem and a cheap bar. There's loads of good DJs about the city but no regular scene, nothing that feels like a consistent community hub, what I imagine being at Plastic People or FWD>> was like back in the day. I think that's why there are all these little pockets of energy in Leicester, because everybody has to create their own space."
…on linking up with Coyote Records
"I sent a few tunes to Last Japan who responded straight away and asked me to come on [his NTS show] Circadian Rhythms. Then a few months later he asked me to remix 'Harca'. Originally I sent over a big jungle remix but his instant response was "Tomas [Fraser, Coyote boss] doesn't do jungle" which I thought was quite funny! So I did a few more versions and eventually got one which we were all really happy with. Tom got in touch about me playing at Coyote's 3rd birthday, and then later he asked me to play their Boiler Room session… Some time after that I turned round to him and was like, "You realise I've never sent you any tunes?" So I finally sent him a huge pack, then within a few days he came back and said "I think these few tunes are a release", and it went on from there."
…on writing 'Gweilo'
"I spent two weeks with some friends out in Hong Kong. I'd never been before so they took me to all the temples and giant Buddhas where you're surrounded by a load of other white tourists. I thought it was going to be quite spiritual – monks hanging about and all that – then the first thing you see when you walk through the gate is a gift shop and a Subway [laughs] Then there were these massive loudspeakers playing… I guess traditional Chinese music but with these weird electronic synth sounds. It half sounded like a Midori Takada album, or a Peruvian flute band playing Asian music. Anyway, I was carrying my phone around and making field recordings. I do that a lot anyway and it ends up in Grade 10 radio shows or mixes – if you listen out there's usually something playing in the background. On the plane journey home I was flicking through all these recordings, and there was this one little melody that I picked up on, so I started playing along to it on my computer and it just built from there. To stand on top of a mountain somewhere on the south Chinese border and look out over the ocean was quite an amazing feeling, and I think that's what eventually found it's way into the tune."
…on writing 'Hymn'
"This one I wrote four years ago in a college lesson. I think I was supposed to be learning about sound design for film… well, I don't remember because I was making this tune! This was around the time I felt like I was starting to build my own little sound palette, so I was just using that bank of sounds, with that one vocal sample I'd cut up and relooped into all these little parts over the top of each other. It all came together in the space of an hour and then sat on my hard drive for four years. In a way it feels good to put it to rest by finally getting it out!"
…on what is it that brings Grade 10 together
"It just feels really natural. I mean, we've all been writing music for years. When it got to the point of 'Maybe we should set up a record label' everybody was like, 'Why not?' Whether you paint or make films or write music, it's natural to want people to see or hear it eventually, because you're proud of it. We want to put out each other's records because this makes sense to us, and we wanna see each other succeed. Honestly, between us we could go another few years without… well, I don't think we'd ever have to sign anybody! I mean, It's good to sign people you respect and do stuff with them, but then it becomes all about 'Oh yeah, I've got so-and-so on my label.' We're not show-offs, we're not here to do anything other than put out music. Also, we all have respect for each other's decisions. There might be times when things are quite on edge if someone has a strong opinion, but it's never gonna reach the point of 'Fuck you, I'm out' – why would we sacrifice all these years of being friends? There's no ego involved in any of it."
…on playing at Outlook Festival
"There was an 11 strong crew of us last year that drove in two cars all the way from Leicester to Croatia, 36 hours non-stop each way. As you can imagine, the journey home after a week of partying was not particularly pleasant… although I must say the Austrian Alps are pretty beautiful! Quite a sight to behold when incredibly hungover. But yeah, we're flying this time [laughs]. Last year we played on the Stables stage which had an absolutely banging soundsystem and a family of cats living underneath it. I think Greg pulled one out and tried to do the whole Lion King thing mid-set which was maybe frowned upon! It's some of the most fun I've ever had at a festival, so I'm looking forward to this year again."
Listen to Hymn below:
Hymn is out now on Coyote Records.
Grade 10 are playing Outlook Festival in Croatia, 06-10 September.