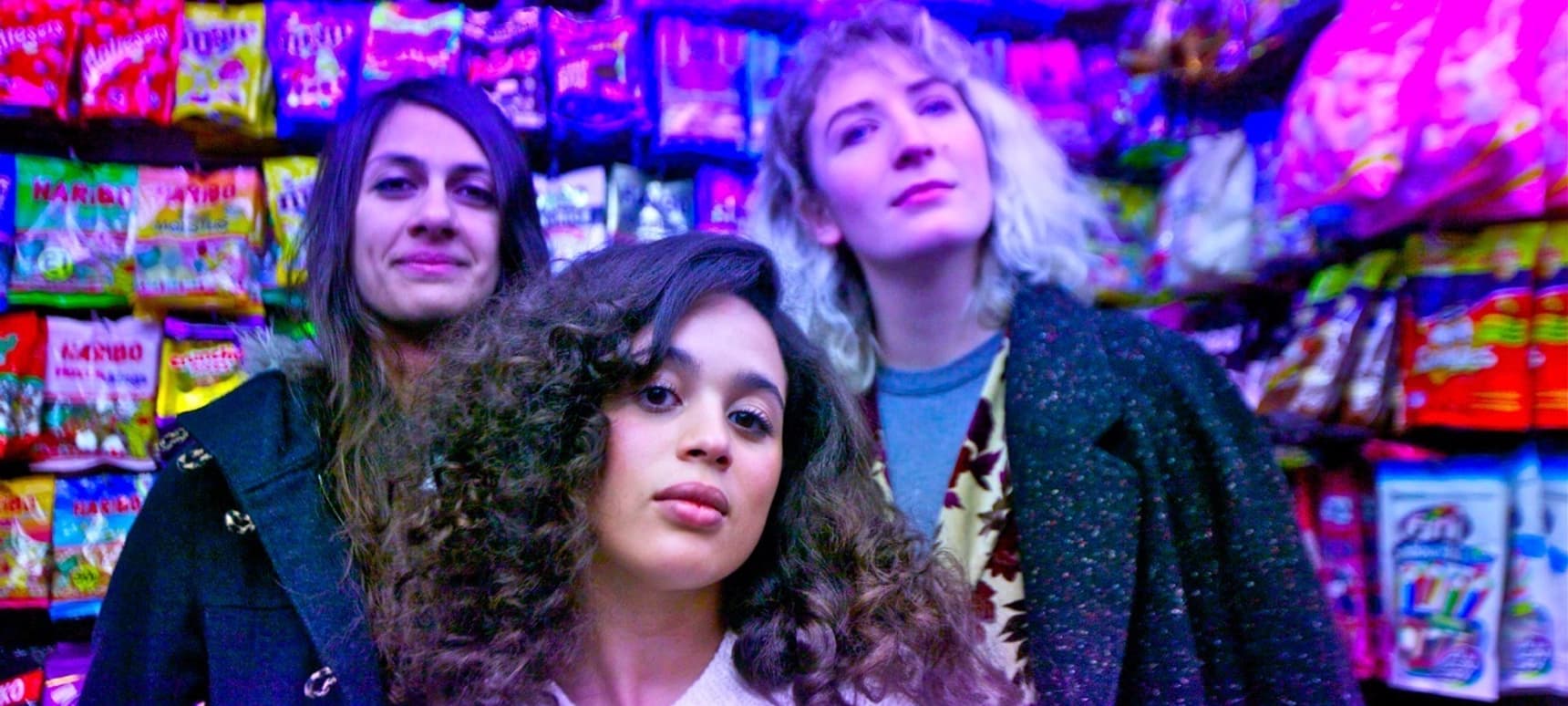 18.09.2015, Words by Natalie /
Next: Peluché
Spurned by a cover version of Tom Tom Club's electro-pop-party-rap hybrid Genius Of Love during their first gig at Brixton Windmill on New Year's Eve 2013; Peluché is made up of Amy, Sophie and Rhapsody, three girls who started a band to "have fun and jam together". The usual sterile polished floors and two-second elevator rides climbing 10 storeys of major label HQ's aside, the band spend weeknights jamming, knowing their motivations to make music are organic and genuine. It's not about some high calibre mixing desk, or who has the most Soundcloud followers; it's about jamming, making too much noise and enjoying yourself, as Peluché do, in a garden shed with luxuries being pink velvet curtains and a green carpet.
Fans of peanut butter ice cream; the girls also have a shared fondness of ESG, The Smiths and Tom Tom Club, which was an additional catalyst for their musical union. Friends and contemporaries like Bamboo, Soccer 96, Moribones, Totem and Grimm Grimm also play a big part in the fruits of their label, inspiring them as "they all work hard and make great music".
The girls also find solace in London based night's Sinema City and Screensaver, put on by their friend Ray, which can be a fun and inspiring jolt for them (we all need 'em from time to time). They also play the occasional set at his Kraut Jam in Peckham, performing spontaneously without a clue of what might unfold. "It's fun to just get on stage and not know what is going to happen", the girls say. At the thought of this, I'm misty-eyed and wishing I picked up an instrument as a teen, a keyboard maybe. Peluché just make the experience sound fun, working together on tracks and playing when they want to, with no pressure to align to any stereotypes.
Peluché recently made some noise with Dan Carey produced track The Guy With The Gammy Eye, sounding out some sympathy with drawn out lyrics taking their place on a psych-tinged backdrop. In the best way possible, it's a bit like licking one of those trippy frogs and falling into an Alice In Wonderland hole of grungy girl bands with an unexpected twist that you can't quite put your finger on. In a bid to make the finished product somewhat unpredictable, Peluché tracks are a sprawling construction site prior to recording with The Guy With The Gammy Eye following this process. "We see our songs as sort of works in progress until we take them to the studio to record. They could go in any direction and we're not too precious about changing them in the recording process," Peluché add. "When we recorded The Guy With The Gammy Eye with Dan for the Speedy Wunderground session, we improvised the first section in the studio and that became part of the song. It's more exciting that way as the music becomes a little more unexpected, maybe." And on listening, the improvised intro is probably the most crucial part of the track; a serene inhale of air before the foundations give way to the rushing immediacy of Rhapsody's high pitched vocals, sinking in deep as she belts out that "paranoia is speculation taking over".
The slight echo of dubby vibrations are not to be ignored and are drawn out further by Dan Carey in Mr. Dan's Gammy Dub Mix. Peluché's more placid side is definitely also worth referencing, with lyrical advice on rudeboys and materialism floating over the top of the rock steady vibrations of Sin. Not forgetting a subtle nod to Bob Marley's Bad Boys of course.
And who, exactly, is the guy with the gammy eye? "The guy with the gammy eye is just a man, we don't know him," Peluché responded. I wondered what shoes he wore, as that's usually how I figure out whether I trust somebody, but the girls weren't sure. "We just passed by him once and didn't notice his shoes."
Excitable trio Peluché will spend October and November of this year on tour Down Under with Darwin Deez, returning in the tail-end of the year to finish off their debut EP. Dummy are ready and waiting.
Note to self: The Guy With The Gammy Eye has got to be up there for best track name of 2015.
Peluché play Dummy Presents on April 24th at Ace Hotel London Shoreditch (free entry with RSVP).