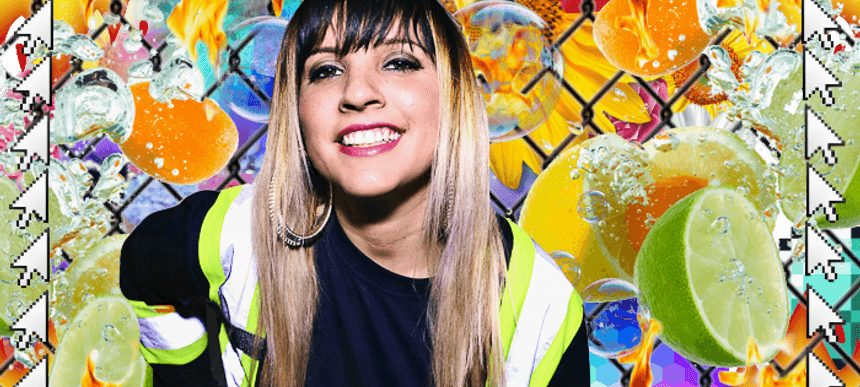 27.03.2014, Words by Anthony Walker
Next: Jubilee
Miami Bass might only exist in the popular consciousness today through landmark obscenity trials and Whoomp! (There It Is), but that unmistakable knock is a key foundation for Ghettotech and Southern hip hop, and the genre was the first musical love for many young people in the area during the 1990s – none more so than Miami-raised, NYC-based DJ/producer, Jubilee. "You didn't really have a choice – it was the only thing on the radio," she explains, "It's like your childhood pop music, if you were from there. The radio was very good about playing local music." Jubilee's latest EP, 'Pull Ova', is probably her most personal yet, packed full of the rhythms and call-and-response chants that she picked up while growing up, and featuring tracks named after the highway that she rode on trips around Florida. "I remember taking really long car drives. I had a system in my car – in my high school, when you graduated, you either got fake boobs, or a system in your car."
The journey from then to now is a simple story of someone into dance music following their ears, from early raves that played bass and breaks by locals like Dynamix II alongside German electro by Anthony Rother, to finding a refuge in drum 'n' bass after moving to Orlando for university. In 2003, she moved up to New York – the city offered more drum 'n' bass, but also a window into the rise of 2-step, grime, and dubstep in the US. "There were a few drum 'n' bass nights in New York that I really liked which started playing 2-step in the side rooms, and I remember hearing a couple of records for the first time and not being able to find them for the life of me because it was, like, a long time ago." The two most integral events for Jubilee were Dub War and Trouble & Bass, early adopters who flew over key UK acts and introduced her to tracks like Skream's Midnight Request Line. The long-standing house scenes and the then-shiny nu-rave scenes were also on her radar at the time, but it's dubstep and grime that seems to have left the lasting impression on Jubilee's music, borne out in releases like Locked, an ode to legendary Pay As U Go Cartel DJ, Slimzee, that she made with Trouble & Bass co-founder Star Eyes in 2012.
Jubilee's career as a DJ in her own right started "accidently" at the weekly New York drum 'n' bass night Direct Drive, where a promoter left her to her own devices in the small room. "I would play Miami Bass – I wasn't good enough to think I could play jungle – and basically anything that said 'pussy' or had bad lyrics. The promoter probably loved it, because all my girlfriends would come out and dance to this dirty stuff. There was probably a girl shortage at drum 'n' bass nights. Then I starting playing more house, too, because I was in New York."
Early mixes contained everything from Fake Blood to grime from Eastwood and Alias to Sean Paul to Jacuzzi Boys to Armand Van Helden. Her production has followed a similar route, with a string of EPs and singles – many of them collaborations – of functional but flexible club music. Things do narrow on that bass, however, in her work with Burt Fox and updates of classics, like a bootleg of DJ Laz's Red Alert. Dubbed "Jubilee's 718 Refix" after a New York area code, it's a smart modernisation of the original rather than an outright change of style. "It's just so hard and so good, one of the sickest tracks – and nerds from back in the day love it, it was on the radio a lot." Edits of Miami Bass and local Latin tracks – like a version of Pop That Pussy with Spanish lyrics – are updated to sound new, and from this base, Jubilee introduces elements that are actually new, drawing connections between Jimmy Edgar and Megatron and Ikonika and Latin freestyle (a more refined relative of Miami Bass).
This approach has led to a close association with Mixpak, the global-minded Brooklyn label that operates like a smaller, more nimble Mad Decent, who released both 'Pull Ova' and an older EP from Jubilee, 'Pop It!' Jubilee often acts as host and selector on the regular Mixpak Sound System radio show, and she was in Paris on a brief European tour with the label during this interview. She praises label owner Dre Skull for his ability to bring disparate genres together coherently, like getting L-Vis 1990 to remix bounce artist Sissy Nobby, or placing dancehall records by stars like Vybz Kartel, Beenie Man, and Popcaan alongside oddities like French DJ Koyote's and her own hybrid styles, and introducing her to plenty of dancehall and new music from Famous Eno, Murlo, and Palmistry.
Right now, Jubilee has a new project finished, but she's waiting for the weather to get hotter before she puts it out. There's also Mixpak business to attend to, with the growth of the radio show, a new studio being set up, and a fifth anniversary on the way. "There's a lot going on, but I'm definitely trying to keep my focus on Mixpak. It feels like there is a lot coming together."
Mixpak released 'Pull Ova' on January 28th 2014.