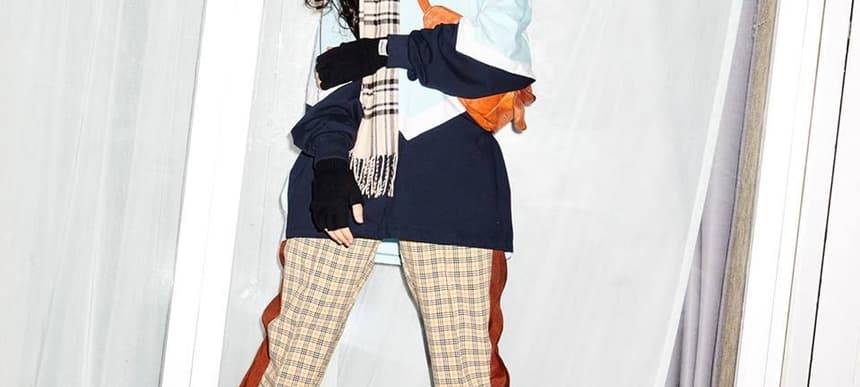 09.05.2018, Words by dummymag
Next: Naaz
"I've met so many cool people, asking to pet their dogs and then starting a conversation". It's not surprising that people warm to Dutch export, Naaz, and not just because of her affiliation for animals abroad. "Most people are like 'Yeah, sure. Pet it. I don't care'. Then I pet their dogs in Austin, Texas and they're like 'Yeah, sure what's your name?' and it feels genuine". The 19-year-old Kurdish singer, songwriter, and producer returned from SXSW last month and is animatedly talking through her networking process, sat in her beat-making bedroom back home in the Netherlands. Fitting really, considering that this is where it all began for the prodigal pop gem.
At 13, she taught herself some rudimentary guitar and piano skills and two years later – with the help of her brothers – was downloading Fruity Loops so she could produce her own music. But it wasn't exactly a well-worn career path for a young Muslim woman. "Doing music was a struggle so that was already something I had to overcome. For some reason, it never struck my mind to quit and that teaches you to listen to your own self". Her first handful of singles, 'Words', 'Can't' and the infectious 'Up To Something' make her debut EP, Bits of Naaz, something of a personal release. Although she's characteristically more astute about it than that.
"Everybody can feel the things I describe in my songs because there's only so many things you can feel as a human," she says. "It feels emotional but it's also scientific". It's been an interesting ascent for Naaz. From popping up on Dutch screens aged 16 as part of Holland's Got Talent to swiftly finding herself brushing up against the industry bigwigs, she's an artist brimming with resilience. It's this self-governance that makes her wise beyond her years when it comes to those difficult creative conversations. "When someone tells you something, it can be confirmation that you are right instead of them," she continues. "It's always good to listen but you don't have to do what they say". She holds the same ingenuity when it comes to misogyny in the music scene of late.
After the bleak assertions from Recording Academy President, Neil Portnow, earlier this year on the need for female artists to "step up", we could all use a bit of Naaz's faith. She's seen a notable shift from the traditional perception of an artist's sex appeal thanks to the growth of streaming services and online access to new artists. "You listen to music and you put your phone in the pocket," she says. "You don't look at who's making the music, you're hearing it. It gives a lot of space for the music to speak for itself".
Fans won't have to sync Spotify playlists all summer though as Naaz performs as part of this year's Great Escape Festival in Brighton. It will be her first time at the Sussex seaside – "I have this stupid thing that everything in the UK is London, it's a bit city racist" – and she'll be bringing that up-close intimacy of the EP to the stage with some relatable reflections. "There are two types of sadness: there's sadness that makes you feel nostalgic and then there's a sadness that makes you feel like everything in the whole world sucks. I like the nostalgic type of sadness".
Not all paper tissues and tears, there will be a chance for us all to come away feeling a little wiser. "At the end of the show, you'll know a little bit more about yourself than you did at the beginning," She concludes. And you can't mistake that biology.
Bits of Naaz is out now via Dapper/Universal Music. Catch Naaz live at next weekend's Great Escape Festival in Brighton and Thousand Island on 19th July in London.