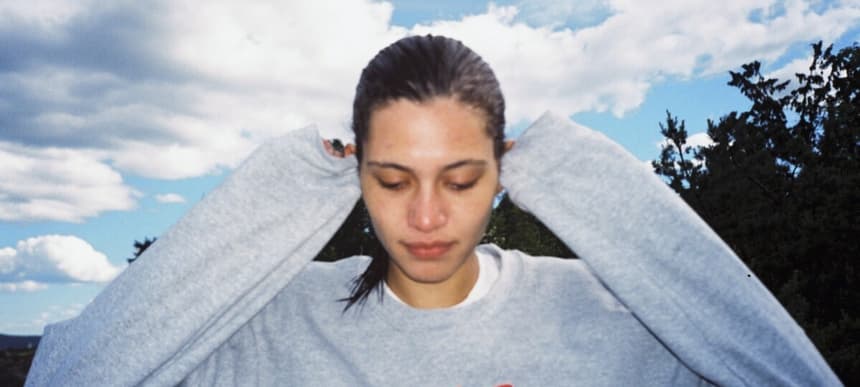 13.07.2015, Words by dummymag
Next: Okay Kaya
By the time I meet Okay Kaya pre-show at The Deaf Institute, there's just enough time to talk before she gets on stage, supporting Leon Bridges at a sold-out concert. Public transport and Neil Diamond fanatics have delayed our meeting, and Manchester is overwhelmed by the International Festival, Sweet Carolines, and roadworks. Kaya laughs when I explain my delay – she thinks it's cool that the pensioners are out on the town. Her voice is croaky, which she blames on touring fatigue – and ballet dancers. A week earlier, Kaya performed at Tree of Codes, a ballet scored by Jamie xx that premiered at Manchester International Festival, and the dancers made her "hit it hard" around the city afterwards.
As we're speaking, FKA twigs is performing Soundtrack 7 across the city, a dance performance based on narratives from Tahliah Barnett's life. She longs to be there: ballet is a great love of Kaya's. Her collaboration on Tree of Codes arrived after Jamie xx and choreographer Wayne McGregor needed a singer for an unfilled part. Jamie's handling of the direction impressed her during the experience. She admits to similar ambitions of her own: "I just want to do everything, visually and sonically," she says, "But life is long, and it feels very long right now." It seems like I'm talking to the star of Swan Lake.
In late 2014, Okay Kaya uploaded a mixtape of bedroom recordings on Soundcloud, "just for friends." Made up of cinematic vignettes and ghostly love stories, it includes a cover of Keep On Pushing by The Impressions and a track called My Heart. The latter features her friend Kelsey – "my homey", as she puts it – playing the cello, and is her homage to Arthur Russell, who she says changed her life. Awash in echo, 'MIX VOL. ONE' is a glimpse into Kaya's world of melancholy, silence, and space. Kaya imperiously arrests her given realm, and she imposes her presence on her recordings. The tracks carry a still and solitary air, the hallmarks of loner, lo-fi pop music. But was it intentional? "I recorded it through my friend's tape machine," she says, "It was a very conscious decision for the sound."
Her latest singles Damn, Gravity and Clenched Teeth preserve the same spirit, though the concept is more fully-formed than before. Produced alongside Rodaidh McDonald (The xx, King Krule), there was no conversation needed before recording – intuition led everything. "I've worked with some many different producers, and the sound is always still there," she says. "I can only sing like I do, and I can only play like I do. You can't change that." The vivid imagery of her music creates an impression of Kaya walking around as New York's flaneur, urbanity as her element and inspiration. "I'm always thinking about my surroundings and thinking visually. I write everywhere; I'll have a night out and walk home by myself, and then I'll get home and just write all night instead of sleeping."
Kaya's current challenge is executing her recordings live, which is just her with a guitar and "a lot of anxiety to support me on stage." She comes across as goofy during our time together, flitting between modesty and self-deprecation (it's perhaps no wonder that her first tour was supporting Tobias Jesso Jr.). The responses so far have been positive: people seem to like her vulnerability on stage. "People connect with that, I guess," she remarks. Her voice is failing her as she knows she has to get on stage very soon: "Sorry, I'm absent-minded and a little nervous right now."
Before we part, I witness the draw when Kaya plays to a tentative crowd awaiting the headliner. She cajoles the crowd and midway through her performance she asks, "Has it been thirty minutes yet?" She wins them over with her sincerity. There are no hangovers of her voice or shot nerves, and Kaya converts into an unlikely star. Other than ballet, you can't imagine her doing anything else.
OKAY KAYA plays at The Waiting Room in Stoke Newington, London tonight, Monday July 13th (tickets).