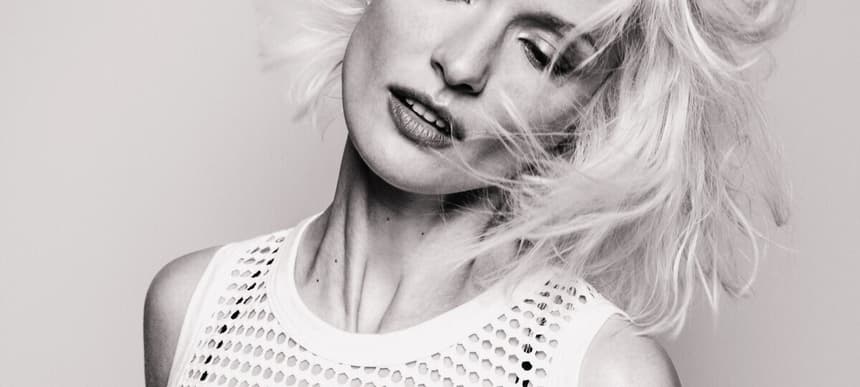 15.10.2015, Words by Sean Murray
Next: Olga Bell
New York-based experimentalist Olga Bell's last album could only be the product of a non-native. Born in Moscow and raised in the similarly subarctic Alaska, last year Bell released 'Krai', a critical sleeper hit that explored her motherland's folk traditions through the digital realms between radical and adventurous. When half of your expected audience is speaking English, the decision to make an album in Russian seems like an authorial intent to remain inscrutable. So, when Bell tells me that her decision was to "impose a period of education and discovery" on herself, it's as though she was purposely trying not to be heard beyond her internet trip.
Thankfully, when Olga and I chat on a Thursday afternoon, none of our conversation is lost in translation, and I'm surprised not to hear a warped accent. Bell is speaking from her home in Brooklyn, preparing a live set for a show at National Sawdust, Williamsburg where she will perform a day after our chat. Her upcoming EP 'Incitation' arrives days before a new tour in Europe with Son Lux, to be followed by a full-length in 2016.
For those uninitiated, Bell's work lies somewhere between an industrial night at Berghain and a cyborg performing at Carnegie Hall. So far, Bell's artistic path has been the release of two albums, collaborating with Tom Vek and Dirty Projectors, and though she's hardly a newcomer she admits there is a sense she is starting over. "Your latest work is always the product of everything you've done before," she states, explaining that 'Krai' was a project that divides two boundaries of her music. Moreover, Bell's decision sing in English is because '"Krai has its historical exploration whereas 'Incitation' and my album are entirely personal and current." She continues: "the beauty of folk music is the tone and structures developed is tied into the language because they're from an oral tradition."
On 'Incitation', Bell's vocals are still the impressive focal point of a work that shows the discipline of her classically trained roots who can't suppress her inner desire to be a beatmaker. She emphasises that her inbetweenness exists in her personality and in her taste. "I had this dual existence where I was a child prodigy playing national festivals, but when nobody was around, I'd listen to Radiohead, Björk, and Aphex Twin," Bells says. "I realised at 21 that I had the choice to play for pleasure rather than what I was groomed to do as a kid." Bell's mother always viewed her daughter's extracurricular activities were always a priority "no matter how dire our circumstances [were]." But, even as a child prodigy, the strictures of learning Beethoven always needed a counterpoint to remind them both of her adolescence. "She always had lots of art books, and when I would take a break from practice, I would run up to her office, barge in on her work and demand a break. We'd have a snuggle on the couch and look at art books. That's one of my favourite earliest memories of home."
On the EP's artwork, Bell's face is slightly covered by one of her arms as she appears to be falling onto a runway of cracked concrete. Conceptually, she explains that it represents a time when she hit the ground, specifically in her late 20's. "When you're in your late 20s – which was when I started writing the music for the EP – you fill up with angst," she expands. "My friend Angel [Deradoorian] is into astrology and told me at that age, Saturn comes back into your sun, so you're filled with chaotic thoughts…[the EP] is dealing with an emotional low point, and the image was in my mind for a long time."
Having survived the return of Saturn into her orbit and explored her origin across the world's biggest country, her career path has reminded her of her mortality and place in the world. Becoming part of the One Little Indian family hasn't radically changed Bell, yet you may believe 'Incitation' to denote a metaphorical rebirth. However, unlike her friend Deradoorian, Bell is more practical when it comes to offering advice: "The late twenties are brutal but don't worry, once you pass 30, you'll want to make party music."