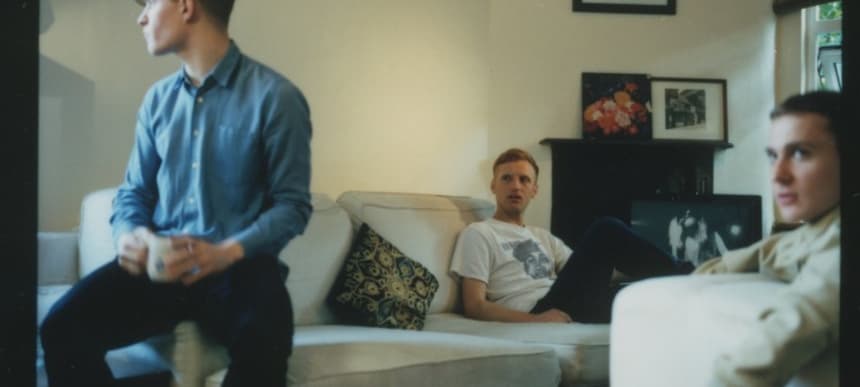 11.10.2013, Words by dummymag
Next: Real Lies
My first introduction to Real Lies was a dreamy, house-inflected pop song called Deeper. The song is a belter – it manages to sound like both the beginning and end of a night out, its slo-mo groove giving the impression that things are just about to kick off, yet its 6am vibe feels like rolling in from a night out and skinning up. The vocals alternate between spoken verses and sung choruses, its lyrics documenting proper real life young person's business. The follow-up, World Peace, was even better, an exhilarating club jam that once again mixes celebration with fatigue, its serotonin-shot euphoria underscored by a sense that the party might be drawing to a close. It's probably the best out-and-out pop banger this year.
The video for Deeper has a real sense of place to it, documenting one of the band's many nights out in London, mixing mobile phone-shot footage with archive images of the capital, making it impossible to tell what's happening in the present and what's a memory. At the end of the video are the words REAL LIES and a telephone number.
The lack of autobiographical information initially made me think the band were hesitant about revealing too much about themselves, but when I meet them in their North London local for an interview, they're quick to dispute this. "It's the most direct connection you can possibly have," insists Kev Kharas. "On the fucking press release, where it says our initials, the phone number is directly beneath it – it says 'call us, any time!'"
"The music that we love is so much about character and personality," says Tom Watson, the band's other songwriter, "And to cut yourself off from that is…" Kev chimes in, finishing his sentence. "It just seems stupid to me."
It turns out plenty of people have called them, too. Tom pulls out an old Motorola flip-phone that acts as their dedicated line, carried by the band at all times and which they're happy to answer at any point. "We had a guy call us and say 'your music means so much to me.'" says Kev, "We get texts like that occasionally, too."
"And occasionally you'll get 16 year old kids texting us asking if we can do a remix." Says Tom, "Or people texting and saying 'wankers'."
Real Lies are three guys from North London: Tom, Kev, and Pat King. I'm meeting them at The Coronet, an ex-ABC cinema in Islington that today is home to a Wetherspoons. It's their first interview, but far from the nerves or reticence you might expect, they're very forthcoming about their lives and eager to discuss the intentions with what they want to do with their music.
The band formed in the house that Tom and Kev used to live in; a big, detached building that backed out onto a reservoir. "It was so isolated," Kev says, "You couldn't throw a stone and hit another house." The isolation made it a prime spot for house parties, which they'd throw almost every weekend, usually with Pat DJing. A standard party would last for two or three days at a time, something that earned them the ire of their neighbours and eventually got them kicked out. But these parties – or rather, the days after these parties – catalysed the three into making music together. "Gradually, instead of just laying in bed shivering to get over it, we started making music in the daytime." Kev says.
The music that they were making was inspired by what they were hearing out at nightclubs and at house parties. "It was very rough when we first started doing it." Tom says, "I guess you could call it music that was influenced by the stuff we were hearing out – you know how it is, you wake up with a tune in your head, and it just starts seeping into your life?" This quality of dim, half-remembered recollections from the night before is audible in their music. There's something not quite crystal clear about it, as if the songs are being heard through the walls from the smoking area. It's quite nostalgic music, but not in the sense of it being retro or yearning for another age; rather, it's like it's nostalgic for the weekend before. "A lot of the sound and the lyrical content is influenced by the times we've spent with our friends," Tom says, "Going back to our old house up to now, it goes through hundreds of nights out, failed relationships…"
"Without wanting to get too deep about it, that is your decade-long coming-of-age film," says Kev, "Where you go to clubs and meet people and start to figure out the universe for yourself. The smoking area, it doubles as a confession booth. A nightclub just intensifies everything about your life, and kind of crystallises that moment."
This carries over to their writing process too, where the band will usually write songs based around samples and loops sourced by Pat, listening to these snippets over and over again until they have an intuitive understanding of it. "You can always tell with Pat's loops," says Kev, "There'll be one that catches your ear and you just know it's gonna be a fucking banger." World Peace is based around a few hypnotic bars from Jean-Luc Ponty's Computer Incantations For World Peace; their next single is built around a loop that Kev has listened to "about 400 times", apparently. "Gradually it seeps into your brain, and it becomes a lot easier to sit down and write songs to it."
The next single is what they're looking towards right now. It's "a bit more downbeat" according to Tom, but still built from a clubby foundation. Other than that they intend to play live a bit more. Besides this, the most important thing for them is to try and convey to people who they are and what they're all about. "It's just that communication of being where we are, in the time of history that we are." Kev says. This is the most important thing for them – that their music speaks to and connects with young people today. "I don't think it's retro in any sense," says Kev, "If it makes sense in the future, then it makes sense in the future. But it's most important to make sense now, in the immediate."
Sweet Exile/Marathon Artists will release double A-side World Peace/Deeper on November 4th 2013.