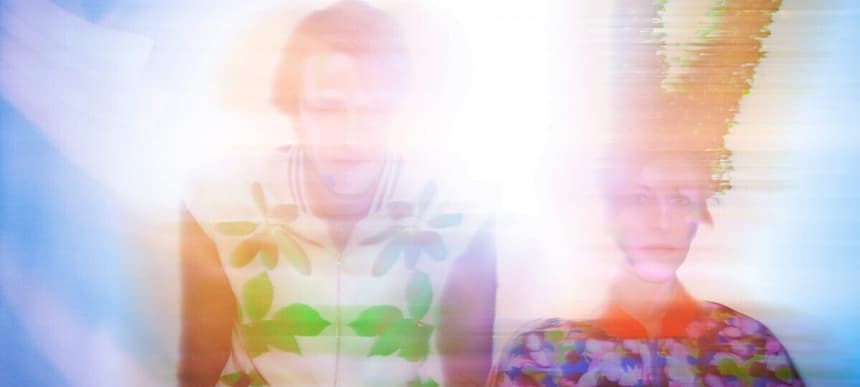 25.09.2014, Words by dummymag
Next: Soft As Snow
Restraint and poise is all very well – clear-cut colour schemes stand out well on overcrowded racks at HMV, while a minimalist sound translates well onto radio waves. But sometimes it's nice to be reminded of all the joys of a band letting loose all the colour and noise they can muster. And with their joint project Soft As Snow, Oda Egjar Starheim and Øystein Monsen give you just that.
The sound that carried the Norwegian two-piece across the North Sea to North London is a frenzied storm of analogue synths, scattergun drum machines and skittering samples. Listening to their debut EP, 'Glass Body', can be a mesmerising experience, showcasing an idiosyncratic brand of euphoric stadium pop that meshes a pervasive air of the uncanny with the techno-inflected grunt that attracted Rob Booth's Houndstooth label. And, as I learn from Oda, the birth of Soft As Snow had little to do with poise and moderation. "We met in Norway many years ago," she says, "I was doing a performance and asked Øystein to film me while I was screaming in the streets of Oslo. We also went to one of the islands in the Oslo Fjord, as I wanted to scream there too."
"I was inspired by a children's book by Astrid Lindgren called Ronja Røverdatter," Oda continues, "When spring comes, Ronja screams to celebrate its arrival, and to release all the heaviness of the winter." What soon becomes clear is that Soft As Snow are not your classic producer duo, schooled in the tradition of laptop composition and head-down, eyes-to-keys live performance. In fact, their approach towards live shows is a strictly organic one, foregoing fidelity for spontaneity and disregarding precision for the human touch. "We really like as much as possible to be playing live," insists Oda. "We avoid laptops, as we want the process to be physical, but also to allow for accidents and experimentation." Even Oda's earlier screaming performances have fed directly into the Soft As Snow model: "I still use my voice in that primal and intuitive way, especially while improvising live. Halo Heart, in particular, often ends like that." There's something about the intriguing juxtaposition of children's storybooks and contemporary techno that resonates throughout 'Glass Body', an EP that soothes and settles just as much it disturbs and disorientates. Tracks characterised by the reassuring warmth of thrumming bass lines and consistently undone by Oda's baleful yelps.
There's also the matter of the band's pointed disdain for the boundaries between artistic mediums. Oda recently graduated from Goldsmiths University with a degree in Fine Art, and Soft As Snow readily self-identify as an multi-form art project rather than as a band. "We don't like to divide art practices into categories…" Oda says, "When we first started playing together, it was very experimental, more in the shape of noise improvisation. We often played at galleries, inside my installations." By refusing to limit their scope solely to the auditory, Soft as Snow have moved the project away from a traditional band format and towards a more multi-sensory experience. "We both have a background in visual arts, so we're trying out lot of collaborations. Our first performance in London was at LUPA, a garage in Bethnal Green, where we collaborated with the dancers Mirei Yazawa and Marius Hermansen."
The trend for 'less is more' self-restraint is all well and good – it gives scope for aesthetic emphasis, and when done properly it can truly help bare the soul of an artist's creative endeavour – but in the minds of Soft As Snow, when it comes to sheer breadth of medium and depth of emotion, more is most definitely more.
Houndstooth release the 'Glass Body Remixed' EP on October 27th 2014 (pre-order). Soft As Snow play at Hoxton Square Bar & Kitchen in London tonight, September 25th (more information).