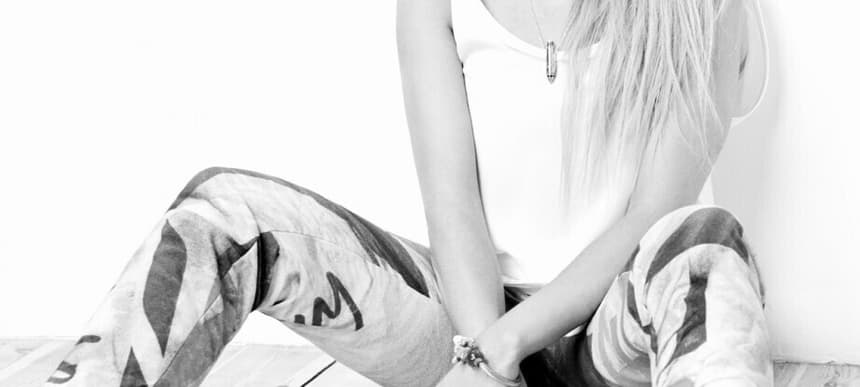 07.01.2015, Words by dummymag
Next: Tālā
What's in a name? For Tālā, her chosen alias translates across various languages as 'palm tree', 'ribbon', and 'gold'. But is there any one of those in particular that gives the 25-year-old singer, producer, and songwriter her main inspiration? "I actually wanted something separate from me; a name more representative of the music," she explains, "One day, my auntie was talking Farsi in the kitchen, and I heard say 'tala'. When I asked her what it means, she said, 'It means gold.' And I thought, 'That's it!'" So was the decision to use it natural? "Instinct and intuition is what I base all my decisions on," she says, "Sometimes these things just find you, I guess."
These experiences at home are perhaps the biggest source of inspiration for Tālā's work. Of an Iranian and English descent, a worldly education in music – along with piano lessons from the age of 11 – meant that she always had an interest in music. Tālā creates the type of recordings expected from a musician who has been exposed to music from all corners of the globe, and although Tālā isn't her birth name, it's what she's known by to her friends and family, proving that her music and her home life have become inextricably linked.
It's taken nearly a fortnight to get a chance to speak to Tālā. A busy schedule of rehearsals and promotion for her latest EP, 'Alchemy', has left her with little free time. "I'm working on my live show at the moment," she explains, "I'm a bit of a perfectionist, so if I'm gonna do it, I have to go hard." She recently released 'Alchemy' through Aesop, which follows debut EP 'The Duchess', three tracks of punchy underground pop that spans elements of jungle and breakbeat. Across both of the releases, there's energy, exuberance and euphoria mixed with Tālā's restlessness. Her music always seems to be on her mind – On My Own In Hua Hin features samples recorded at a wedding from her travels in Thailand – and with each track, there's a little vignette of her life to glimpse at. 'Alchemy' features a cover of Baz Luhrmann's Everybody's Free (To Wear Sunscreen), with Tālā reinventing the track as a euphoric singalong. "I actually had a dream about making it!" she says, "I woke up the next day and literally started recreating it and working on it." Ignoring everyone else's advice not to, Tālā's enthusiasm and determination was spirited by nostalgia. "It brings back so many memories for me, especially around the time Romeo + Juliet was released."
Tālā writes, sings and produces her own material, and her beginnings in music production started more than 10 years ago. "When I was about 13 or 14, a really good friend of mine give me a copy of [music software program] Reason and said, 'You can put all your ideas down.'" Gradually, Tālā arrived at a point where experimenting with sounds wasn't enough. "After experimenting with classical pieces and making really shit beats, I thought, 'I may as well just try and sing.'" At the heart of her work is Tālā's voice, an irresistible and adaptable instrument that is comfortable expressing her scorn (Unfinished Business) as well as her yearning (Serbia). Asking if there is a preference between writing, singing and producing, Tālā admits that it's all the same to her, wryly stating that "the beauty of it is that it all forms together."
Finding a sound that's right for your project requires endless experimentation. The modern artist is able to write a whole album and record it in their home, which is the reason why artists like Tālā are able to hone in on their creations at their own pace. "I spent a good few years in my bedroom making ideas that were very confused at the time, but I had that time to develop without having the pressure," she says. "That's the beauty of it." Tālā's devotion to her music gives her life a restlessness and vigour, but it never seems to be a chore for her. Even after our conversation, she's heading to a hairdressing appointment and a photoshoot in Tottenham. Asking about her future plans, she points towards future collaborations with other producers and taking to the stage. "I want it to be amazing, so that's why I'm rehearsing 24 hours a day," she says, "It's going to be quite an experience. There's no band, just me – so, no pressure really."
Behind a glittering name, Tālā enters the new year as colourfully as her past. With the memories and nostalgia that are distinctive to her music, it's a step towards a chance at the title, punching her way to the top amongst a crowd of could-be-heavyweights.
Aesop released the 'Alchemy' EP on November 11th 2014 (buy).