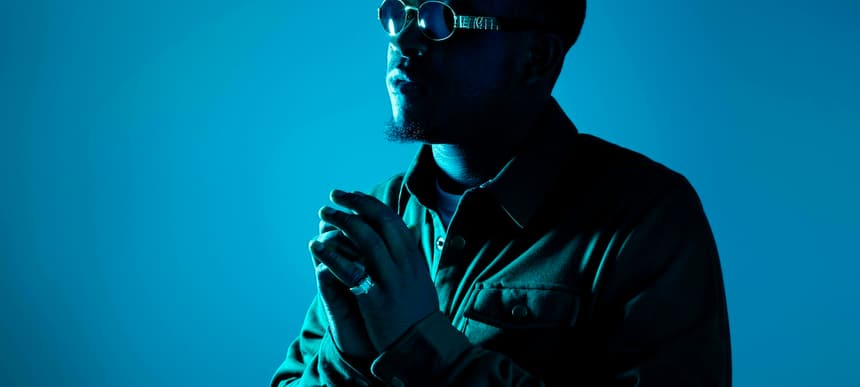 28.09.2018, Words by dummymag
Not Dun Talking: Dummy meets Kojo Funds
Custom House, E16, is a district located on the north bank of the Thames, an industrial section of Newham borough populated by estates. It's the place where platinum-selling, MOBO-winning Kojo Funds grew up, and where he's sat today in a greasy spoon (in the "boujie bit," his manager laughs).
Dashing ketchup all over his chips, the Afroswing pioneer recalls the very first party he went to in the area, as a kid in year 7. "A friend of mine had one and invited the whole year… that was when I got to experience a proper rave, you know what I mean?! Bashment and dancehall was getting played – Vybz Kartel… grime as well – Kano, Lethal B. Giggs…" he grins. "Nobody knew about Giggs back then. We heard 'Talkin The Hardest' and it was like, 'Rah, who's this?!'"
Of course, everybody knows about Giggs now – and the pair have just collaborated on a track for Kojo's debut mixtape, something that would have seemed inconceivable for an 11-year-old at his first party. It's a link-up that makes perfect sense: "He's lived what we were living, he's experienced what we have – plus he's a real brudda. He's real, still." And just like the Peckham rapper, Kojo has steadily crept up to being one of the biggest names in UK music today. Partially responsible for the explosion of Afrobeats (or 'Afroswing', as he prefers), the rapper of Ghanaian and Dominican descent has been a solid fixture in popular music for the past couple of years.
It was Giggs who first got Kojo rapping in the school playground with his mates ("It was a turning point – I'd never thought of doing music before that"). In 2014 he found himself in his friend Jay Vade (one half of Dr Vades)'s bedroom studio, spontaneously deciding to lend his flow the mic. With his friends admiring Kojo's freeform lyrical ability, they persuaded him to take his talent further. A trip to his parent's birthplace, Ghana, added the final dimension to Kojo's self-styled Afroswing sound: "Me going back home added flavour to my tongue, innit?" he says. "Before I went there I only knew British slang, I just had the British dialect. But spending time there and listening to the locals changed the way I was talking. People say I sound a bit fresh and that, but it is what it is."
A knack for interpolating popular tunes into his flow ('My 9ine' reworks Wayne Wonder's 'No Letting Go' while 'Warning' revolves around Snow's 'Informer') means that even before you've heard a Kojo tune, you already know it. And, despite no formal singing lessons or training, Kojo's rise has been meteoric – thanks to his bright, addictive melodies that have been filtered through the lens of the UK capital's streets. The 23 year-old has already collaborated with artists like Wretch 32, Mabel and RAYE, plus a wealth of grassroots UK talent. Elton John's a fan. Ed Sheeran's a fan ("he 'jams' to my music!" he says incredulously. "I appreciate that"). Young Thug brought him out on stage at Wireless festival 2017, getting him to play 'Dun Talkin' in-between his woozy rap.
When we meet, he's just been out in Japan with Manchester MC Bugzy Malone, shooting a Tokyo Drift-inspired video for 'Who Am I?' "They tried to give me horse meat!" he groans. "Yeah, dreadful. I didn't take that."
As well as longtime producer GA and Not3s collaborator Remedy, Young Thug's producer Bricks (or BricksDaMane) has contributed beatwork to the mixtape. But it's not a record that feels like it was conjured up on the other side of the Atlantic – a blend of the chart-scaling cuts Kojo has become known for – like the Abra Cadabra-featuring 'Dun Talking' and the RAYE-featuring 'Check' that samples Craig David's '7 Days' – it also contains new heat. He's drafted in a bunch of talent, from Afrobeats artists (Maleek Berry, Yxng Bane) to dancehall stars (Kranium) and grime royalty (Bugzy and Giggs) to really get a flavour of what's popping in the UK right now. "I want people to get the culture out of it," he explains of the tape, "for them to really understand what this new sound is. The mixtape's touching all bases of music."
If there's anything that's muddied Kojo's rise to the top, it's his highly-publicised beef with J Hus – something which the press has seemingly been unable to not focus on, despite Kojo staying tight-lipped on the topic. When I ask if there are other producers he wants to work with, he replies he'd love to work with Hus's longtime producer, Jae5. I question whether there'd be some politics involved in that, considering the historical legacy of the pair's feud, but Kojo shakes his head. "Music's music," he shrugs.
With 'Golden Boy' now out in the world, Kojo is focusing on his upcoming tour of the same name, which he describes as a "blast, still." There's an early interview Kojo did with Julie Adenuga where he exclaims that he'll only "get gassed when I get a plaque!" He's got multiple plaques now, but his goals have changed. Now it's "to be the best," he says, after careful consideration. "To be known as the best. Not plaques – they don't really do much!
Listen to 'Golden Boy':