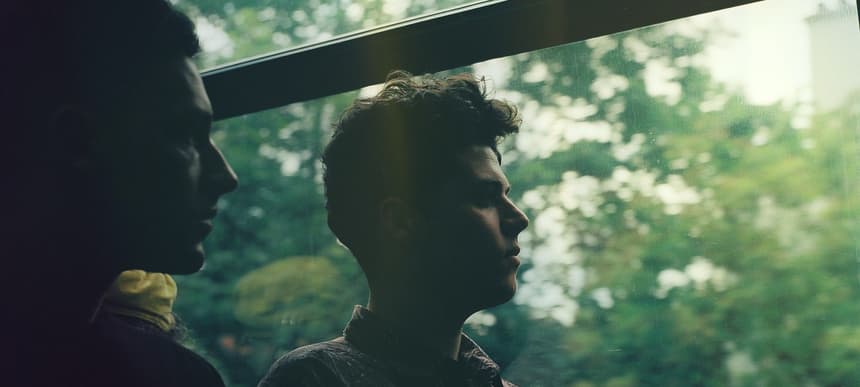 16.10.2015, Words by Natalie /
NVOY: "House music is a force of pure rhythm."
Producers James and Conner are the boys behind NVOY. The London-based duo have recently signed to Black Butter Records and are rapidly gaining traction (quite rightly) for their particular blend of house, future RnB and electronica. The pair are becoming known for producing the type of tracks that manage to elicit feelings of pure bliss, pulling upon the carnal powers of dance music, whilst simultaneously retaining a pensive undertone. It's those carefully constructed layers that lie within their compositions that makes their work so interesting.
Having recently returned to the UK following a stint in Ibiza, NVOY are now continuing their ascent into the echelons of electronic music with the recent release of their track You Are, as well as remixes for Lion Babe, Tove Styrke and Dummy favourites, Blonde.
We caught up with the NVOY boys to discuss all the really super important issues – such as animated fans, hot waitresses and that creepy character Barney The Dinosaur…
I should probably warn you that I've stalked you on the Internet. A lot. To the point where, by the end of this interview, you may want to issue me with a restraining order.
Both: [laughing] "That's sort of creepy."
I get that a lot. During aforementioned stalking I came across a previous interview during which you explained that the name 'NVOY' is derived from the word 'envoy' meaning ambassador or emissary…do you feel like ambassadors for your particular breed of music?
Conner: "We bring a lot of influences to our music that are wider than dance and house. We listen to quite a bit of current hip hop, R&B, future beats and just different types of electronica stuff. Personally, we think that a lot of house music doesn't really hold much emotion, which is an element of music that we really enjoy. We're trying to pull these other musical influences into what we do and make it into a dance floor friendly format, so I guess we feel like ambassadors in that sense."
If you were to be elected as the official ambassadors for UK music, which three current British producers, DJs or musicians would you appoint to join your envoy?
Conner: "First up would be Floating Points. He's just amazing! We saw him DJ for the first time this year at Field Day and he was so good. I'm really looking forward to his album coming out. Then we'd appoint Luxury, whose production is just really cool, melodic and forward thinking. Then we'd enlist Rustie as well."
I'd love to see that as a line-up…
Conner: "Yeah exactly! But I dunno how that would work!"
In the past you've mentioned that the notion of travel and discovery is part of the reason why you make music, have there been any particular experiences that have had a significant impact on the way you create and deliver music?
James: "When we're making music it tends to be with a particular moment in mind. We're doing a remix at the moment and we started it when we came back from Ibiza, so it was with this show that we played at Sankey's in our minds and we were imagining what track would we want to play at that peak time in the middle of the set when there's loads of energy in the room and would absolutely go off. I'm sure that our music will also keep developing as we gain new experiences travelling around and playing to different crowds, with different types of people."
Have you been to many other places other than Ibiza as a duo? Are there any particular locations you'd really want to go to or play?
Conner: "We've been to Norway, which was beautiful. Poland. Paris. Germany. All around the UK."
James: "I want to play in Berlin. It would be quite interesting because the scene over there is so different to the UK, so it would be really interesting to see how our type of music would go down…although we might just have to start playing techno."
Be completely honest, what's it really like to play Ibiza?
Conner: "It's really good! There's this guy called Darren Hughes who is the founder of We Love and he always takes us to this really nice restaurant called Destino before each show."
James: "It's one of our favourite restaurants in the world and Conner has a crush on one of the girls that works there."
Conner: "The good thing about Ibiza is everyone is out there to have fun. Everyone's really into music there and put a lot of thought into which nights they're going to. It's like a cool collective thing and we love playing to those crowds."
What do you think to all the comments in recent years that people have been making that Ibiza is dying?
James: "To be honest, it's our first summer in Ibiza so we don't have a point of comparison. Whenever people say things like that about places it may be true that the place has changed, it's almost inevitable, but it doesn't mean that there is something to get out of it. It might not be the same but you can still find fun and enjoy it."
If you could do Ibiza your way -your choice of line-up, venue, vibe – what would that look like?
Conner: "We would straight-up have a chilled boat party during the day with really nice cocktails. Then at night we'd host a party at Amnesia, which we went to this year and thought it was wicked. We would DJ all night and get different people to come down and play back-to-back with us. It'd be great to get down some of our label friends from Black Butter and a few of our friends too – like Phono, Melé, Après. They're all the same kind of age as us and when we go and see them play it feels like we're on the same sort of tip."
Have you had any weird encounters with 'animated' fans?
James: "We always have people at shows, especially in Ibiza, who hand their phones to us across the DJ booth with little messages written on them which is really sweet. Or, at Glastonbury in particular, there have been a few groups of people who were really into our music and it was really nice chatting to them. It was definitely a good experience rather than being a weird one."
I'm sure there'll be plenty of weird experiences to come. What was your first ever gig like?
Conner: "Weirdly enough it was actually in Poland, which was pretty crazy. It was really cold and the plane got delayed meaning that we had to do a 10 hour bus journey. It was a bit of a long adventure. But we got a nice stage and we got pretty drunk on beer and Jagermeister and had a good time."
I've seen the pictures of your champagne signing (full on professional grade stalker here) to Black Butter Records in August this year. How did that moment feel?
Both: "Waaahey!"
James: "It felt good but didn't feel that different in the sense that we'd already been working with Black Butter quite a lot. We'd been waiting a long time for that to happen as signings can take a while. There's a whole process involved but it felt like a good fit. Then when we signed it we were like, "Right, let's go back to the studio." We just came home and made some music!"
Always hustling. There's been quite a lot of discussion recently about successful musicians having to keep part time jobs in order to make ends meet. Are you currently able to work on your music full time?
James: "We only finished university last summer and for a while we both had part time jobs. Conner was working at the O2 Arena and All Saints for a bit whilst I was working in a cocktail bar. For about three months now we've just been full time on the music and signing with a label has definitely helped – giving us the time to do our thing, focus on music and play shows. It's been good."
Your new release All Night is a pretty simplistic and on point House track. I'm pretty sure that if I were in a club when it dropped it would invoke an instinctive almost gravitational pull within me that would propel me towards the dance floor. Is the track designed to be one of those purely feel good rave utopia anthems or is there a deeper resonance underneath its seemingly happy exterior?
James: "That's a really nice of you to say, thank you for that! Most of the music we play tends to have a sort of melancholic edge, both in the chords and how it feels. Dance music has that euphoria, but it needs that tension and a little bit of sadness as well to sound interesting – kind of like a balance of emotions. It's not like a straight happiness. All the music we make has an edge…we try to balance it so that it feels like when you're in a really dark place but you're dancing and everything's ok."
"Most of the music we play tends to have a sort of melancholic edge, both in the chords and how it feels." – James, NVOY
Music is often used as a platform for social and political commentary. Is there a message or underlying story that you're trying to portray with your own musical output? Or would you want there to be in the future?
James: "For us, it's much more simple. People like dancing to music as it's such an instinctual thing to do and house music especially is such as force of pure rhythm. Every culture in the world has music and has dance and it's just a really basic form of human expression. I think music really appeals to us because it's such a simplistic thing and anyone can relate to it. We love playing shows because there's nothing negative or malicious about it – it's not harming anybody – it's just a way for people to come together and dance, which is such a simple and innocent thing for people to do. That's the message that we're trying to bring across, to bring people together."
"That's the message that we're trying to bring across, to bring people together." – James, NVOY
Finally, who would play you both in a movie of your lives?
Conner: "I don't really watch movies but if it was going to be anyone it would probably be Michael Caine."
James: "Mine would probably be Barney The Dinosaur…"
He always creeped me out…
Conner: "Barney was a bit of a fucking weirdo wasn't he?!"
James: "Well I quite like Barney! You're ruining it for me!"