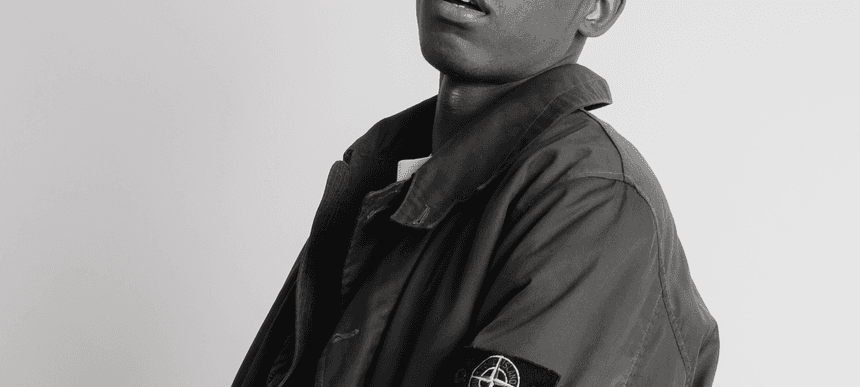 21.12.2018, Words by Rahel Aklilu
Off To Work: How Maxsta made his triumphant comeback
Peckham's prodigal son just put out a self-produced mixtape that's had everyone talking, shining a light on his past and future
"When I was younger, I was on just on gas. Man was chatting shit, really," Maxsta shrugs when I ask him about his 2008 debut, 'Maxtape'. It was the project that cemented his name in the very grime scene he grew up in. His follow-up, last month's 'Maxtape 2', seems worlds away from the ballsy bravado of the eighteen-year-old who'd comfortably earned the title of a 'young OG'. Before me, in the flesh (as well as sonically in the project) sits a self-assured artist who has grown wary of the 'industry' and wants to make music that reflects London life as he knows it.
'Maxtape 2' is a reflection of influences that have moulded Ian Koromah as much as the type of music he hopes will inspire future generations. The record is both gritty and aspirational, the work of an artist who only learned how to produce two years ago through a Music Production Diploma as well as through "loads of Youtube tutorials and endless nights of staying up until 6am."
Maxsta was born in Lewisham and raised in East London during the golden years of grime, and 'Maxtape 2' reflects the thoughts and fears of so many of his fellow twenty-somethings today. His bars namecheck venues where you'd find any young Londoner on a night out: "I've had enough of g-checking n****s in [the now defunct] Visions, I've had enough of chiefin' n****s up in Ace Hotel," he spits over the melodic, ad-lib heavy introduction, 'Tourn London', a track that'll resonate with any listener who grew up quite literally alongside him.
One of the standout tracks however, is the one dedicated to all the "everyday dreamers" – introspective cut 'Off To Work'. "Life of a twenty-something, drugs, work and steady loving," he raps, succinctly summing up the hopes and aspirations of a generation trying to survive in an age where everybody wants to 'make it', juggling demands of life and love as well as parental expectations in the Big Smoke.
"As the son of Sierra-Leonean immigrants who have had to work hard in this country, I've taken for granted how much music has changed my life."
Easy as it would have been for Maxsta to rap about the "bad Bs and the real Gs," (as he puts it in the track), the tired trope of an MC's bubble of bookings, bottles and bags of free trainers simply wasn't fulfilling for him.
"As the son of Sierra-Leonean immigrants who have had to work hard in this country, I've taken for granted how much music has changed my life," he says, revealing it was a friend's frank statement that snowballed into a song as endearingly honest and relatable as 'Off To Work'. "My mate just turned around to me one day, and said, 'I'm skint, I don't know how I'm going to do this,' and it was so refreshing because I'm so used to everyone pretending that they've got it when they're actually broke. I'm guilty of having done that myself," he admits.
Maxsta's contemplative tone continues on 'Night Turns to Day' – an open letter to his unborn child, where Maxsta promises to "put the beefin' aside, put the pride ting aside," and pass on the gift of nurturing he was given by his own father. "When I was growing up as a young black boy in the ends, a lot of my friends didn't have their dads in their lives so it made me so grateful to have mine, and his influence and guidance is something I want to pass on," he says.
"When I was growing up as a young black boy in the ends, a lot of my friends didn't have their dads in their lives so it made me so grateful to have mine."
For Maxsta, a major influence is his faith: "I'm a minor part in the bigger picture," he says, pointing to his beliefs and the positive influence of his mother in shaping his views of the world."I say dumb things in my songs and do dumb things with my friends, but I do give light and hope to leave the world a better place than I found it".
This thread of raw honesty and emotional vulnerability is the result of "stepping out for a while" and living in the "real world," as Maxsta puts it. His hiatus from the scene allowed him to come back equipped with life experience, and freed from the expectations and pitfalls that often come to those who take a break from music, especially having made it at such a young age. 'Maxtape 2' makes various references to being "trapped in the ends," and with it, a mindset that can at times be limited by expectations of others as well as of self.
"This project is the last nostalgic grime one from me for a while," he tells me, pointing to a wider "British sound" that he wants to generate in his two upcoming projects for 2019. "Being in the studio with the actual forefathers of grime, and seeing them experiment with different beats and tempos has given me the go-ahead to push my own sound out of my comfort zone," he says, citing artists like Calvin Harris as well as those who broke out in the 2015-16 grime revival including Jaykae, AJ Tracey and Stormzy.
When referring to the 'school of grime', Maxsta is a literal student (having attended the same East London secondary school that Kano had years earlier) as well as a metaphorical one – so moulded and informed by his influences that he barely notices it. The tape's standout single, 'Guns And Roses' featuring Inch of rap group Smoke Boyz (fka Section Boyz), pays homage to East London legends Ruff Sqwad, with a melody reminiscent of the iconic 'Functions On The Low'.
The aforementioned working man's anthem 'Off To Work' shares a title with Dizzee's 2005 single 'Off 2 Work' – the striking thing being that all of these similarities are entirely coincidental. As a grime kid himself, Maxsta has had to consciously separate himself from the culture that he has been engrossed in for as long as he can remember, in order to explore future sounds and tastes. One lesson he has taken from grime is the "British identity" of the genre. "If I was a fifteen-year-old coming into music now, I'd probably be making drill or rap, and those are essentially American-influenced genres," he says when I ask what, if any, influence growing up in East London had on him. "There are no rules," he answers. "Grime is what you want it to be. As long as you're making British music that is rooted in garage and jungle."
Before our conversation ends, I ask him to weigh in on the raging 'grime is dead' debate that seems to have taken up unnecessary space in cultural conversation. "In 2008 they were saying the exact same thing – there were even the T-shirts, but having seen it come around before, I can see it's just a cycle," he says, shrugging off these claims, before pointing to the recent commercial and critical success of artists like Stormzy and Skepta.
But in any case, Maxsta's description of his own eclectic sound doesn't even include the word "grime": it's "left-field British music," he smiles wryly.
Listen to 'MAXTAPE 2' now: