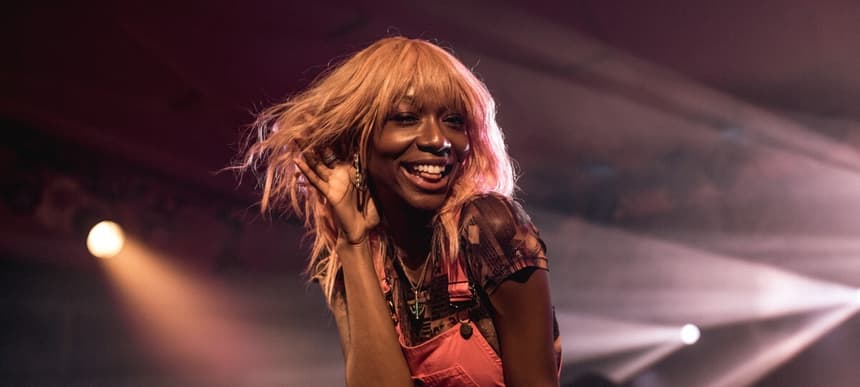 27.03.2018, Words by Daniel Laxness
Out The Frame Festival Report
Set in the picturesque city of Ghent, Belgium, one train-ride away from the country's capital, is the exciting and brand new festival, Out The Frame, organised by All Eyes On Hip Hop and Vooruit. Taking place in the prestigious historic complex of Vooruit, the one-day event offers an extremely niche line-up worthy of any forward-thinking bill in one of London's clubs. With world-class acts such as Open Mike Eagle, Junglepussy and Gaika, the festival made sure to spotlight underground and local talent such as WWWater, Flohio and Blu Samu.
As you enter the 100-year-old venue, you're instantly aware of everyone's grin and excitement, that sensation overcomes you as you slowly approach the rumbling of the stages. Bustling through the wide marble stairs of the grandiose concert hall, you make your way through small corridors, hallways and tiled open spaces, and it quickly feels like you're attending a well-organised house party. However, this house features two stages, a cinema and a bunch of insane acts!
From Junglepussy, Open Mike Eagle and Gaika's enticing performances, it was refreshing to attend such an event with a number of bookings of up-and-coming and underground artists such as Philadelphia-based rapper Chynna Rodgers, who gave a simply honest performance packed with attitude and rock anthem interludes from Fall Out Boy. Even more refreshing was the festival's practically 50-50 female to male line-up ratio, already setting the standard and their own bar high up in comparison to many other organisations.
The festival's atmosphere and ambience throughout the night was humbling and this theme resonated with me on all fronts, from the performances to the attendants, both receptive and engaging. From the city's cosy yet vibrant energy to the festival's forward-thinking ethos, Out The Frame is a reminder of Belgium's open-mindedness and popular tastefulness when it comes to culture and music. It's safe to say the first edition of the one-day hip-hop event was a complete success and becomes one of Belgium's best kept secrets.