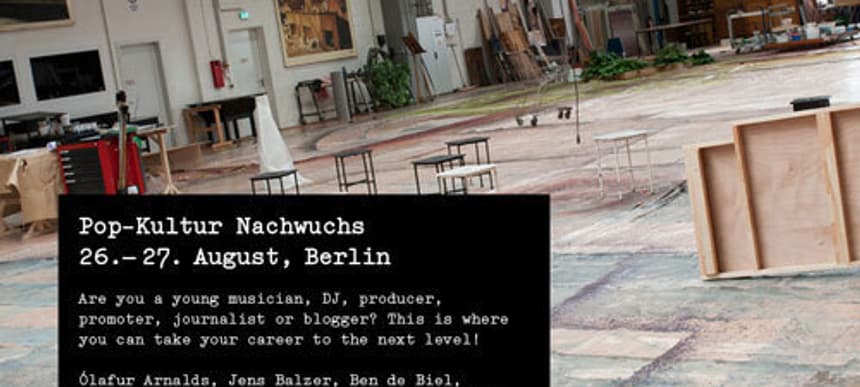 02.06.2015, Words by dummymag
Berlin's Pop-Kultur festival announces Nachwuchs program
Pop-Kultur is a new and rather interesting looking festival taking place entirely throughout the different spaces of Berlin superclub Berghain in August.
The festival's aim is to provide a space for unlikely dialogues and exchanges between musicians and artists of different disciplines – from major label pop musicians like Only Real to the contemporary classical work of Ólafur Arnalds to Mute label founder Daniel Miller – who will be performing live, playing DJ sets, and giving talks.
Today they announced their new Pop-Kultur Nachwuchs program, which includes talks and workshops from various interesting figures within the international music industry, with mentors including Ólafur Arnalds, Anne Haffmans (Mute, Domino), Matthew Herbert, and Native Instruments. Young musicians, DJs, producers, promoters, label managers, journalists, and bloggers are all encouraged to apply for these workshops at Pop-Kultur's website.
An expert jury will choose 150 applicants to participate in the Pop-Kulture Nachwuchs program. Only these 150 applicants will be able to access the Pop-Kultur Nachwuchs program, which takes place on August 26th and 27th. However, the rest of the festival, which takes place from August 26th to 28th, is available for all to attend.
Applications close on July 10th, and an expense contribution of 35€ is required. Otherwise, check out the full lineup so far below.
Pop-Kultur festival lineup:
18+ (US)
Andreas Dorau & Sven Regener (DE, Lesung)
Bianca Casady & the C.i.A. (US/FR)
C.A.R. (UK) / Chikiss (RU) / Cristobal & the Sea (PT) / Chuckamuck (DE) / Inga Copeland (EE) / Cummi Flu (DE)
Daniel Miller (UK, Talk & DJ-Set) / Dave Haslam (UK, Lesung) / Die Nerven (DE) / Disco Anti Napoleon (FR)
Ebony Bones (UK) / Evvol (AU/IE)
Fenster(US/DE/FR/UK)
GABI (US) / Gillian & Steve (UK, DJ-Set & Talk) / Girl Band (IE)
Hinds (ES) / Ho99o9 (US)
Isolation Berlin(DE)
James Pants (US)
Kero Kero Bonito (UK) / Kiasmos (IS)
Lapalux (UK) / Levelz (UK)
Mary Ocher + Your Government(US/RU/IL) / Matthew Herbert (UK, Live mit Band, DJ-Set & Talk) / Messer (DE) / Michanika (Anika & Michael Rother) (DE) / Michaela Meise (DE) / Mourn (ES) / MssingNo (UK)
Naytronix (US) / @NeinQuarterly (US, Talk) / Neneh Cherry with RocketNumberNine(SE/UK) / Normal Echo (PL) / Novella (UK)
Only Real (UK) / Owen Pallett & stargaze (CA/INT, Live & Talk)
Pantha du Prince feat. The Triad (DE)
Rival Consoles (UK)
Schnipo Schranke (DE) / Sky Walking (DE) / Sophie Hunger & Gäste (DE) / Sookee (DE)
Tempers (US) / The Juan MacLean (US) / The Pre New (UK) / Dr. Tom Fritz (DE, Talk)
Viv Albertine (UK, Lesung) / Vogue Dots (CA)
Will Bankhead (UK, DJ-Set)
Wooden Wisdom & DJ Fitz (US/IE, DJ-Set)
Zentralheizung of Death des Todes (DE)
Pop-Kultur takes place from August 26th to August 28th 2015 (tickets).