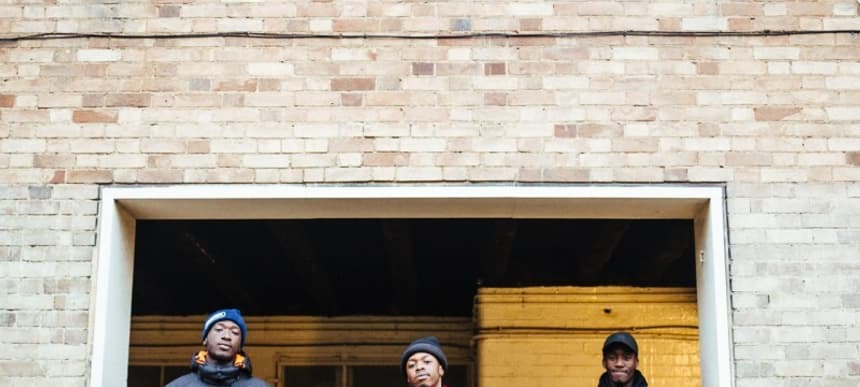 08.11.2017, Words by dummymag
Premiere: YGG - Scooby
The explosive London trio known as YGG have kicked down the door since their arrival in 2015. PK, Saint and Lyrical Strally have channelled their endless kinetic energy and peronalities into their music, riddled with witty adlibs and skippy flows that keep you guessing.
Recent singles 'Okay', 'Bad' and 'Three IC3s' showed range while reaffirming their unique position in the scene, and now they are getting ready to release their debut EP, World Domination on November 24 on Logan Sama's KeepinItGrimy imprint.
Today, we are premiering one of the project's tracks, the thumping 'Scooby'. Over drum patterns as majestic as they are quintessentially grime, the MCs send for the haters who can't stop talking, with punchlines and one line flows aplenty. In addition, we sat down with the trio to talk about all things World Domination. Check that, and 'Scooby' after the drop.

What does each member bring to the group?
Lyrical Strally: "We all bring our own unique styles and flavour."
Tell us about the new EP. How did it come together?
PK: "We built it naturally, just off the vibes really. Producers sent us beats and we just sat in the studio and worked until everything was ready."
What was influencing your lyrics throughout the project?
PK: "The influences were mainly the instrumentals. We can literally hear the sound of a beat and it kind of just sets the topic for us. It all depends on the sound the producer is rolling with."
Which producers did you work with?
Strally: "Mainly producers we've built relationships with, so people like General Courts, Trends and Treble Clef."
What are some of your best memories from making the EP?
PK: "My favourite memory of making the EP was just sitting back listening to it once it was finished and being happy at the work we've done."
What do you want this EP to achieve for you?
PK: "There are so many things but to sum it all up, I would say for the YGG name to be immortalised for ever and beyond."
Strally: "To build our audience. #2daworldandback"
Saint: "YGG. World Domination EP. It's What it says on the cover. What many have been waiting for, many don't want to see. This is our plan, to be everywhere. It has variety but still carries the YGG sauce. For our new listeners you will be able to hear our individual skills and how our energies work together. We worked hard to make it a project that hopefully stands up with the timeless projects that have come from the UK & grime and I believe it does and will. I can't wait for the people to hear it."