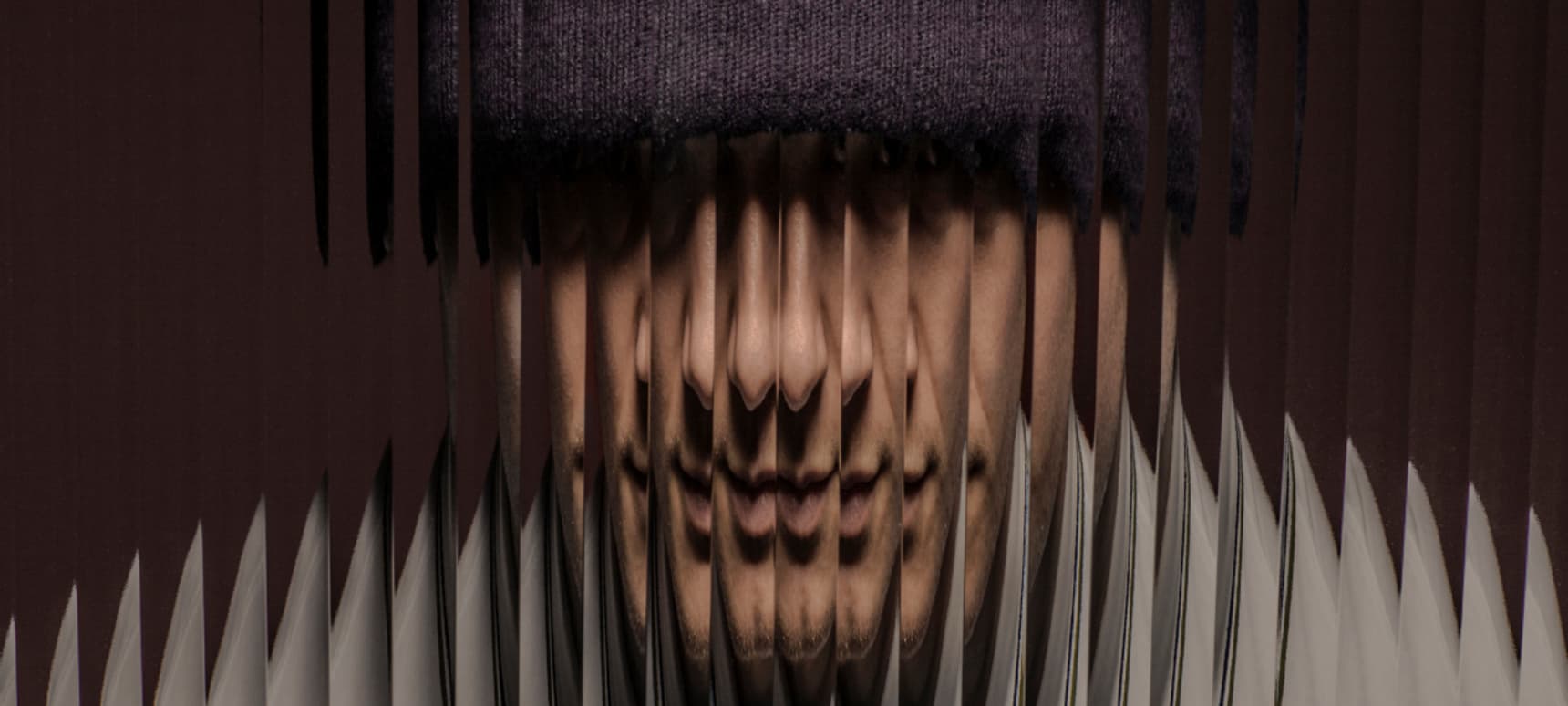 03.11.2014, Words by dummymag
Quick catch-up: Brolin
Brolin crafts heartfelt, tender-voiced electronic pop music, but he's the first to admit that you'd more likely expect him to front "a Minor Threat kind of band". Looks, obviously, can be deceiving – which is why Brolin has only ever been photographed with his face obscured (usually by wearing a mask) and has never given his real name out.
"If I was the frontman in a Minor Threat kind of band, people would go, 'He looks the part. He looks like he could knock me out,'" Brolin explains over lunch in a West London café, "But say if it was some kind of posh Tory boy-looking wet blanket fronting a hardcore band, the people that bought into that genre and that ideology would probably say, 'He's not the real deal. He's not the ticket.' For me, I didn't really want people to look at what I wear and judge the music before they'd heard it."
We're here to talk about his latest single, Swim Deep, as well as his upcoming, as-yet-untitled debut album. Produced by Raffertie and available to buy now, Swim Deep follows earlier releases on Double Denim and this year's self-released 'Flags' mixtape, and sees Brolin set his electronic soul to the shuffling rhythms and warm textures of a sunrise house track.
Its release precedes a busy period for Brolin: besides finalising that album, he'll also be supporting Kele at London's Oval Space, and is plotting a string of US dates including a spot at SXSW in the not-too-distant future.
What triggered your obsession with music?
Brolin: "My father was a musician. He passed away when I was quite young, though, so I never really got to talk to him about his influences or his experiences in the music industry. I just know that he had a guitar under his bed.
"My mum, like the majority of people, introduced me to certain bands and her record collection from an early age. She took me to a live gig when I was little, and I thought that it was mesmerising, and engaging, and exciting. I became obsessed with music after that. I started playing acoustic guitar, and found my own pathways into different genres of music.
"I was umming and ahhing because I was skint, but my friends were really into music production and they said, 'You should get a Macbook.' And it terrified me – I procrastinated about buying it because, a) it was so expensive, and b) I found it a bit intimidating to learn how to use a program just to record. I couldn't work out how it worked. But then when I started writing and recording myself, it was so cathartic.
"There was no long game or ambition to become a success – a financially viable entity – I just loved being in my space. The first song I finished was NYC. After that, people took note – and I had to get a bit better at production."
Is your debut album finished?
Brolin: "I'm just putting the finishing touches to it. Fine-tuning the lyrics, making the last few tweaks before mastering. The 10-track LP will hopefully be released in early 2015. I'm very proud of this record and I cannot wait to share it with the world."
You released that mixtape earlier this year.
Brolin: "I guess the mixtape was a taste of what's to come on the album. I just wanted to put out something a bit different – something people might invest in, or come back to at a later date. Because of the nature of the internet and how fast something disappears from consciousness, if you listen to an artist you connect with, you look back into what they've done in the past 12 months. And if they invest in that 25-minute mixtape, hopefully they'll go back further and find something that resonates."
Who have you worked with on the album?
Brolin: "With regards to writing, I've collaborated on a couple of tracks, but the majority of it I've written myself. I've worked with a couple of producers on certain bits – Raffertie, Hannes Rasmus, and Casually Here."
You've worked with them all before.
Brolin: "Yeah – it's kind of like once you get a taste of the potential of working with people, there's no point breaking it. You get quite relaxed and comfortable working together, and then you keep working together!"
Can you talk a bit about your new single? What's it about?

Brolin: "It's a tune called Swim Deep. I wrote and recorded it at home, and then co-produced it with Hannes Rasmus in Hamburg. The lyrical content explores relationships and the passing of time."
"My identity isn't sacred, I just don't want any distractions from the music." – Brolin
At the beginning, you were always photographed wearing a wrestling mask. Why did you hide your face?
Brolin: "The reason I wanted to remain anonymous is because I wanted to be only defined by music – but I have to play live, and I have to sing, so I need to access my mouth and can't be completely covered up. If I could have, I wouldn't have had any press shots done, but then people would be like, 'Oh, he's doing that mysterious thing.' It's not about the mystery – my identity isn't sacred, I just don't want any distractions from the music.
"When I started doing it, I didn't think anyone would give a fuck – I didn't envisage being sat here doing interviews or going around Europe or having people listening to my music all over the world when I first started recording songs in my house."
I read that you have synaesthesia.
Brolin: "I just associate colours to words and sounds – it's not like I'm walking around with a kaleidoscope in my eyes all the time. I was actually having a conversation with a friend's dad, and he has it – but I thought everyone did! It's not a condition, though – people think it's some kind of superpower. Mood-wise and texture-wise, it has some sort of influence on my music, but I wouldn't say it's the main influence."
What's next for you?
Brolin: "Finish the record. That's the top of the list. Then hopefully people will hear it!"
That's the goal!
Brolin: "That's everybody's goal! But it's a raffle. I'm very lucky to be in the position that I'm in, but that could all be taken away with my next release. Everything you put out feels like a stay of execution – seriously. There are so many variables that can pull the rug from under your feet at any point. But the reason I create music is for my own state of mind, and hopefully people will keep interested – and if they don't I'll still keep plugging along."
"Everything you put out feels like a stay of execution – seriously. There are so many variables that can pull the rug from under your feet at any point." – Brolin
Last one – what song are you most excited for people to hear from the album?
Brolin: "Nightdriving, a track that I worked on with Raffertie. The instrumental has a euphoric, yet ominous undertone. However, the warmth of the vocals offer a comforting counterpoint. At the moment, it's my favourite tune on the record."
Brolin self-released Swim Deep on October 27th 2014 (buy). Brolin supports Kele at Oval Space, London on November 15th 2014 (more information and tickets)