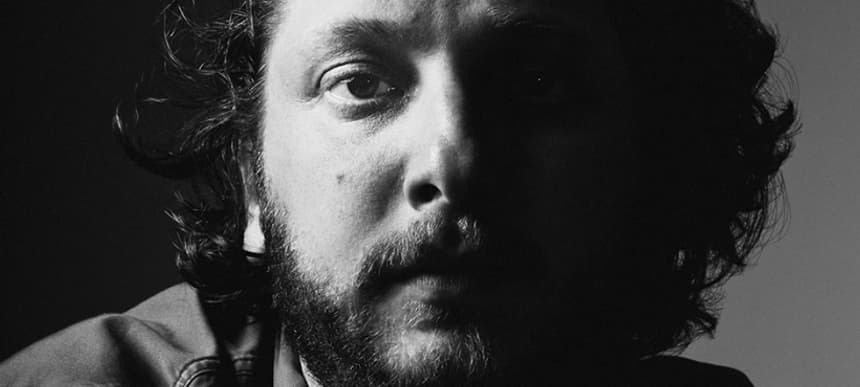 17.02.2015, Words by dummymag
Quick catch-up: Oneohtrix Point Never
Oneohtrix Point Never's music conjures up a celestial atmosphere, made for triumphs of architecture, with stained glass windows refracting beams of light shining down, suffocating with dust particles. His music has been housed in art galleries, churches, and museums, and when he visits London later this week, it'll be at North London church and venue Union Chapel. The Barbican-presented Twitchy Organs pairs OPN, aka Daniel Lopatin, with organist James McVinnie and modern composer Nico Muhly.
According to Muhly, the three are "going to make a big fun mess". Tampering with each other's compositions throughout the night, it's a collaborative piece, with Lopatin allowing a different angle to be cast upon tracks from his 2013 album 'R Plus Seven', while also featuring a group rendition of Muhly's Twitchy Organs. Lopatin has always had a fascination with the organ, weaving the instrument through his soundscapes – most notably on the dramatic progression at the end of 'R Plus Seven' closer Chrome Country.
Before the event, we spoke to Daniel Lopatin over email about where he's at with the follow up to 'R Plus Seven', the logistics to his performance with McVinnie and Muhly, his already-surfaced Christmas collaboration with PC Music's A. G. Cook, and further collaborations yet to be unveiled.
What can you tell us about the follow up to 'R Plus Seven' so far, sonically and conceptually?
Oneohtrix Point Never: "Not sure yet when it will be done, but it's sounding very Oneohtrix Point Never."
What equipment have you been working with while writing the new record? Where are you taking audio and visual cues from at the moment for your work?
Oneohtrix Point Never: "Honestly, the piano roll. Generating harmonic detail on a magnified plane, then zooming out and checking for coherency. I do this ad-naseum until something cool happens – if the results are addictive then I keep working on it. Paranormal + corporate + sculptural are my cues. I troll the Billboard top 100 a lot. I also get cues from my compulsion to archive. I log a lot of time scrolling through patch banks and annotating patches I want to use with notes on form or metaphoric stuff or whatever comes to mind and categorically re-saving things. Then I start putting sympathetic materials together in folders, alongside images, notes, links or whatever feels good. As long as it's digital, it's mutable and I can use it. I'm then able to work within those parameters without getting anxiety from 'what' or 'why'. The guts of the thing need to just work and compulsion gives way to form. Honoring vague things and raising them up to the level of form is key for me."
In between records you've been getting more involved with scoring films – including, most recently, Partisan. How does the process of scoring differ to crafting your own productions?
Oneohtrix Point Never: "They're different worlds with different parameters on how I'd work. It begins to sound like multiple personality disorder, but that's how I feel when I approach projects which are collaborative vs. ones where I can dictate how things should or shouldn't sound. The closest bridge between my scoring work and OPN was the live re-score of Magnetic Rose, which to my ears was an OPN score, right down to using the SFX and whatever else I could isolate in the 5:1 layers as a sort of compositional jumping off point."
The visual aspect to Oneohtrix Point Never has always been just as prevalent as the sonics. You've been working alongside Nate Boyce for a few years now – do you have a vision for where OPN will go visually in the future?
Oneohtrix Point Never: "If there was an equivalent to peak era Eddie Van Halen in sculpture, that would be Nate, and he's totally on fire right now so we'll see. Check out his latest show Polyscroll if you can."
"It begins to sound like multiple personality disorder, but that's how I feel when I approach projects which are collaborative vs. ones where I can dictate how things should or shouldn't sound." – Oneohtrix Point Never
You're playing alongside Nico Muhly and James McVinnie at the Barbican very soon. It's a collaborative effort with each of you contributing something outside of what's already in the compositions you'll we playing. How did the show come together?
Oneohtrix Point Never: "It began with Holland Festival enquiring with us if we'd be interested in putting together some kind of programme for them, which we all were excited about. Nico and Jamie are totally virtuosic and can just adapt and transform whatever you put in front of them. And I have my computer, so it all works out."
Have you been practicing together, or will it be more of an improvisational performance?
Oneohtrix Point Never: "Much like we did in Holland, we'll rehearse the day before, figure out what are the most interesting pieces we can all contribute to from our respective repertoires, and just go for it."
Organs will be heavily featured in the show. What attracts you towards the instrument?
Oneohtrix Point Never: "Well, my friend played me James McVinnie's 'Cycles' record a couple years back I guess, and I was blown away – not only by Nico's pieces, but also by the directness and musculature in the grain of the sound itself. And that's not to make the organ seem ubiquitous, because it's really not; there's so much diversity amongst them mechanically and even their utility throughout European history. But there does seem to be some kind of ineffable central 'thing' about them that is seductive to me."
Last year you opened HudMo's Boiler Room in LA and there's pictures of you in the studio as well as one of you eating Haribo together. You've both been pretty quiet about it since – what have you been working on?
Oneohtrix Point Never: "Coming soon."
At the end of last year you released two very different new tracks, one with A. G. Cook. How did you work together on Bubs?
Oneohtrix Point Never: "Alex [Cook] and I were discussing this and that, and decided we should probably just make music. He sent me some ideas and we went back and forth until we had made a tune. I think that, at least for me, it was a way of doing something around the holidays that wasn't cynical. So it's just a little present to whomever would find it enjoyable. Last year was so rough."
Have you been working on anything else?
Oneohtrix Point Never: "Just being a studio rat."
Nico Muhly, Oneohtrix Point Never, and James McVinnie's Twitchy Organs performance takes place at the Union Chapel in London on February 20th 2015 (buy tickets).