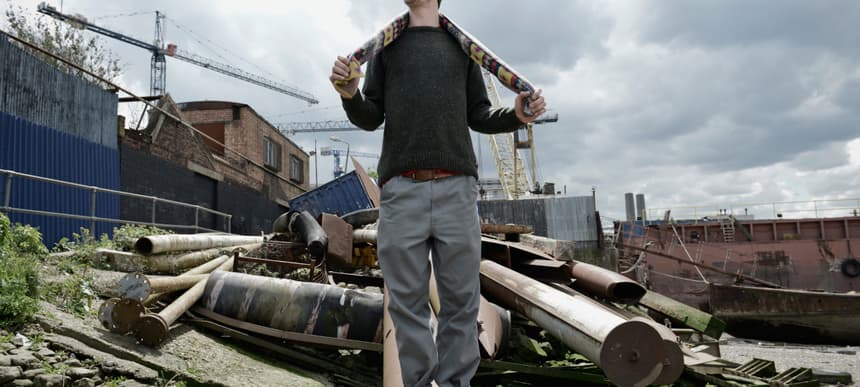 30.07.2013, Words by Ruth Saxelby
Quick Catch-Up: Paul White
Swapping bedroom introversion for rapper-lent extroversion, London hip hop producer Paul White has moved from the production showreels of early albums 'Sounds from the Skylight' [2009] and 'Paul White and the Purple Brain' [2010] to what's looking like the main act of his career: hitting the studio with his rap heroes. An appendix to 2011's 'Rapping with Paul White', new EP 'Watch the Ants' sees regular White collaborators Danny Brown and Homeboy Sandman (he's producing several songs for Brown's 'XXX' follow-up and a Sandman EP for Stones Throw) jostling for space with grime MC Trim and gruff Brooklyn veteran Sean Price. We dropped White an email to find out if those all-important introductions have gotten any shorter.
Was working with rappers always part of the plan?
Paul White: Some, yeah. It's always been a dream of mine to work with rappers, so working with all these people is incredible. People have said a lot of my stuff's too crazy to rap on, but it's just what your ears are used to. I like the idea of more people collaborating in general. Since everyone can do everything on their own in their bedroom, it's changed music, so now I want to get out and work with loads of people too. I think a lot of 'golden eras' have a lot to do with times where a group of similar minded people push something or an idea together.
Has it gotten easier for you to get people on board?
Paul White: It has, except with Sean Price. We had to kidnap him! I'd sent him some beats ages ago with the plan to do something, months passed and nothing actually got finished. Then I was walking down the street in London before a show of his in Kings Cross and saw him, I literally threw him in a cab and we went to the studio and recorded the track for the EP. It was hilarious.
"People have said a lot of my stuff's too crazy to rap on, but it's just what your ears are used to." Paul White
Do you find that you're thinking more about how vocals might sit inside your tracks?
Paul White: Not really, no. I never plan anything out, I just leave it wide open and see what happens in the moment. That's what excites me. So in life, with 'Watch The Ants', I talk about being as conscious as possible, but when I'm making music, I try and make it as subconscious as possible, to get your brain out the way because it can cloud things up. So I don't think about rappers or anything. Very occasionally, I might think if I leave this or that part out if it might work better for a rapper, but if that happens, that'll be after I've done the track. I like things different, and I'm not trying to please anybody but myself when I'm actually writing. I think you can mess yourself up if you try and please others too much. I've always hated the sheep-ness of people.
Danny Brown's got such a Detroit kind of persona – does that play a part in what sort of beats you send him?
Paul White: There were some I wasn't surprised that he picked because I thought they might suit him, with that rawness. But a few others, I was like 'Really? That one?!!' That's why I never write with a certain rapper in mind or anybody. I did that once, on a beat CD I put together for a few people, thinking they might like them, but no one picked those ones. Music should just be something that purely comes out of you. If you think too much, that can get polluted.
You're obviously rooted in 90s hip-hop but you're not a purist. Do you try to stick within that tradition even when you're taking it somewhere else?
Paul White: Again, I'm not really thinking. It might be to do with the equipment, subconscious things I like that come out. Hard, raw sounding drums and things, the music I've listened to, I don't know. The music I've been writing recently isn't all rooted in hip-hop. I'm trying to do a bit of everything now – I've been writing acoustic guitar pieces, bass guitar songs, the lot. Genres are defined by funny things in my opinion, mainly drums. I could take a sample or play something and the type of drums I put on it will automatically put it in a genre.
A lot of your instrumentals have a dreamlike feel – do you do a lot of work in the early hours?
Paul White: That's exactly what I mean about letting something creative come from a subconscious state, letting it come from somewhere deep, or somewhere not even in you. Some people do that by getting high, staying up late, drinking, whatever. Writing at night, there's no time reference points, like 'oh shit it's lunch time and I haven't done enough', you don't think like that at night so there's a freeness. I've heard people talk about energies at certain times of the new day starting, to do with the sun, but really, I love working at night and making music at 9 in the morning too. It feels great when you've done five beats by lunch time. That can motivate you for the rest of the day. I wish I never needed to sleep at all. It gets in the way, I hate it.
"I think you can mess yourself up if you try and please others too much. I've always hated the sheep-ness of people." Paul White
There seems to be a bit of a trip-hop revival going on at the moment – were you a fan or did you hate the term?
Paul White: I was a massive DJ Shadow fan. Entroducing was very important for me. Coldcut were friends of my best mate's dad and I loved DJ Food and a lot of other Ninja Tune stuff but at that time I was also listening to The Stone Roses, Aphex Twin, some techno, ambient music like Brian Eno, a lot of drum and bass, Nirvana and metal, lots of things at the same time as hip-hop. I used to write ambient music. I love atmospheres, so I loved all that. Names and tags and genres are bad I think, they don't mean anything to me. Beats come from so many different places that it could go back to any one of the places it came from. Universe is the limit. Life doesn't stay the same in any aspect, so why should music? If we all took reference points away, things might seem different.
Are you still working as a library music producer? How much of a relationship is there between your day job and what seeps into your own tracks?
Paul White: I still do little bits yeah, mainly for a great program for BBC2 learning called 'L8R'. I feel proud to be doing something educational. To do with my day job, I can't really do anything but write music. I feel like a fish out of water anywhere else, apart from surfing that is, so I try hard to make my day job my life job, if you know what I mean.
And finally, what are you currently listening to?
Paul White: Moondog, Fever Ray, Tame Impala, Harry Partch, Steve Reich, Don Cherry, Throbbing Gristle, Gene Russell, Joe Zawinul.
One-Handed Music release Paul White's new EP 'Watch The Ants' on 29th July 2013.