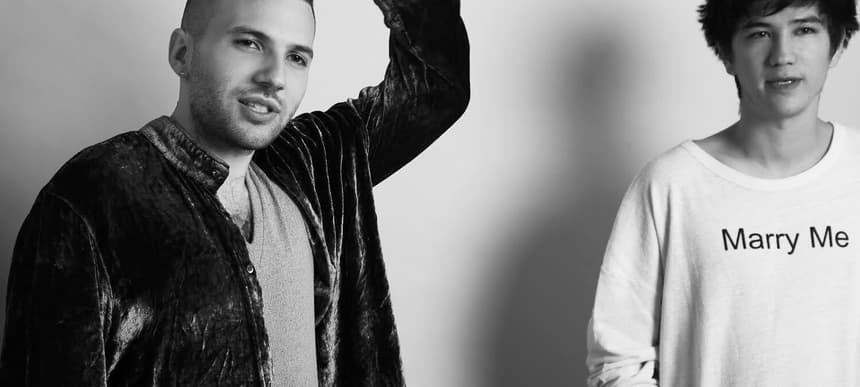 13.11.2014, Words by Aurora Mitchell
Quick catch-up: Teengirl Fantasy
Teengirl Fantasy have been working on shorter projects since their 2012 album 'Tracer'. Their latest EP, 'Thermal', contains some of the most cohesive, airtight music that the duo have ever made: it's a progression as well as a look over the shoulder to the past, with track 7:30AM revisiting the sound of their debut record, '7AM'. 'Thermal' is the debut music release on North Carolina based collective Break World Records – the label also acts as an interactive art gallery and aims to merge the two mediums.
The duo have previously worked with some engaging, individual guests such as Kelela and Animal Collective's Panda Bear. Here we talk about collaborating with newcomers Lafawndah and Hoody, the story behind signing with Break World Records and how 'Thermal' differs to previous material.
You've been working in EP/12" format since 'Tracer', are you working on new stuff or are you happy with what you're doing now, working on shorter projects?
Nicholas Weiss: "We are currently working on a full length, however shorter projects have allowed us to experiment and get music out there in the meantime. We can be quite slow at finishing albums so it helps to be able to do smaller releases along the way to keep creativity flowing."
Logan Takahashi: "It's a chance for us to go into a project and be able to focus on tracks as tracks rather than a whole massive piece."
Having worked with a ton of artists as guests on your last album and bringing in Lafawndah and Hoody for Thermal – what is it you like about bringing in other people? Do you look for people you'll get on with outside of the studio too?
Nicholas Weiss: "Most of the time the people we work with are friends first or the collaboration happens organically. It is rare that we email someone cold about doing a feature but we have done that as well and it also is interesting, and often evolves into a friendship. But yes Lafawndah is one of our best friends, Kelela became one of our best friends through working with her, we knew Noah/Panda Bear from touring together and got close with him that way. So we see it as an extended family type thing and are happy to collaborate with people when we feel that connection."
When you were thinking about people you could collab with this time around, what made you go with Lafawndah and Hoody?
Nicholas Weiss: "Hoody we wanted to collaborate with just after seeing a video of her performing live and being blown away by her talent and productions. Lafawndah was more organic, we became really close and were talking about music a lot and knew we wanted to collaborate. However we just needed the right track. When we made the instrumental for Lung we realized that that could be the one and sent it to her."
Logan Takahashi: "This is the video that Kelela had shown us after coming back from playing in Seoul with these people. We were immediately like 'this crew is awesome!' and got in touch with Hoody via email. Both of us had met and became friends with Yasmine (Lafawndah) when she was visiting NY from Paris like two springs ago, so by the time we ended up collaborating we were close on a friendly level."
Break World Records is releasing the EP – the first on the label – how did you start chatting with them and realise they were who you wanted to release on?
Logan Takahashi: "This EP has the most amount of cross-media collaboration that we've ever had on a release. Looking back on the 'Tracer' LP, one of the main things we still regret is the fact that we didn't really have any proper videos or visual components for that album – still kind of kicking ourselves about that. The plan that Break World presented to us seemed like a cool opportunity to explore new visual ways of getting our music out there to people so that was the initial interest for us."
Nicholas Weiss: "Break World came to us with a very interesting proposal, that they wanted to start a label with a strong focus on releases in which musicians could collaborate with more visual artists and create different types of releases that go beyond your standard audio plus cover artwork. We have a lot of extremely talented artist friends and thought this was an amazing chance to make a lot of visual and interactive content to go along with a new release. So far we only have one video out from the EP, but that is just the start. There will be another video as well as a digital environment for the whole EP. The environment is being created by 4real agency in collaboration with CG artist Ko Kudo. I'm pretty sure no one has seen an environment like this done before on the web."
Thermal feels more cohesive and chilled than Tracer which was more spatial and had a lot of unconventional time structures – are you looking to explore that more?
Nicholas Weiss: "We didn't preemptively try to make a more cohesive release, you can never really plan those things. I think that this EP actually started out from a very ambiguous place but then really started to crystallize mid-process. By the end it shaped into something that I agree is one of the most complete works we have ever done."
Logan Takahashi: "We're still interested in unconventional structures, don't think that has to negate cohesion – but definitely always thinking about how a group of songs we release can work together as one. Our most recent album sessions that we did in Woodstock was one of the first times we went into something with a specific theme and concept of what we wanted to focus on musically and I think that helped us a lot."
There's a song on the EP called 7.30AM, which sounds quite like the general sound of your debut album, 7AM – was that connection intentional, is it meant to be a follow up of sorts?
Logan Takahashi: "Yes, you caught the reference!"
Nicholas Weiss: "We were having some fun with that title, we see that track as connected to the 7AM sound which is still in us, but updated with all of the experiences we have had in the years since releasing that album. For our next album we also plan to build on that sound, but pushing the clock forward even further."
I know you recorded 'Tracer' at a friend's studio in Williamsburg, was making Thermal very different or quite similar?
Nicholas Weiss: "'Thermal' was made in many different spaces… I can't really remember all of them. we made it in our bedrooms, friends living rooms, random studios, basements. it's really hard to find space to work in NY haha. We just recorded a bunch of demos for our album upstate in Woodstock which was amazing."
Logan Takahashi: "We started the initial sessions that went into 'Thermal' at a studio in London last November. Then we spent a few (broken-up) months of editing and overdubbing and recording with vocalists in many different places in NY."
Are you working on anything by yourselves or with anyone else at the moment?
Nicholas Weiss: "I just completed the Red Bull Music Academy in Tokyo where i worked with a bunch of awesome people. Not sure what will come of those tracks but there are some really good ones in there I think."
Logan Takahashi: "I just started doing a radio show on Know Wave called 'Tahiti Dusk' that's been fun. Want to use it as a way to play some tracks I've made myself over the past couple years but have been too private with."
Break World Records release the 'Thermal' EP on November 18th 2014 (pre-order).