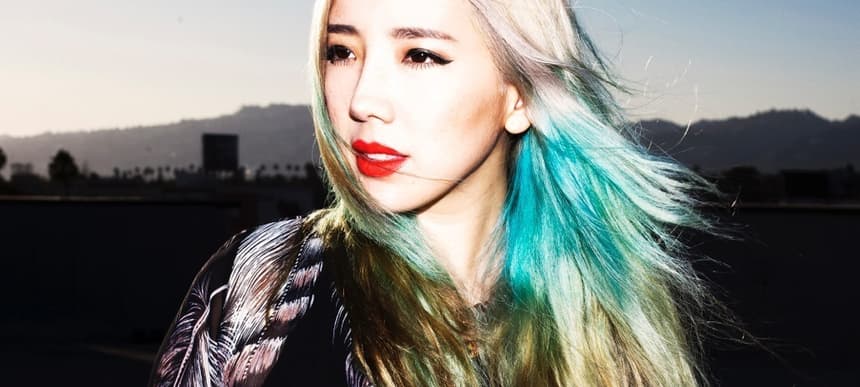 10.11.2014, Words by dummymag
Quick catch-up: TOKiMONSTA
Making beautifully crafted and considered beats with a misty atmosphere, paired with soulful vocals from both herself and a range of guests including Gavin Turek and MNDR, Jennifer Lee (also known as TOKiMONSTA)'s ascent has been a steady one. Drip-feeding music that has a story to tell its listener, she's hopped between record labels according to which corresponds to the world that she's presenting with that particular release: she went with Flying Lotus's Brainfeeder for her lengthy 'Creature Dreams' EP in 2012, and EDM mainstay label Ultra Records for her second album 'Half Shadows', which featured some of the most ambitious and impressive tracks she's put out to date.
Straying away from labels altogether, her new mini-album is self-released. Aptly titled 'Desiderium', a longing for something lost, Lee reflects and goes back to the sound of her earlier material, but it's also poignant for a year in which she has felt a lot of personal sadness and loss.
Having recently announced a show at London's Oval Space for early next year, we talked to Lee over email about being seen as a producer without a gendered tag, what 'Desiderium' means to her, and comparing her music to Game of Thrones.
Hi Jennifer! How is everything on your end?
TOKiMONSTA: "Pretty good, I think!"
You recently contributed to an excellent feature about how to change attitudes towards female producers – there's a wealth of brilliant female producers, yourself included, but it feels very often as if they aren't being promoted as much as they should be. Have you had to deal with that a lot?
TOKiMONSTA: "Well, my situation is a bit strange. I feel as though I am promoted, in a sense, because female producers are a rarity. However, I don't want to play in a league of my own – I want to be viewed as a producer, not a female producer. Not to generalize all women, but for myself, I strive for respect and quality. Being a woman isn't something I try to focus on."
You said that women need to feel proud to stand on their own – something that you definitely come across as being. Have there ever been moments when you have doubted yourself?
TOKiMONSTA: "I doubt myself constantly and can be self-deprecative, but this is just me as a musician – not as a female. As a woman, I am proud and happy with who I am."
Your latest album is called 'Desiderium', a longing for something that's lost – was that a feeling that you experienced a lot while making the record? There has been a lot of unfortunate, sad loss permeating this year.
TOKiMONSTA: "There has been some sadness I have dealt with this year. A lot of personal losses. However, the album was more about revisiting what's been lost. I've always longed to make the kind of beats that I did in the very beginning of my career – the appreciation for the simplicity and effectiveness of my first EP. At that time, I had no intentions behind my songs, they were just beats that popped out of my head and came into being. 'Desiderium', as an album, helped alleviate my desiderium as a musician."
"There is this juxtaposition of the scary and cute, the ugly and beautiful, etc. that I enjoyed in music. Beautiful melodies with aggressive drums. Distorted synths with classical instruments." – TOKiMONSTA
'Desiderium' feels like a story playing out. Were you telling one?
TOKiMONSTA: "Yes, I think so. I want all my albums to be like a novel, where each song is like it's own chapter. There are rising actions, conflict, resolution, and everything in between."
I like that the name TOKiMONSTA sounds so forceful and powerful yet a lot of your music is considered and mellow. Is the contrast intentional?
TOKiMONSTA: "Toki means 'rabbit' in Korean, which does contrast the 'monsta' part. There is this juxtaposition of the scary and cute, the ugly and beautiful, etc. that I enjoyed in music. Beautiful melodies with aggressive drums. Distorted synths with classical instruments."
I saw you earlier this year in Brighton and I love how high-energy your set is compared to the really chilled atmosphere of your records. What goes into preparing for a set?
TOKiMONSTA: "My set has been a work in progress since I first started playing out. I like using this analogy: my records are detailed and deep like A Song of Fire and Ice, where my live sets are meant to be authentic, but fun like the TV show Game of Thrones."
You're playing at Oval Space next February, your first show in the capital for five years, are you planning anything special for your return?
TOKiMONSTA: "Lots of things, lots and lots!"
Thanks Jennifer, have a great day!
TOKiMONSTA: "No problemo!"
TOKiMONSTA self-released 'Desiderium' on September 23rd 2014 (buy). TOKiMONSTA plays Ovation at Oval Space, London on February 12th 2015 (more information and tickets).