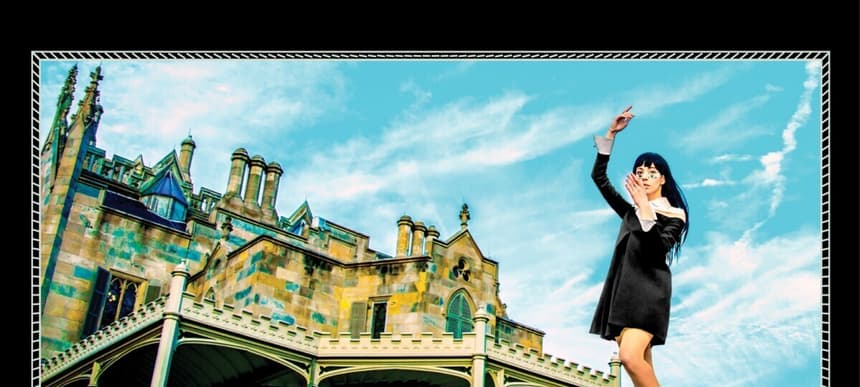 02.05.2014, Words by dummymag
Ramona Lisa - 'Arcadia'
The crowd at Caroline Polachek's album release show at Williamsburg's Baby's All Right earlier this week was a who's who of Brooklyn music people, and looking at them, you could almost feel Polachek's well-deserved role of den mother/sister in the Brooklyn music scene. For the better part of the decade, Polachek's focus has been with the band Chairlift, but she also co-wrote and co-produced No Angel on Beyoncé's newest album, and has shown up on a barrage of tunes from peers like Blood Orange (last year's Chamakay), Acrylics, Sébastian Tellier, Jorge Elbrecht, and Guards. 'Arcadia', Polachek's debut solo album under the name Ramona Lisa, sounds as potent as it does because of this unifying personality.
The intelligent, subtle portrayal of Asian, Latin, Indian, and rococo music along with Romanticism and the Hudson River Valley School further represents the album's distinction and potency (especially in light of Brian Droitcour's recent piece that partly talks about genre). In a world where Katy Perry performs her ballad, Unconditionally, on an awards show dressed up like a slapdash version of a geisha without any real space or time for nuance, Polachek's thoughtfulness and engagement with her source material truly stands out, making 'Arcadia' far more than a mood board.
Chimes billow along with glorious melding synth and keyboard work (like on Getaway Ride). Pan flute and what sounds like oboe show up throughout, though apparently the album was made with no actual instrumentation on it. Many of the songs sound like the title track of Ryuichi Sakamoto's soundtrack for Merry Christmas, Mr. Lawrence and the way he lets the chimes resound forever on it – somewhat intentional, considering what Larry Fitzmaurice says here.
Backwards and Upwards undulates, lathers, and pogos about. The peaceful swoop, plié, and glissade of the Bollywood meets cha-cha-cha of Getaway Ride makes the listener feel the impact of its castanets and each finger pick, flick, and fleck of harp or guitar insinuate a stone-faced dance, all while describing a Bonnie and Clyde-esque crime-plotting couple planning to go on the run. The crunch and chug of the 'Ondine'-harkening Lady's Got Gills, with its lyrics about a mermaid, has a sizzling, scintillating, and smoldering tingled purr that gives it a feverish pitch. Dominic is the girl-group-performing-on-an-old-time-TV-show track, with a "ra ta ta" drum beat giving everything a nice clip and prominent oboe and mushy synths losing themselves in each other. Izzit True What They Tell Me has plucked, pinched, and prodded synths tra-la-la-ing and snapping castanets while Polacheck does some hand-wringing over a likely letdown of a suitor hence the dynamite lyric: "go to hell I adore you."
If Polachek is taking students, to reiterate a line from the searching, quietly heaving wax and wane of Wings of the Parapet, "resign me" to her teachings. She's basically the 2014 Jane Eyre, the coolest governess of them all.
7/10
Pannanonica/Terrible Records released 'Arcadia' on April 28th 2014 (buy).