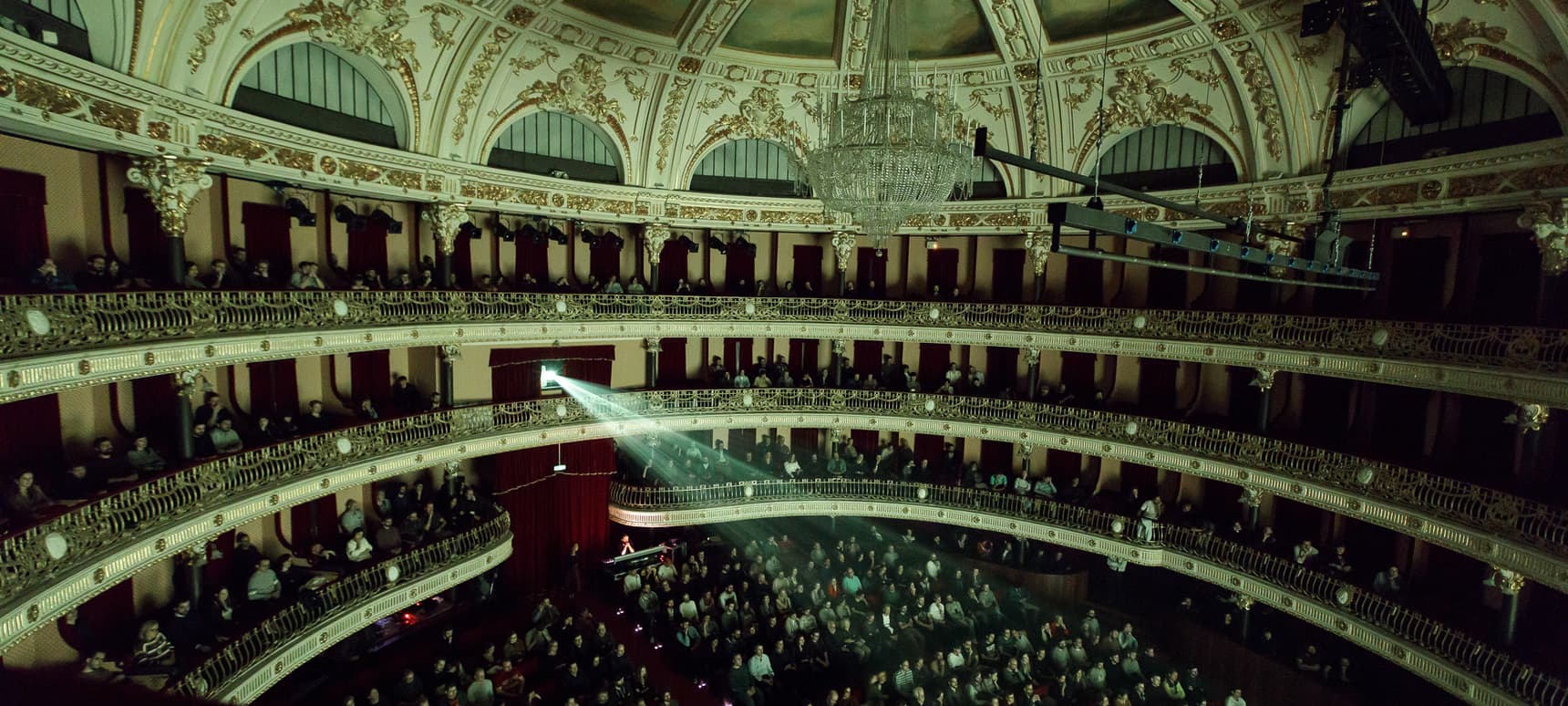 30.10.2019, Words by Felicity Martin, Photos by Adriano Ferreira Borges
SEMIBREVE 2019 was a thoughtfully-curated weekend of world-class electronics
A wealth of audio-visual spectacles descended on Braga, Portugal...
In sheet music, a semibreve is the longest musical notation. Like its namesake, the three-day event in the city of Braga, northern Portugal, moves at a slow, considered pace, more so than any festival I've encountered. Its acute programming means there are no clashes – it's more like a series of concerts – all exploring the fringes of electronic music in unique venues. This means you experience things you might swerve at another festival, pushing you out of your comfort zone in a very, very comfortable setting.
Braga is a city where religion is inescapable; Gothic cathedrals and Catholic gift shops line practically every corner. Last year Caterina Barbieri's performance was cancelled after a priest in the church it was due to take place in branded her music "demonic" (a compliment, surely). But Braga's reputation as the 'Portuguese Rome' means that there's plenty of culture to absorb before the day's performances that doesn't just mean eating endless pastéis de nata, although we manage to do a lot of that too. A short taxi ride takes you to Bom Jesus do Monte, a sanctuary with a breathtakingly beautiful Baroque stairway and panoramic views.
Gilded concert hall Teatro Circo, all red velvet, supersized chandeliers and a banging sound system, is the setting for the evening's early performances. The word 'pioneer' is thrown around loosely these days, but it's not often you get to see a performance by someone like Morton Subotnick, responsible for 1967 composition 'Silver Apples of the Moon', the first electronic work commissioned by a record company. The 86-year-old performed in front of a mind-melting backdrop courtesy of Lillevan, producing sounds that fluttered angrily like insect wings and moaned threateningly.
The theatre also saw Nine Inch Nails keyboardist Alessandro Cortini playing the entirety of his 'VOLUME MASSIMO' album back to front. While this was essentially an exercise in pressing play, the LP's accompanying visuals were exquisite – think technicolour shots of bodies contorting and Escher-esque optics, making for one of the festival's highlights.
One of the first owners and users of the Buchla synthesiser, 73-year-old Suzanne Ciani gave a masterclass in the instrument when, live on stage, her switch-flicking and re-wiring was live-streamed for the benefit of the audience. Sending synth waves flying around the hall, she manipulated the blinking analogue machine and various digital interfaces to create swathes of bass and loud rumblings before curtsying to rapt applause, virtuoso-style.
Counteracting the seated performances were a handful of dance acts that attracted a livelier crowd. One half of Factory Floor, Nik Void coated gnration, a converted police headquarters, in deep strokes of techno, while Avalon Emerson closed Saturday night with her consistently creative DJing skills, slamming through trancey, proto-EDM cuts and rave mashups.
The following night Rian Treanor spun mutant techno and dancehall before Kode9 launched into a set that sounded comparatively mainstream: UK rap fused into Special Request's 'Vortex 150', TNGHT's 'Serpent', a footwork remix of Petey Pablo's 'Show Me The Money' and '24's' by DJ Godfather. That day, Hyperdub had announced a new compilation of Burial cuts, so it made sense for Steve Goodman to drop some Will Bevan cuts. He kept the floor hooked until the lights came on and a Portuguese version of "one more tune" was chanted.
As tradition dictates, all performers and guests eat together in the same restaurant pre-gig, so you might find yourself sharing a fish pie with an electronic music pioneer. This is the beauty of SEMIBREVE: it's small enough to feel intimate, but its sounds are expansive. It's due to turn ten years old next year, and you can bet on it expanding even further for the occasion.
Find out more about SEMIBREVE here.