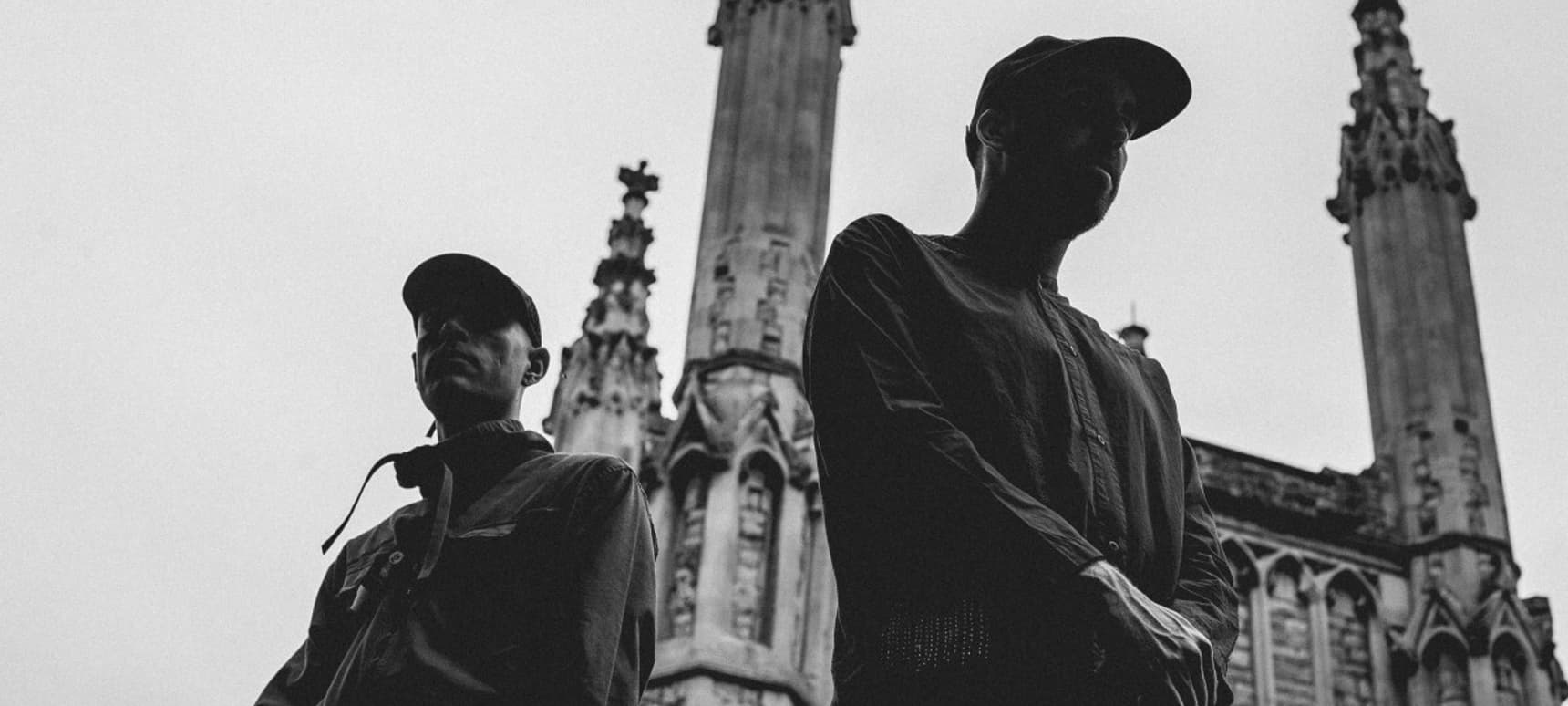 04.07.2018, Words by dummymag
SHADES' Guide To Half Time
The creative meeting of minds of two of electronic music's creative producers, SHADES are the UK's Alix Perez and the USA's Eprom. Since their inception 4 years ago, they have released 4 EP's including the most recent Night the Dreadless Angel (2017) in which they collaborated with fellow half time pioneers Ivy lab and their self-titled debut Shades EP (Alpha Pup, 2015).
They recently released 'Guillotine', the second offering taken from their forthcoming debut In Praise of Darkness. Equally as dark in moniker as its precursor, 'Guillotine' further sets the tone for the album epitomising the experimental nature of the project.
Out on 13th July via Deadbeats Records, the highly anticipated LP is a 12-track epic of varying sounds and tempos including a vocal feature from one of UK urban music's most sought after voices, Killa P. Intriguing and unrivalled in creativity and quality; the album is indicative of what bass music has been missing.
Alix and Eprom: "To some people, halftime is a logical progression from drum and bass. For us, the hip hop component of the sound is equally important. Drum and bass is very technically demanding, and as such it's a great genre to get your productions chops up. But the metronome rhythm of modern drum and bass wasn't leaving us enough space to create new grooves, so we had to carve out a shell of hip hop and bring the sonic architecture of drum and bass to bear on this new (old) rhythmic framework. Of course, the cross pollination of these two worlds has had a long history, and we'll explore that a bit further through our selections."
Alix's 10 Best Half Time:
Danny Breaks – JellyFish
Alix: "Danny Breaks has been a significant influence on the both of us over the years and this track proves how ahead of time he was with this which absolutely falls into our category / sound that we're pushing today."
Stray – Matchsticks
"Stray, 1 half of Ivy Lab today I also consider to be an important contributor and influencer to the genre and movement that we are now. This track encapsulates what Stray does, on the wonky side of things. Soulful, with his trademark chopped and screwed vocal edits, this one bangs at home or in the club."
SHADES – Chiron
"If I was to pick a track that marks the birth of our collaborative project I would pick Chiron. This track remains in our live set to this day and always seems to work the dancefloor. Stripped back yet full bodied, I think this a good example of the marriage of both of our sounds."
EPROM – Hurricane
"Personally, this one of my favourite upfront tracks from Sander. Without fail this will test any sound system. I've lost count of how many times this has been played in solo and SHADES sets. The sound design and vibe is undeniably coated in his signature sound."
Alix Perez – Hack & Slash
"If I was to pick one of my solo productions in this genre, this would be it. It originally started off as a soundclash tool when I played at a 20/20 event. It was originally titled 'Murder Tonight' as I made this with intention to shut the opposition down."
Tsuruda – Broken
"One of my favourite contemporary artists, regardless of genres. Tsuruda has his own sound and you know when it's one of his tracks. I think broken is great introduction of anyone new to his music."
Ivy Lab – Plane Beats
"These guys need no introduction in this genre, but for this who aren't up to speed here's one of their classic joints
Black Pocket – Ur A Sta (dBridge Remix)
This is a classic for me. Dbridge remixing his brother Spacek. It has a certain melancholic vibe to it that dB is renowned for. Dark yet light."
Mr Carmack – Wompers
"Again, this guy needs little introduction. Influential to myself and many others, this is one of my favourite joints that we've played a lot in our sets."
SHADES – Third Gate
"This is probably my favourite of all the tracks we've ever put out so far."
Eprom's 10 Best Half Time:
Roots Manuva – Witness Dub
Eprom: "One of the seminal tracks that started this whole movement for me personally. Just a massive bass line and a fairly simple groove, with a ton of cool dub production trickery that never sounds out-of-pocket."
Dabrye – Smoking the Edge
"Next-level advanced futuristic boom bap shit from way, way back in the day. This guy was so ahead of his time people are just now catching up."
Quasimoto (prod. Madlib) – Greenery
"This just knocks hard as hell. We still play this out regularly. Prototype banger shit. Madlib and Premier and Dilla laid the blueprint for a lot of our drum grooves."
Ivy Lab – Calculate
"Crazy inventive beat from Ivy Lab, this was doing massive damage in the clubs when we toured with them last year."
Oh No – Move
"This is another blueprint track for me personally. Oh No is Madlib's brother but he has his own sound, he's known for sampling weird shit like 90's video games. Big inspiration.
Slum Village – Raise It Up
"Had to get a J Dilla production in here. This is actually a sample from Thomas Bangalter (of Daft Punk), but the way Dilla flipped it is insane, it's like the groove was always meant to be hip hop."
Eprom – Drone Warfare
"This is a track that I made in one session, and I feel like those always end up the best. I didn't think much of it when I made it, but I look back on its creation fondly now. I set up a synth loop and just slowly added grit to it until it's nearly exploding, and then added the drums and other arrangement stuff quickly thereafter."
Africa Hitech – Out In The Streets
"A staple in our sets since we started playing. This one comes from one of my personal favorite producers of all time, Mark Pritchard (here in his Africa Hitech moniker with Steve Spacek). He winds up the Ini Kamoze sample and imbues it with a feverish halftime/doubletime juke energy."
Squarepusher – Plaistow Flex Out
"Utterly strange hip hop bass funk from the original don, Squarepusher."
Shades – Cryptic
"One of my favorite Shades tunes, this one was written on planes and in Australia while we were touring a couple years ago. Gutter bass music."
Listen to the playlist below:
Pre-save on Spotify In Praise of Darkness: http://presave.io/t/inpraiseofdarkness