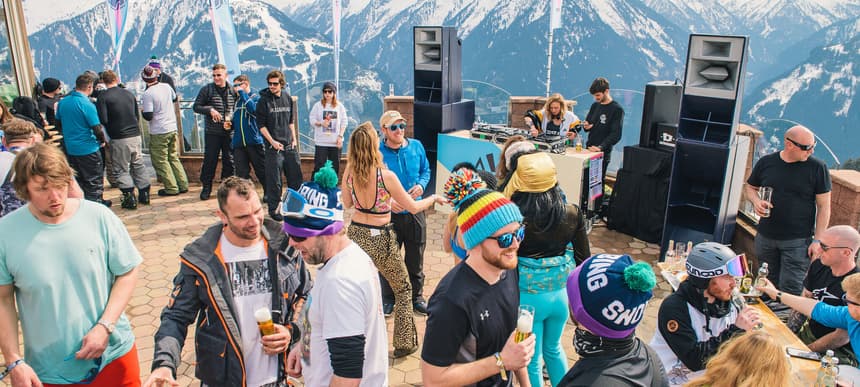 03.05.2019, Words by dummymag
Snowbombing 2019 gathered the diversity of the UK's rich music culture in a jaw-dropping setting
We headed up to the world's biggest après-ski party set in the Austrian Alps
About two hours away from Munich, tucked away in the Austrian valleys of the Tyrol state is the small village of Mayrhofen. Nestled between steep hills, with the 3000-metre Hintertux glacier looming over the picturesque chalets, lush green plains that make up the area's verdant scenery, Mayrhofen boasts a truly spectacular landscape that stretches right up to the Italian border.
Skiing here is a mainstay and even better, it's available all year long. But unlike most Alpine towns, there's one particular time of the year that really sets itself from the rest and that's the second week of April. During that time, the hospitable locals welcome 6,000 festival-goers (yes, six thousand!) for Snowbombing festival: the biggest après-ski party on the planet.
With over 20 years of experience combining dance music and winter sports, Snowbombing is now a staple of Mayrhofen's calendar. Each year, the festival finds a handful of household and rising UK acts such as Skream, Bicep, Moxie, Fredo and MoStack (to name a few) performing in all sorts of unusual venues from dusk till dawn.
My experience of Snowbombing 2019 is a particularly memorable one as I navigate through the overwhelmingly British-attended festival as a non-English person. My days spent at this behemoth-sized event are bustling and nothing short of fun. Kicking off the day with a relaxing dip in the heated pool with the Alps as a backdrop, to a jaw-dropping gondola ride through the fog, up the pristine ski slopes of the Penken mountain.
Lunch is soundtracked by an impromptu set from young Glaswegian prodigy Denis Sulta loading up slappers like Daft Punk's 'One More Time'. Before getting ready for the #Merky Takeover (two stages over two days curated by Stormzy featuring acts like Fredo and D-Block Europe), I grab a quick schnitzel at Hans The Butcher's where, believe it or not, a DJ is spinning. In my case it's DJ Yoda and, I'm not ashamed to say I thoroughly enjoy hearing Vanessa Carlton's 'A Thousand Miles' being sung word for word by an eager crowd of 50 festival attendees.
Things are fast-paced at Mayrhofen and the choice of activities and venues are endless, from DJ sets at the top of a mountain in an actual igloo, to the subterranean Racket Club and the traditional-looking but revamped with Funktion Ones Bruck'N'Stadl venue. You'll not be able to catch every single act (unless you're jacked up on whatever athletes use) but wherever you are there's a sense of collectiveness that is undeniably infectious.
Unfortunately that night Stormzy's performance is abruptly cancelled as he pulls out of the festival, accusing Snowbombing of racially profiling his team as it was believed somebody was carrying a weapon of some sort. The news is not entirely well-received due not only the nature of it but also as he's Snowbombing's second headliner to be cancelled following Keith Flint's death and The Prodigy's replacement for a Chase & Status DJ set.
As the week goes by, I slowly realise that a festival like Snowbombing is rare in a way, not for its logistics and carefully-crafted lineup but for its musical palette, something a lot of people might overlook or take for granted. From past and present bookings including Oasis and Mall Grab to Fredo and Artwork, it's eclectic and unapologetically English in its own way. Even though the festival is not necessarily showcasing the 99% of the UK's incredibly rich music scene and hyper-concentrated amount of talent, it's a testament to a culturally and stylistically diverse music culture, one that boasts a large number of genres.
Where else can you ecstatically throw yourself into mosh pit while watching an Arctic Monkeys cover band (ingeniously called the Antarctic Monkeys) and jump up to drum 'n' bass and jungle anthems? Snowbombing celebrates all these, past or present, and embraces many a genre. All this seemingly eclectic musical exposure is made possible simply because British music and culture is so concentrated, and this aspect gives Snowbombing a real energy that is rare.
Find out more about Snowbombing here.