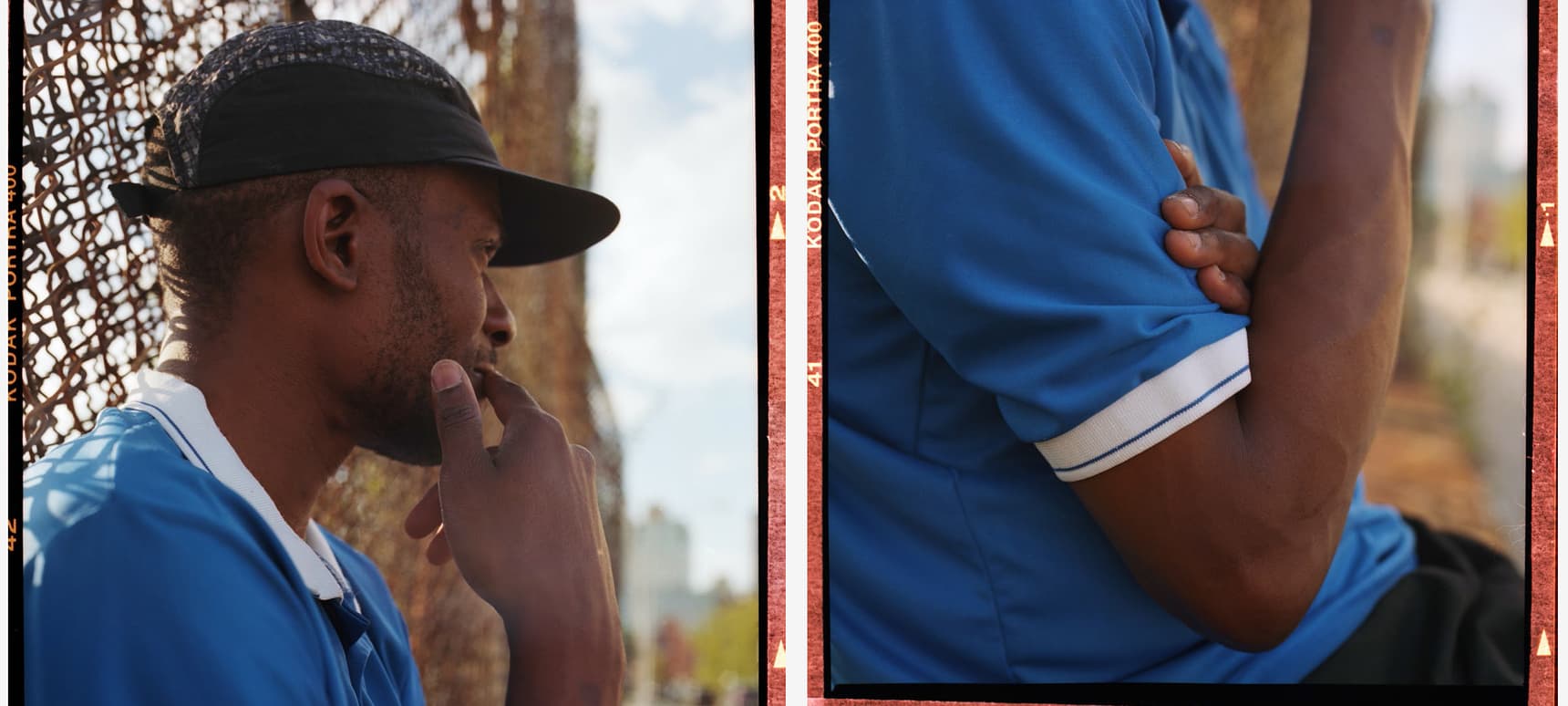 04.12.2015, Words by dummymag
Sporting Life: "New York City gives you a sense of urgency about your art."
Eric Adiele is on a quest to never make a wack beat. Inking as Sporting Life, the 32 year-old Virginia born and Harlem based producer has spent the past couple of years following an ongoing process of self-discovering his style. Mastering software and gear whilst knitting bits and pieces of samples found in old tape records, his line of work is all about creating beats with their own organic nuances, so they can live past the vocals to tell their own inspirations and ultimately rest in people's conscience. Sporting Life's debut solo tape '55'5s' makes up a case for Adiele's evolving journey.
'55'5s' has an experimental character: a mind-twisting beat narrative, blending a unique hip-hopian aura with footwork's sprawling BPMs. It's a test-lab of unpredictable results built upon an inconspicuous range of inspiring elements – from around-the-globe artists then back to New York itself. As Adiele asserted in our transatlantic Skype chat – travelling and meeting new people whilst still playing next to Wiki and Hak as New York's noise-rap trio Ratking also helped to broaden his spectrum of influences. The group's most revered records, 'So It Goes' and '700-Fill' came in-between the process, laying 55'5s sensorial-inducing roots. Adiele's creatively immersing outputs resounded on this side of the globe and Belgium R&S Records released his debut tape, which now rests next to genre-defining producers such as Aphex Twin and James Blake.
Winter is here. It's been cited as the major influence in your art, especially on Ratking's latest release, '700-Fill'. In what way has New York's season-shifting moods influenced your productions?
Sporting Life: "It definitely influenced a lot. Physically because you have to live in New York City and work and feed yourself, so that kind of gives you a sense of urgency about your art. But also because of the city's history and the sounds you hear in the streets. It's influenced in a lot of different ways, the city definitely is and continues to be a reference in the sounds I make."
New York City certainly also lives within your new beat tape, '55'5s'. How did you come up with this project?
Sporting Life: "I had the idea that I just needed to make a lot of stuff, so I was just practicing different styles and making things and trying to get better and better at Ableton Live whilst also figuring out how to never make a wack beat, you know? The tracks on '55'5s' came from that process during the past couple of years. It's like pieces and notes from that process and from studying different styles and trying to find my own, even with the old stuff I made."
These are beats that you designed during Ratking's soaring years. How did working with Wiki and Hak shaped your productions along the way?
Sporting Life: "It shaped them a lot. As a group we like to make things and play it live and then let that tell us how we should record it. That process has definitely given me a lot of time to grow and explore new styles because it wasn't something necessarily fixed, it can always change. Travelling and playing as a band helps in meeting new people and those folks give you influences or just share with you an instrumental or a song you never heard before. During those times you keep consistently creating, so if you can take that and use your time wisely, there's a lot of room to grow."
Did the mindset of '55'5s' divert from the one with Ratking?
Sporting Life: "It's just different processes until getting to finally hear [the final version]. When producing with Wiki and Hak it was more like seeing where the song is going and minding the song title. It can't also be that dense because you're still looking to have a pocket for somebody's voice and ideas. It's just a different path. It might be really similar to maybe producing tracks I make from start to finish without a thought. Sometimes it's not necessarily a song, just sounds I've wrote or beats I made for practicing purposes…like going out skateboarding. It's kind of different but for the most part, kind of the same."
When you pick bits and pieces for a beat do you follow a storyline?
Sporting Life: "I tried to title [the tracks] in a way of a story. I like arranging things and trying to build a narrative with the sound. I think in ending like it did was like a really good wrap up of the story. Some songs are more story-like than others; some songs are just hard beats; and some songs tell a story. Having a mixture of those kind of things is really good."
People predominantly link you to hip-hop beats but that seems narrowing considering the blend of sounds and styles in your productions. Still, do you feel you're trying to break new ground for hip-hop with this tape? Where do you see this sound fitting?
Sporting Life: "I'm trying to be as adaptable as possible. If I'm in a particular place doing a DJ set I try to adapt and meet people halfway. Hopefully I'm able to adapt in real time. As far as where it fits…I don't know. Hopefully besides dope musicians like Gorillaz or Jay-Z. I don't know how different my sound is, but I like to think about other people that did something different. Maybe not many of them come from my background. Or maybe not a lot of people can play basketball and shit like that. It might be coming from a different perspective. It's just trying to push creativity, learning about new gear and reading interviews. You can read an Aphex Twin interview and realize some people in your present day are in the future, so when you see somebody like that it inspires you. Whatever the sound is, hopefully it's just the sound of a better knowledge of a particular gear you are using, not a particular sound you are trying to mimic. Even though you can pass through different influences – which is good – the sound will be of your gear working together. When you listen to Aphex you're hearing his signal chain, how these things are communicating. That's the math behind the music."
Does the science behind the music appeal to you? What would you say that gravitates you towards producing beats?
Sporting Life: "I'm moved by the idea of the sport of producing, making it force another purpose other than the beat. It's like thinking that I'm doing this for the sport of styling on you with my ability of controlling this computer program. That inspired me, as did finding different producers around the world who also kind of feel the same. I don't think anyone has ever put that [line of work] underneath a rap. Producers usually serve to help the MC, but this works for itself. If you take the whole lyrics out of a Ratking album and just listen to the instrumentals, you'll find they have their own particular inspirations. So It Goes' intro is like footwork, but new jungle-footwork, but the rapping on it is like Philadelphia Freeway or Bennie Sigel. That's a new style that has been created and that's what I'm aiming for all the time. And to least have something to go back to and look at and say, "Oh we made this particular style of song." This means a fresh blueprint to make a new song, if anybody likes it."
"I'm moved by the idea of the sport of producing, making it force another purpose other than the beat." – Sporting Life
Speaking of blueprints, '55'5s' was mixed in Daddy Kev's studio, a place historically linked with the L.A. beat scene. As you're also looking to create something unique, do you feel there's a particular NY scene emerging around you?
Sporting Life: "Yes, there's always something coming up in New York, even if you don't know it. There's so many producers and musicians out here just doing it. Some musicians play in punk bands and then make electronic music under aliases; there are just so many aliases that people don't even know. I put out things under aliases and not a lot of people know that. A lot of my boys are making electronic music and we get together and do ill DJ sets and shit like that. So yes, beat-wise I'm definitely trying to push that forward and into people's minds. We create beats while new MCs are coming up with influences from everything going on out here. I just feel really excited to be making music too."
So you're looking to offset an alternative movement in New York, or at least a singular one just as in Los Angeles?
Sporting Life: "I just try to gain inspiration from people who aren't stressed out. You can't take it that seriously. It's like Serious Play: if you can master it, you never get boxed in or stuck in a particular way of doing things. I think that's really the sound of the movement, really taking it seriously on a level, but not taking it seriously on another level. Making it small, going to the next thing and not being too stuck on one particular thing or looking to label yourself."
'55'5s' is on Belgium label R&S Records. I think this cements the fact you're looking to reach out to other audiences.
Sporting Life: "I think Europe has more of a platform for instrumental bass and electronic music – jamming a lot of styles that have been really developing and morphing over time, with people growing up with their ears tuned to like something that has nothing to do with the vocals. That culture is really strong in Europe and in certain parts of America too. I'm trying within my arms reach to make something that people can enjoy and have fun to."
R&S Records have released some widely known electronic artists – Aphex Twin, for instance. Did you change the course you set out for the tape based on the label?
Sporting Life: "I don't know if it changed my path, but it let me know there are people other than myself who understand what I do and see things for what they are. They don't necessarily have to follow what they heard in an interview or what they read about us in a hip hop section. Like the Beastie Boys talked about 'Ill Communication': the ideas being communicated through the sound to certain people, not necessarily to everybody, and then hopefully those can build ideas and get it to more people. That's how ideas will grow in the public consciousness. R&S showing interest in what we we're doing was certainly a dope thing but I can't say it was necessarily surprising. That was the kind of stuff we were listening to already – like DJ Hell and Aphex Twin and James Blake; those were artists we were kind of inspired by. Then there's New York City, so everything kind of mashes anyway and you pick and choose the artists you like out of a wide group of sounds, and people end up seeing the result of that."
And you went for a tape format. What do you find interesting in it?
Sporting Life: "I guess my interaction with tapes has been interesting as tapes have always been coming and going out of my production life. It was suggested that I released this way and I thought about how tapes can age and how it all sounds different after a period of time, which was something interesting to see. And it's a format I haven't necessarily heard my music played on, maybe because I was a little scared of it. You never know what people like to listen to and putting on tape might not be the clearest quality people want, but sometimes you have to do things that are kind of new to see the outcome. I've put it on tape to see how the project will sound like in a few years. And the design and artwork of tapes is really cool, it's the most fun part of making a tape."
Who created the '55'5s' artwork set?
Sporting Life: "The design is by a friend named Camilla Venturini. We sat down and we found Ralph Lauren's font and myself and Letter Racer's creative director then flipped the Polo logo together. The photograph was taken by a lady who came to the Boiler Room session I played and I think it looks pretty classy. The artwork on the cover was drawn by Cairo Marcopoulos, who's the son of a photographer that we used to work with a lot, Ari Marcopoulos."
Do you see yourself as a tape digger?
Sporting Life: "I'm always looking for tapes that aren't too smashed or warped up. When there was James Brown, there was a Japanese James Brown and a Brazilian James Brown, but things that have just been jumped from the most part. People don't care about tapes at all, that just shows a treasure trove, the infinite kind of sounds you can find [within old tapes]. With new programs like Ableton you can make those sound current or like anything, which gives you another goldmine of sounds to pull from, change and make into your own."
2016 is around the corner and it's said that you're working on a solo album. You have also been busy with Wiki's record. What can you reveal about those projects, as well as Ratking's future?
Sporting Life: "I've recently been working with some people like Patrick [Morales aka Wiki] and Novelist. I've helped in the mixing and producing of some tracks for Wiki's project that will come out by the beginning of December [n.b. the first single is out now]. Then I also have an idea around a plan to make an album. It's not necessarily cohesive right now and I don't know when it will come out, but I'm trying to plan it well. As for Ratking, we'll be putting an album out. We're working on it, but we don't know when it's coming out. I'm trying to get the good timing. We will see."
'55'5s' is out now on R&S Records (buy). Sporting Life plays Dummy Presents on January 30th at Elvis Guesthoust, NYC (free entry).