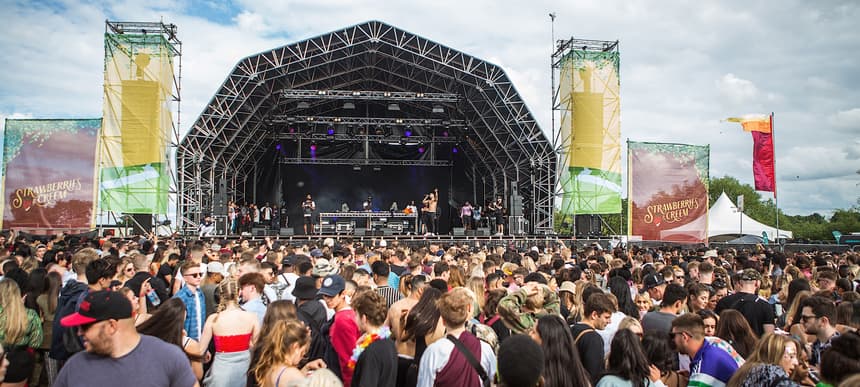 20.06.2019, Words by Felicity Martin, Photos by Mukesh Mistry
Strawberries & Creem 2019 was a celebration of UK music past and present
Best of British talent like Mahalia, B Young and Ms Banks lit up the Cambridge event...
For any team running a festival in the UK, there's always one thing at the forefront of their mind: the meteorological conditions. Continual downpours throughout the week leading up to the sixth edition of Strawberries & Creem were threatening to put something of a dampener on the event but, against the odds, the sun came out just in time for the first bars of old skool garage to ring out.
From its beginnings as a garden party created by a group of mates in Cambridge to a high-production one-dayer, Strawberries & Creem has grown impressively since its inception (something we found out more about when we asked the young team behind the event for their tips for organising a festival). Now booking MOBO winners and Brit nominees by the dozen, they also secure huge headliners – past years have seen T-Pain, Nelly, Kano and Skepta.
At just a 50-minute train ride from London, Cambridge really is a stone's throw away, and our train from King's Cross was, as expected, packed with Londoners. After being shuttled to the site in the rowdiest bus imaginable (bless the driver who would normally have been transporting students to lectures), the week's rain had left its mark and 10,000 people descending on a farm resulted in something of a crep graveyard – with many festivalgoers sporting plastic bags over their shoes.
With an ethos of 'celebrate heritage, champion future', the festival boasts a clever genre policy, toeing the line between bleeding-edge, next wave underground music alongside throwback sounds. A healthy UK garage quotient warmed up the event nicely, with the Artful Dodger, Sweet Female Attitude and Shola Ama taking things all the way back for a highly enjoyable dose of nostalgia.
Mahalia kicked off the day with 'Wish I Missed My Ex' before B Young took to the main stage, effortlessly working the crowd with cuts like '079ME'. With a crack team of dancers in tow, a lime green-haired Stefflon Don showed us how it was done with chart-shaker 'Hurtin' Me' and recent Sean Paul collab 'Shot & Wine'.
Over in the jam-packed big top tent, WSTRN brought their colourful R&B sound to a healthily stacked crowd, preceded by Snoochie Shy who was quite clearly having a blast DJing. While the biggest surprise of the day came from Dappy making an entrance on the main stage, ill-advisedly tackling the mud in socks and sliders.
More noughties throwbacks came later in the form of Sean Kingston (whose 2007 classic 'Beautiful Girls' went down a storm) and soca king Kevin Lyttle, whose short but sweet set set the crowd alight. Headliner Ms Dynamite treated the crowd to classics such as the Shy FX version of 'Gold Dust', 'Wile Out' and 'Dy-Na-Mi-Tee' providing the ideal conclusion.
You can really tell that there's a passionate crew at the heart of Strawberries & Creem, a young team who really know their audience, and a unique ethos that'll no doubt continue to attract a core group of music fans. Long may this festival thrive and grow.
Find out more about Strawberries & Creem here.