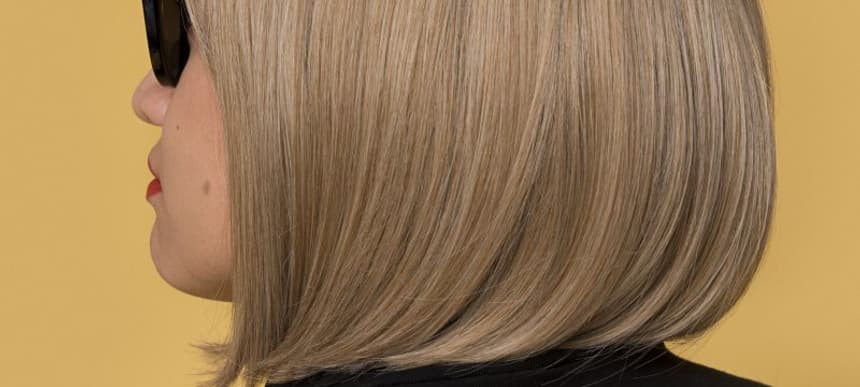 21.10.2015, Words by Natalie /
Sui Zhen: "I was interested in how we construct our identities."
"I'm particularly interested in representation on social media, where people present one version of themselves," explains Melbourne-based vocalist, producer and multimedia artist Sui Zhen (aka Becky Freeman). "It's silly to think that version of a person is who they actually are. Obviously there is some kind of filtering going on, and that's just the version they're communicating for various reasons."
As an artistic response to this, Freeman decided to create a simulacrum of her own. Using the bold, blocky and sometimes meaningless Tumblr aesthetic as a jumping off point, she developed Susan, the central character within, and visual totem for her debut album 'Secretly Susan'. "I wanted to reflect the vacuousness of that world, as well as creating a persona that was literally made up of the sum of the digital parts you see online," she continues, speaking to me over the phone from her home.
'Secretly Susan' locates Freeman's music within an interzone equal parts dub, lounge music, bossa-nova and Japanese technopop. Mostly written and recorded in her home studio with a collection of vintage drum machines, keyboards and vocal effect units, the album's ten songs are rendered through a spacious '80s-pop style mix. Throughout it's running time, her rich and buoyant vocals drift through evocative hotel poolside ready instrumentals.
Within this overarching aesthetic, a compositional diversity emerges as illustrated by the similarities and differences between the album's three singles. Infinity Street sees Freeman carving out her own take on the Californian art dub of Pocahaunted, LA Vampires and Peaking Lights. Take It All Back is an exercise in ethereal lower-tempo Latin house. Dear Teri sees her in full bossa lounge mode, smouldering vocal refrains rubbing against syncopated bass notes and subtle shuffling rhythms.
Freeman chose the name Susan for its cache '80s and '90s television shows and films like 'Suddenly Susan' and 'Desperately Seeking Susan' had given it within the pop culture vernacular. It had a strength and spoke to her on a level of belonging. With arty Hollywood actresses Julianne Moore and Naomi Watts' respective performances in 'Safe' and 'Mulholland Drive' as visual references, she imagined Susan as a bombshell blonde with blue eyes concealed behind movie star sunglasses.
To bring her to life, Freeman literally became Susan for the purpose of photo and video shoots. "Another way people construct their identities is through the body modification that is available to you in the physical realm," she says. "Whether it's through colouring your hair or the more complicated methods available in certain parts of the world, I was interested in how we construct our identities."
Freeman's Susan persona spends her days sprawled on the couch watching soap operas, or lounging poolside in a swimsuit and woollen socks, as seen in the music videos unveiled in support of the album. "Susan is the Susan we see me play in the videos. There's not much depth to her" Freeman says. "She just performs these mundane little rituals that feel to her like real life should be."
"Susan is the Susan we see me play in the videos. There's not much depth to her. She just performs these mundane little rituals that feel to her like real life should be." – Sui Zhen
While the vacuousness and mundanity Freeman speaks of is a powerful force within the visual presentation of 'Secretly Susan', within the actual music, depth and character abounds. This side of the project began back in 2013 after she was awarded an Australian Council new work grant. Coming off the back of two bedroom pop EPs 'Midriffs' and 'Two Seas', as well as trips to Japan and London (where she attended the Red Bull Music Academy), the grant gave her the space to refine things. "I think songwriting in the sense of making proper songs and conceiving of videos to go alongside them is a longer term project for me," she explains. "It takes me more time to make it, and not only make it, but sit with it long enough to be happy enough to want to take it around with me and sing it in front of people at gigs on tour."
During the writing, recording and mixing of 'Secretly Susan', Freeman also crafted two short cassette tape EPs for small Japanese labels Teto and Eskers, 'Female Basic' and 'Body Reset'. With the album devoted to traditional songwriting concerns, these EPs gave her the freedom to use textural exploration based composition in reaction to the uncanny valley hypothesis and the sensations of the bathing ritual respectively.
Freeman has drawn influence from Japanese culture and aesthetics since first visiting the country as a teenager. That stay led to a close read of Japanese music, art and design. Her trip prior to receiving the Australian Council grant was one of several recent stints she has spent in Japan. Releasing her EPs in Japan afforded Freeman a deeper connection with the underground scenes in Tokyo and Osaka and experiences to soak up for 'Secretly Susan'. Freeman played live shows, dug through record stores, and expanded her knowledge and understanding of the country's wider cultural framework along the way.
In parallel to 'Secretly Susan's development, Freeman fell in love with albums from '80s Japanese pop duo Dip In The Pool and contemporary Quebec singer-songwriter Sean Nicholas Savage. "I thought a lot about what made those records work as full albums. I wanted to make a record like that." The melodies and the songwriting were what was carrying their music over the finish line for her. The clarity afforded by these realisations was crucial in taking the music to the next level."
With equally strong visual looks and conceptual frameworks to pair the record up with, since its release via Remote Control Records, local and international opportunities have been rolling in. This month she's played a series of showcases at CMJ in New York. "I think it's because I put a lot of effort into building up the world of the album and the persona, so there is more to pique people's curiosity," she admits. "It's also my first proper vinyl release with a bigger indie label in Australia. Having the resources of their publicity arms got the word out and gave me more of a presence online."
Outside of her music and visual arts practices, Freeman works as a producer at Art Processors, a company that provides forward-thinking mobile content delivery solutions for museums and tourist sites. While the idea of doing music full-time appeals to her, she enjoys the diversity of practices and skills she's able to engage properly with by walking between worlds. "I do a lot of other things and music is something I'd love to do more of, but I think there has got to be other factors to creative practice. It's hard balancing things, but it's a fun challenge to have. It's a lifestyle choice."
'Secretly Susan' is out now (buy / stream).