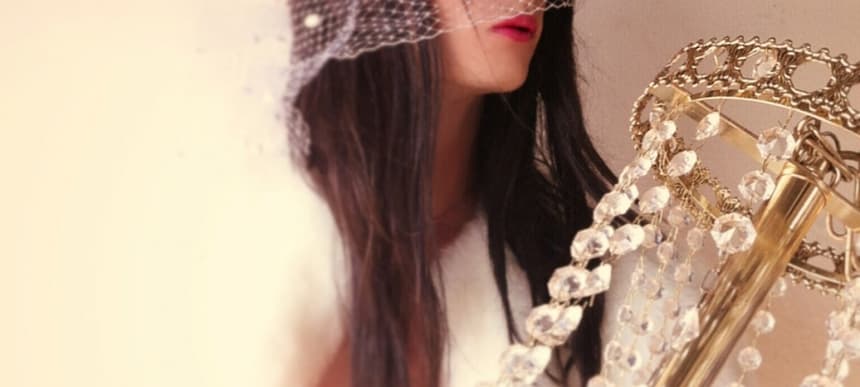 01.12.2015, Words by Steph Kretowicz
Tami Tamaki: "Blow my whistle, baby."
"All sex is kind of porny, isn't it?" Tami Tamaki mimics my own words when I say her lyrics are refreshingly candid when it comes to love and romance. even your scrotum smells like perfume, the producer sings through a filter that pitches up her vocal and carries the sleepy keyboard lead out on a shrill everything about you is beautiful bo-oy! Said track, called Fancy Hotel, is one of two personal favourites that bears its illicit context in some of the most moving and intimate electronic music I've heard in a while, and Tamaki is on the other end of a video chat to talk about it. "Partly, it was just being my honest feelings", she says in Swedish syntax, explaining that the explicit nature of her lyrics isn't necessarily a conscious decision, "But I am also aware of how I really don't like the way people sing about sex. Most songs about it are like 'blow my whistle, baby' or something," Tamaki laughs, "It's so weird".
Moving between Gothenburg and Berlin on and off for the past seven years, Tamaki has been making electronic music for eleven years but has only started sharing it online in the past two and a half. The track that really gained her notice is one used as a theme song for Stockholm film, Something Must Break. It features the producer beat-boxing in her bedroom whilst singing through a vocoder, and its stunning. The song's title speaks for itself, I Never Loved This Hard, This Fast Before and its sound curls languorously around its own poignant melody while Tamaki bluntly drops Your cock and your words, fills me with joy/ Everything about you is perfect, boy.
"To be honest, the lyrics aren't really the first thing that comes to me", says Tamaki, through a phone-sized frame that's angled up towards her, "it's always the music and then I just have to feel the space there, with some lyrics. Then I just write them the only way I know how to write them." It's funny because –as underground as Tamaki's presence seems to be online –the tracks themselves sound fairly straightforward when it comes to the format, and I wonder if it presents as some kind of alternative to the cheesy euphemisms that overlay the chorus-verse-chorus structure of your average pop. "It's not really using pop songs as a format, that's not something I choose because of the lyrics. It's just that I kind of love making pop songs," Tamaki says, while citing "shitty mainstream EDM music" as her current sound of choice. "When I open it on my computer in my music programme, it's still called 'Commercial Shit Music'," Tamaki says about the working title for what's better known now as a song called Strong Hands. It's an elevated electronic number that rides on its own ambient build-up while cloaking the lines You left my chest with a broken heart/ You left my pussy with an STD: "I really tried to make an EDM track".
It's the simplicity of Tamaki's song-writing, the sound of a soul stripped bare that makes her music so exciting. That's also not least for its deadpan sense of humour, which comes across in conversation but also in what she calls a "musical strap on, maybe?" she made herself –a bedazzled hollow rod with a contact mic to be tied around your waist and used as a percussion instrument. "I said it in an interview before in Swedish but I love the sensation of wearing a strap on and I love the sensation of banging on a phallus," Tamaki says laughing, "or is it called 'phallic symbol' in English?"