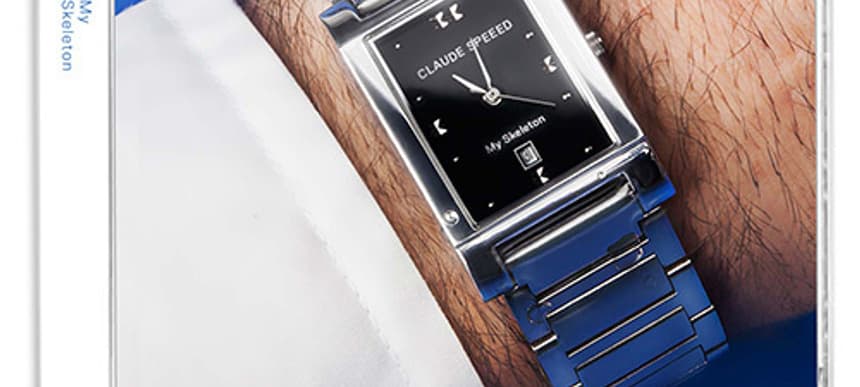 24.07.2014, Words by dummymag
Technique: Claude Speeed - My Skeleton
After suffering a loss in his family, Claude Speeed decided to travel alone in the Far East. Between sleeping in hostels, on sofas, and on floors, Speeed – a member of Glasgow's LuckyMe collective, a former member of post-rock group American Men, and a graduate of Red Bull Music Academy – also compiled field recordings of buses, trains, airports, and cities, and of forests, temples, and parks, and began to stitch these recordings into the music he was making on his laptop using borrowed headphones.
Despite the minimalist setup he used to produce it, the resultant record, 'My Skeleton', is a record of grand, sweeping, almost orchestral ambient and drone music. Mixed between Berlin and Hudson Mohawke's studio in London, the album finds a home on LuckyMe, who are releasing it as a limited edition 12" vinyl along with a zine, sheet music, and guitar tabs.
Here, Speeed gives us a blow-by-blow account of the album's composition, and how visits to the Taj Mahal and fever dreams brought on by Malaria drugs acted as unlikely inspirations.
01. Washaa
Claude Speeed: "This is about a dreamed orchestral score to Cremaster 5. It's one of four or five album tracks which were started on Kiat and Cherry Chan's sofa in Singapore, at a time when I was just recovering from weeks of insomnia and crazy dreams, caused by a combination of heat and malaria drugs. The track came out of progressively slowing, deconstructing, multiplying, distorting, and pitch-shifting. Later on, I borrowed a friend's studio and added a bunch of MS20 noises, but I think in the end I only kept some white noise, and a sound for a kick drum."
02. My Skeleton
Claude Speeed: "This track was one of only three or so originally written in Berlin, this one on holiday there in the winter before I moved. I'd had the opportunity to record a string quartet a couple of weeks previously at Red Bull Music Academy in Madrid, and was thinking in terms of strings more than anything else. We have this emotional response to strings, but they're also very corporate and commercial; advert music. Through a set of pitch-shifted busses, a kind of structure emerges from the very simple composition. So the track is built from copies of copies; trying to construct real meaning from the reflection, multiplication and variation of pretty trivial pieces. PS: this was a pain in the arse to mix."
"We have this emotional response to strings, but they're also very corporate and commercial; advert music." – Claude Speeed
03. Some Other Guy
Claude Speeed: "In Cambodia I saw a famous stone and glass tower full of thousands of human skulls. A monument to human atrocity, but also somehow a beautiful and respectful response to it. I was trying to make sense of the whole thing for months afterwards. This was more late night sofa composition, with my favourite of all the headphones I borrowed. Originally just trying to make as much noise as possible with the digital tools at my disposal, but then adding that stock Logic choir, and some dusty, sparkly, arpeggio. The notes for the noisy bits are completely improvised/random. I didn't change them from the first take, I liked how unsettling they were."
04. Tiger Woods
Claude Speeed: "This started as a sketch, a compulsive use of process, the need to just produce something and then break it up again. I was trying to make something which was both beautiful and frustrating. The Reich/Glass influence is obvious, but again, for me, there's this corporate vibe to that music, something that for whatever reason doesn't seem to be acknowledged too readily. So making a really short piece and then having it self-destruct quite quickly seemed to fit that. I'm trying to work out where the field recordings in the background came from and I'm pretty sure it's traffic/city noise from Delhi. The track was written at a dining room table with a laptop and Sennheisers. My vocals are recorded straight into the laptop mic, the female vocals are LW, and also some 'aah' sounds I recorded from a flatmate years ago."
05. Taj Mahal
Claude Speeed: "I went to Agra to see the Taj Mahal; some sort of touristic obligation. Then I was totally blown away by it, and spent a whole day looking, walking and recording sounds. I didn't really understand the feeling until a few weeks later when I read the story that the lyrics came from. The whole track was based on a recording from inside the Taj – lots of people talking quietly, kids running around, squeaky shoes on the floor, some bumps and noises from touching the mic on the recorder (I was trying to hide it in case I got thrown out), plus a Tibetan bell. The guitar on this was meant to sound like Tortoise, one of those wee melodies near the bottom of the neck. Like all the others, the soft synths were played on the laptop keyboard, but this one has at least one track that's totally randomly played and the notes completely unedited."
06. Field
Claude Speeed: "This track is about being reunited with friends, far away. We spent a night walking around an alien city in south India trying to find out what the chemists would sell us. And we spent a day riding scooters around a national park, making field recordings – including the one on which the track is based. Later, we saw sea eagles at the beach. I didn't have a guitar with me, but the song definitely was going in a kind of post-rock direction, so I did my best. I decided to leave guitar out when I got back to Europe. The main part of it was written in a guest house called 'My Soulmate' – kind of amazing."
"The Reich/Glass influence is obvious, but again, for me, there's this corporate vibe to that music, something that for whatever reason doesn't seem to be acknowledged too readily." – Claude Speeed
07. Spectral Choir
Claude Speeed: "This is a dream about a house by the sea."
08. Viscount Stair
Claude Speeed: "This was intended as a companion piece to My Skeleton. I was thinking about how some people and things become more important over time, some less, and how quickly for anyone everything can descend into chaos. I used pretty much the same writing method as with My Skeleton, so strings and piano plus a load of effects busses, all at the same dining table in Kreuzberg I'd recorded Tiger Woods earlier the same day."
09. An Imperial Message
Claude Speeed: "This was directly inspired by a short story, about a daydream, and possible interpretations of it. To me, it's straightforward: a sense of possibility you can only ever feel sitting alone by an open window. Actually, the original audio came from a track I was making for a Yoga DVD (seriously), but it makes much more sense to me like this. At one point later it had guitar and singing all the way through, but somehow it's much nicer without. I like to put the background into the foreground, if that makes sense. There's a lot of field recordings – mine, and also stock ones from Logic, including an incredibly slowed down recording of some kids cheering, which I love."
10. Prove You Exist
Claude Speeed: "I saw a teenage girl in a temple in Bangkok wearing a bright yellow t-shirt that said 'PROVE U EXIST' in massive slogan font. I was pretty obsessed with that as a t-shirt and as concept. (Alan, I'm still waiting for you to send me an XXXL t-shirt with this print on it!) The first person I played the song to to asked me if this was a love song; I thought that was a great question. It's meant as a sort of Part 2 to Some Other Guy – it was going to all be one song together originally – so it's also about death, but more specifically someone I was close to. So although it was originally called Claude Speeed You Black Emperor, this title actually made more sense. This was the last track I mixed in HudMo's studio London, and it sounded like an army on the big monitors."
"Although it was originally called Claude Speeed You Black Emperor, this title actually made more sense." – Claude Speeed
11. Hold On (feat. LW)
Claude Speeed: "I found the bones of this track, a loop of keyboard and me singing, on a hard drive backup of an old computer, and built everything around that. I asked L to sing on this. She originally did the vocals with the same field recorder I used in Asia. She emailed them to me, and the takes were all amazing, but were unusable because of background noise and clipping and other stupid stuff producers are meant to care about. So we spent hours recording it all again with a proper mic, trying to make it exactly like those solo recordings but it just didn't work. Eventually we forgot about that method and another day she just sang it all fresh, and I think her voice sounds amazing."
LuckyMe release 'My Skeleton' on July 28th 2014 (pre-order).