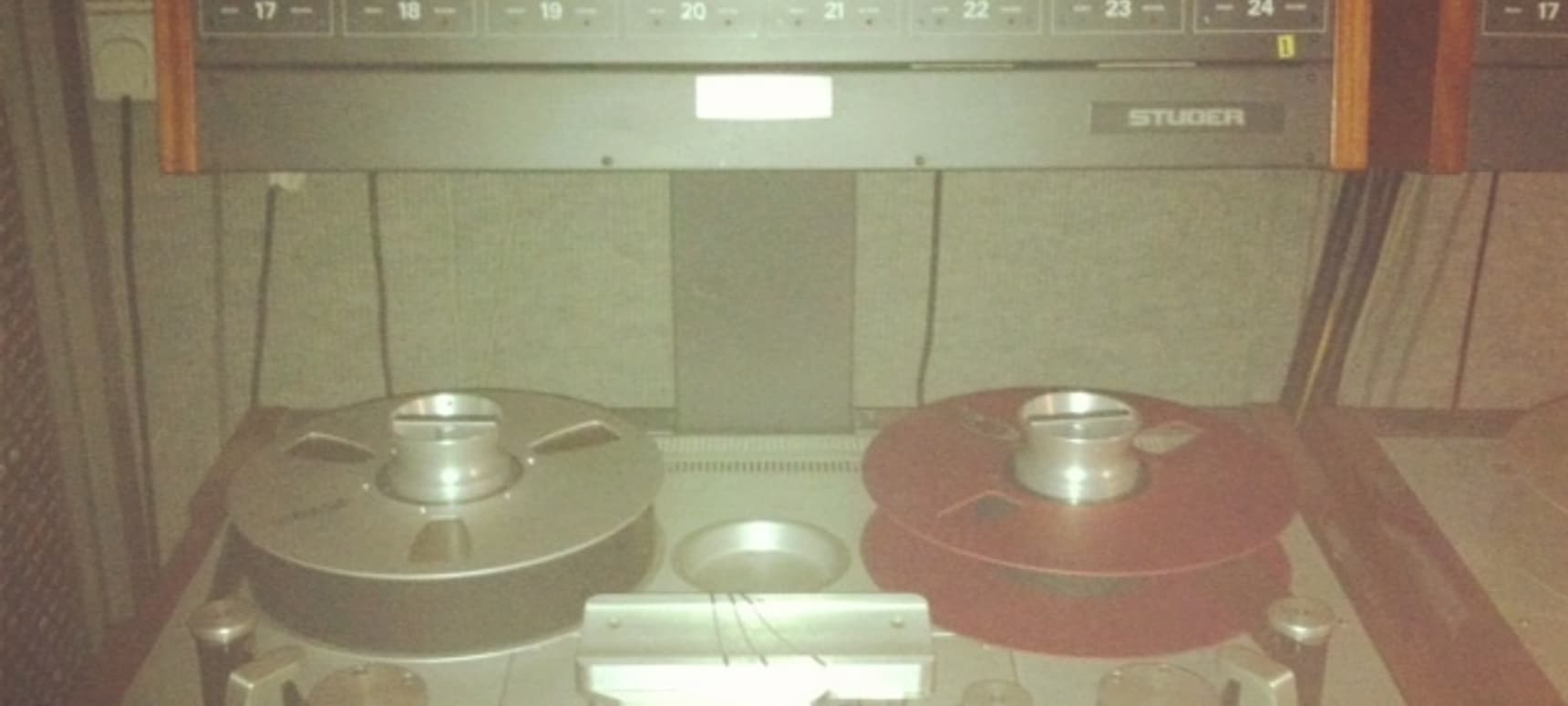 04.10.2013, Words by Aimee Cliff
Technique: PINS - 'Girls Like Us'
It's On
Lois: "We always planned to have an introduction, instrumental interludes and a reprise on the album. It's On was a song that Faith started and never finished – it was Anna who resurrected it (she has a back catalogue of Faith's home recordings). Faith wrote some new lyrics for it and it seemed like the perfect album opener. It's powerful and strong and we wanted to kick off the album by letting the listeners know that we are ready for a fight if they want to take us on."
Girls Like Us
Faith: "We wrote this song one dark night in our practice room, I was playing the drums – it's not my first instrument in any sense, I just go with what feels good and sometimes it works out. We usually swap instruments just for fun but it often adds a totally different dynamic that wouldn't have otherwise happened. Lyrically I just wanted to shout about how good it felt to be in this band, doing what I want to do with 3 other people who feel the exact same way. With this song we just wanted to say that you can do whatever you want to do and it's okay to feel good about it."
Sophie: "When I heard the really simple drum part Faith had tried out I knew exactly how I was going to develop it for the song, I just heard it unfold in my head! Even on the really rough demo on a mobile phone I was like, yes, this is good. It gave me so many ideas and I'm so happy with how it turned out."
Mad For You
Lois: "For us, this track's amazing to play live. Sophie uses two floor toms throughout the record to make the drums sound fucking huge – it's most noticeable on this track! We spent a lot of time playing around with the structure of the track in the studio to make the dynamics have more suspense and to give the loud parts more impact when they finally explode. I spent quite a bit of time on the floor next to my amp working up layers of feedback."
Sophie: "This track is quite the drum marathon. I deliberately don't use a hi-hat and use an extra floor tom instead – I think if you limit yourself a little you have to think outside the box and be a bit more creative."
Silent Super 8 footage of PINS recording their debut album at Parr Street studios, Liverpool.
Get With Me
Lois: "We had been playing around with this one for a while – when we were recording we all went into the stone room and added the weird psychedelic girl gang banshee backing vocals and it changed the sound of the track completely – for the better. When we heard it back we just really loved it and it became the AA side of the single – it was a real surprise single for us."
Sophie: "We really had no idea what this track was going to be – it was a surprise single in the end which took us all by surprise! It really shows how tracks change the minute you record them – once you have the opportunity to sit back and listen to everything as a whole without having to concentrate on playing it you listen in a totally different way – much more objectively."
"When we were recording we all went into the stone room and added the weird psychedelic girl gang banshee backing vocals" – Lois , PINS
Play With Fire
Lois: "This is an old song that has been re-written over and over, to become a more sparse and eerie version of its former self. When we recorded this track, we recorded it onto tape and then recorded it again whilst speeding up and slowing down the speed of the tape. This affected the pitch and speed really subtly to make it sound like a slightly warped vinyl. Sophie also covered her floor toms with tea towels when recording to give the drums the distinctive dull and boxy sound."
I Want It All
Faith: "This was also born out of instrument swapping, this time I was playing the bass! I Want It All is a love song, most of my songs are love songs. We added a reprise at the end of the track, it was a spontaneous thing when we were in the studio, we've recently added it to our live show. We used the same technique of speeding up and slowing down the tape on the reprise part. It also features the one and only hi-hat hit on the record, it's a backward hi-hat hit, like the Beatles did.. we were in Liverpool after all."
Howlin'
Lois: "The footsteps at the beginning are Faith walking from the control room to the vocal booth. I wrote the basis of this one in the room on my own one day, then we simplified the guitars and re-worked it to have more dynamic vocals until we were really happy with it."
Faith: "This is the only track on the album that I wasn't an active part of writing the music for, I turned up to practice one day and the other PINS were playing it, Lois had some lyrics written down which she handed to me and told me to sing. I often struggle to sing other peoples lyrics, it feels fake to me, even with this I had to change a few parts so I could feel comfortable with it."
Interlude
Although not on the track listing, this song appears at the end of Howlin' – it's a reprise of Get With Me but with just drums, bass and tambourine.
Lost Lost Lost
Faith: "I had this song written in my head before I played it on the guitar or anything. I'd been thinking about it all day and when I got home I recorded a demo on my laptop. It had different lyrics to begin with which I changed after playing it with the rest of the band. Aside from the lyrics not much else changed from it being a demo to a full song, I think that is why it sounds quite sparse, but I love that, why overcomplicate it?"
Sophie: "I really struggled with the simplicity of the drum part at first – I was like 'Shall I change it here? what about here?' and the PINS were like 'No! Keep it the same!' Once I embraced that I just went for it."
"We had some terrible late night studio cabin fever vocal ideas with this song – in the cold light of day we were ashamed of ourselves and thankfully realised the error of our ways and erased them forever." – Sophie, PINS
Velvet Morning
Lois: "This track is a really old song too. We simplified it, and changed it to a spoken word song with lyrics read by Anna. The lyrics/story were written by Lara our previous drummer. She's an excellent writer and that's what she is pursuing now – she recently had a short story published in fact. As she was such an important part of the formation and early life of the band we thought it was important to have her (beautiful) words appearing on the debut full-length record.
"For this track, we recorded all of our parts as per usual. Then, Faith and I learnt our guitar parts backwards. We flipped the tape so that the music sounded backwards when the tape was being played, and then recorded the backwards guitar parts over the top. This means that the guitar parts sound the same when the track is played forwards but there are subtle nuances of them being played backwards that add an ethereal and unsettling feel to the track. Then with the tape still flipped, Sophie recorded some improvised snare and tom fills over the backwards track which are the 'whooshing' sounds. Although it is a simple song, when the whole thing is played forwards it captures some unusual sounds from the experimental process of flipping the tape – such as the reverse decay of snare and tom hits and guitar string slides. We also reversed some of Anna's speaking parts – just a few words here and there – again to add a glitchy and eerie feel."
Stay True
Lois: "We wrote the song in the practice room and when we'd got the structure down we felt it still needed something else, so Faith suggested a vocal to run through and we went for the chanting 'oh's. when we were recording we all got round the mic together in the stone room, to do our gang style vocals – and a did a few layers too. The song also features a lovely call and answer from the guitars."
Faith: "I wrote the lyrics to this song whilst I was sat in bed one night, they are my favourite lyrics of any PINS song, it feels really good to sing them. I tried a lot of different melodies over the music before picking up on Lois's guitar part and using that as a guide, it's what gave me the idea for the 'oh oh oh' backing vocals, I think the backing vocals serve the song so well and really help to drive it."
To You
Lois: "A song we've done acoustically whilst on tour in France, but slightly different and with full band and full volume. 'Oh my heart aches' sung perfectly by Faith."
Darkest Day
Lois: "We wrote and re-wrote this over a longer period of time, which I think it what gives it more space and dynamism. We tried lots of things out with the vocals on this, lots of layers, near and far from the mics with gang vocals building at the end. Getting the guitar sounds right from the sparse beginning to fuller ending was tricky but worth it."
Sophie: "We had some terrible late night studio cabin fever vocal ideas with this song – in the cold light of day we were ashamed of ourselves and thankfully realised the error of our ways and erased them forever."
Bella Union released 'Girls Like Us' on the 30th September 2013. Find out where you can catch PINS live this autumn from the dates below.
Tour Dates
5 October – Sheffield, Harley
7 October – Bristol, Louisiana
8 October – Brighton, The Hope
9 October – London, Birthdays
10 October – Norwich, Hog in Armour
11 October – Newcastle, Cluny
12 October – Glasgow, Broadcast
15 October – Liverpool, Leaf
16 October – Birmingham, Bull's Head
17 October – Leeds, Belgrave Music Hall
24 October – Lille (France), La Peniche
25 October – Paris (France), Point Ephemere
26 October – Lyon (France), Le Sonic
28 October – Glasgow, ABC*
29 October – Manchester, Academy*
30 October – London, Brixton Academy*
04 December – Cork, The Pavilion
05 December – Limerick, Bourkes
06 December – Dublin, Workmans Club
07 December – Galway, Roisin Dubh
12 December – Hebden Bridge, Trades Club
14 December – Manchester, Deaf Institute
*supporting Warpaint