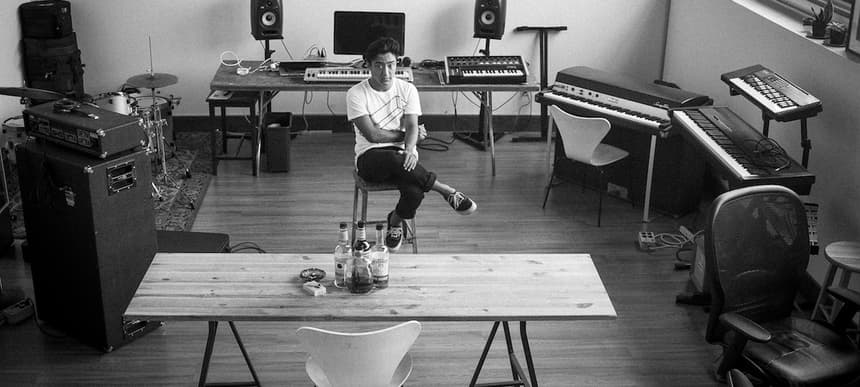 22.08.2013, Words by Aimee Cliff
Technique: Shigeto - 'No Better Time Than Now'
First Saturn Return
Shigeto: "The Fender Rhodes chords at the beginning are actually what an old friend of mine (Jarod Kashkin) from New York, recorded back when I was living in Brooklyn. I had just bought the Rhodes and Jarod was over having a play on it. Recorded the Rhodes direct out the amp into Reason. The arpeggio speeding up gradually is a little synth called a Pocket Piano from Critter & Guitari a little electronics company based out of Philly or NY I believe. Has 6 (maybe 7 now) modes all with their own effects or parameters is about $150. I love the thing. Used it on almost every track on Lineage as well. The bass and melodies added are all a Micromoog. A very old one. Quite stubborn but works magic in a studio setting."
"I turned 30 this year and never would have never seen my life as it is now five years ago. 2012 in general was a distinct turning point for me. Musically and personally everything was changing. My mother pointed out to me one day that it was the end of my "first Saturn return". A significant time in astrology that in short represents change, growth etc. Those chords made me feel something strong. Something with a sense of purpose, hope and urgency but also change. It felt right to call it that. This was one of the tracks in question when it came to 'what really belongs on this album?' It felt like an opener and only an opener, but I was considering letting it go, having the record start off banging and getting on with it. The fact of the matter was it was personal and I thought 'no better time than now.'"
Detroit Part 1
"This has kind of an interesting origin. The original sample was myself playing a kalimba along to the clicking on my toaster oven timer. Recorded with my iPhone it had a really lovely compressed sound already. I love the fact that the toaster determined the tempo of the track. The synth noise at the beginning and the "video game sounds", as people like to say, are all that lovely Pocket Piano. Used the Rhodes for the chords in the first section and the Subtractor in Reason for the bass. Most of the percussion was cut up samples from previous recordings but the tambourine was all one take. Also my friend Julian played the 'chu chu chu – cha cha cha' part on a radiator in the studio… ya know? That part?"
"This was originally going to be the fifth installment of 'Ann Arbor' themed tracks on past albums. One night Sam Valenti at Ghostly texted me and said something along the lines of 'it's your songs man but I think Ann Arbor Part 5 should maybe be called Detroit Part 1?' It was true, Detroit Part 1 wasn't a "Detroit" song to me musically but more personally. It represented my move to the city in a way. Done deal Sam."
Ringleader
"Making this track was the most fun I've had in the studio by myself maybe ever. I started with the 5 pattern that the song starts out with. It's a stock kalimba note piled with several other percussive sounds with a ring modulator. The melody just came. I liked the simplicity of it. That was using the Thor from Reason. I don't use this guy much anymore but it's great to build your own patches, and some of the stock stuff is nice as well. After that I basically jammed with myself on the drums and other percussive stuff for hours. Had a blast. For the final bit of the track used the Rhodes (as usual) and the Subtractor from Reason."
Perfect Crime
"This was one of the first tracks I recorded my full drum kit for in the actual session. All live drums before were myself being recorded prior and or elsewhere. I recorded all the drums for the album with one Sterling Audio condenser mic in the middle of the room. Kind of amazing how good the sound was for being in an environment that isn't really meant to record in. Just got lucky with room I think. The ceiling slopes and seems to cut down a lot of echo and reverb. The more organic percussion on this was me banging away at that radiator Julian was banging on earlier. Again, all the chords and melodies come from both the Pocket Piano and the Moog. See a theme here? I really like using the 'palette' of sound or instruments to create the cohesion. It can give a sense of 'belonging' even if the style or vibe may be different from track to track."
"Since I wrote the track with the drums as part of it rather than figuring how to add them later, it's become one of my favorites to play live."
Olivia
"Not about a girl. Gotchya! It's actually the name of the street I grew up on. The song felt nostalgic to me. Uneasy yet comfortable and warm. Felt like home so I named it after home."
"This is the only other track that features sounds from friends of mine. The opening chords is another friend from NY, Bryan Noll, on guitar. I used the same sample on a track called Sky Of The Revolution off my first album 'Full Circle'. They're too good. Had to recycle them. Also the bass tone is actually my friend Andrew Ferren from San Francisco on tenor sax. I just pitched it down a whole lot and messed with it a bit. I love that it has these really creepy harmonics going on with it because of the actual saxophone. The organic percussion on it is some more iPhone recordings of keys, kitchen stuff, gardening tools etc. This stuff pops up all through out the record as well."
Miss U
"Might have had you fooled with Olivia but this one is definitely about a girl. Long story short: a very long, lovely, deep, difficult and influential relationship of mine came to an end last year."
"I like that there are basically two different drum kits on this track. One acoustic. One electronic. The live drums are pretty in the mix so maybe you can't tell but this was another one where I got to utilise the live drums. The synth at the beginning is again – Pocket Piano. The main chords and melody is again – Rhodes. Originally the track was at about 130bpm. There was something off but I didn't know what it was. I was over at Todd Osborn's one day playing him the tracks and he was like 'this sounds too much like what I've already heard'. It was the only track he said that for. After some thought I decided to slow it down to 112. It make it feel like this kinda two steppy, R&B style joint but cool to me because the tempo didn't line up with the vibe you were feeling."
Ritual Howl
"This song is a dedication to my brother Ben. He plays in a band named Ritual Howls and I make guest appearances on floor tom from time to time. Me moving to Detroit also represents me having Ritual Howls as a part of my life. They give me strength. They bring me back to my middle school roots. They make me remember that you have to rock the fuck out. This track felt dark. It felt hypnotic and ceremonial to me. I knew it was more minimal and had much less progression than any other track but I liked it. I almost see it as an intermission without leaving."
"The chimes that comprise the main melody were recorded on the iPhone, on tour in a home depot while we were stopping for duct tape and some stuff. Nothing like using those porch chime displays to your advantage. Used the Micromoog for the bass on this as well and side chained it ever so slightly afterwards when I was with Koltay in his studio."
Soul Searching
"This track to me is constantly trying to find itself. It has this jammed out, unresolved, churning, winding feel for me. The intro was made entirely form the Pocket Piano. Almost all the melodies were from the kalimba. It got a little out of hand, must have had at least five different kalimba tracks going on at one time but I liked how they all filled in each others' space. This one, for me, also showcases the live drums. Again with that condenser mic. It's pretty much just about that groove and the subtle progression thereof. Had to bring that Rhodes in at the end along with a bassline (Moog) so maybe there's a sense that the search is over?"
No Better Time Than Now
"As far as process goes, the usual instrumentation is in play here: Rhodes, Pocket Piano, Micromoog. I wrote this at the same time as Perfect Crime. In fact, they were part of a 12 minute long track I had made entirely in one of those "don't leave the studio for 10 hours not even to eat or pee" type days. I liked both and decided to make them two different tracks when I was in a less 'zoned' state!"
"This is obviously the title track and I have to say, it's personally my least favorite… or maybe I should say, the track I'm the least sure of. I was exploring some different places on that one and feel the true direction will reveal itself to me in time. In turn, that's why I named it that. I said to my boy Charles Trees 'I don't know man, it's a weird track and I don't know if I should put it on there' and he responded, 'no better time than now man.'"
Silver Lining
"My favorite track. The closer. A note to self. I wrote this song in two hours, no joke. It was during the climax of my emotional state after my break up. It was just flowing I guess, as the best stuff does. When it was done I felt like when you cry so much you can't anymore and all of a sudden a huge weight is lifted and you feel better. It started with the piano riff, it was a recording of myself playing a Wurlitzer at a friends in NY a couple years back that I had never used. Then I started to sing. I guess I had to. Had to get that out. It's funny, I sing on the last track of my last album as well. It wasn't on purpose that it worked out that way again. While I was mixing down the record with Koltay, he put my vocals WAY up in front. I had them tucked away good beneath everything else so not to embarrass myself. He was like 'you're fucking singing right? That's how you mix singing.' When I got though the initial shock of hearing my own voice I agreed with him."
"When the track was written, tears had been shed and whiskey dry, I did have a realisation. I'm alone. I'm alone for the first time since the birth of 'Shigeto' and all I have to do is this – no better time than now to do it. The silver lining of my break up was realising that it's go time like never before. Not just in a musical sense but in life. We can all spend too much time trying to relive the past or dream of the future but personally I think I'm a lot better off focusing on right now."
Ghostly International released 'No Better Time Than Now' ont he 20th August 2013. Read our interview with Shigeto here.